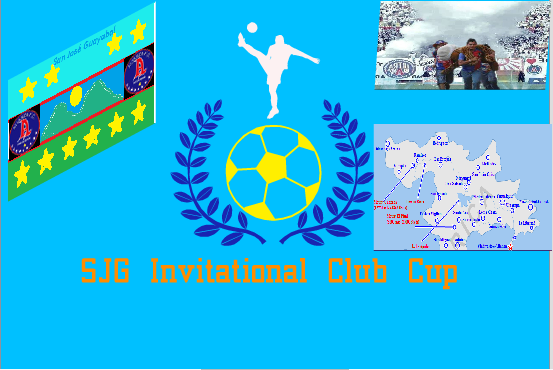 Welcome to the SJG Invitational Club Cup I! The SJGICC is an 11 vs 11 Soccer/Football club tournament. We are the international tournament hosted by the SJG National Football Association (SJGNFA). This is our first serious installment, with more to come!
Planning is still happening for this event, but the plan is that each nation will enter 2 teams until we reach 20 teams There will be 5 Groups of 4, with two from each group advancing to the Quarterfinals and the best two-third places of all groups. Each team will play each other once in the group stage. There will be a third place consolation match, scorinated by a third party. There will be a third party scorinator for games involving my two clubs.
Anyone can inscribe puppets.
I will be using NSFS 3.0.1 To scorinate
As far as RPing goes, I will be running a lottery system using random numbering to determine the ranks. Normal RPing will follow.
I'm in the Central America time zone UTC/GMT -6. Results may be posted at 3:30 PM/15:30 of CA time zone
To sign up please put something like this "I signing up Sample A and Sample B".
Good luck and "let the sign ups begin"
My sign up: I signing up Alianza F.C. and C.D. FAS
Teams signed up to 8/25/13
-Alianza F.C. (SJG)
-C.D. FAS (SJG)
-FC Allianz (Kavamkao)
-NLB United (Kavamkao)
-FK Aliantza (Astograth)
-Mars Athletic (Astograth)
-Âlíânzýäöà (Farfadillis)
-Alianzudaele (Farfadilis)
-União Aliança JFC (NSI)
-Alliance Town Dittos JFC (NSI)
-Alianza Tandil (Valladares)
-Club Deportivo Laura Alberta de Flores. (Valladares)
-Real Tiagosan (Sangti)
-CD Viocla (Sangti)
-Alianza Albos FC (A Albos)
-C.D. Anti NeFAStos Amañadores (A Albos)
-Bjarnarmar S.C (Bjormark)
-Einderhill United F.C. (Bjormark)
- FK Bardejov (TAT)
- FC Steel Kosice (TAT)