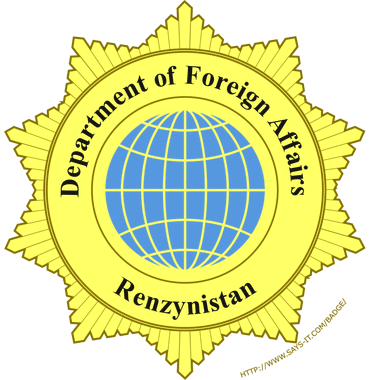 ---
Greetings!
Along with this, The Kingdom of Renzynistam opened diplomatic relations, in the form of embassies. For all nations which will conduct diplomatic relations, is expected to fill out the appropriate request form.
EMBASSY PROGRAM
Nations who wish to establish an embassy shall choose from the following locations:
1.EMBASSY TWIN TOWERS
The Embassy Twin Towers located at 1103, Pearl Drive, Salevik, and has two towers namely Embassy 1 and Embassy 2 each with available 20 units for each nation.
2. EMBASSY DISTRICT.
The Embassy District is a guarded compound for the nations who wish to establish their embassy there. The compound is located 4 km south Salevik about 20-minute drive to the city centre. Note that plots nos. 15-20 are the ones that are close to the oceans.
EMBASSY APPLICATION FORM
Code: Select all

[b]National Information[/b]
- Full Name of Nation:
- Capital City:
- Government Type:
- Head of State:
- Head of Government:
- Minister of Foreign Affairs or equivalent:
- International Organization (Region/Alliances/Pacts):

[b]Ambassadorial Information[/b]
- Ambassador's Name:
- Brief information about the ambassador:
- Ambassador's Family (if any):

[b]Embassy Information[/b]
Embassy will established in Salevik
- Choice type of area:
- Special requests relating to the location and embassy:


[b]Staff Information[/b]
- Diplomatic Staff (max 20):
- Service Staff (max 60):
- Hiring Service Staff locally?
- Military or Security Unit in charge:
- Security Staff (max 15):
- Require security assistance from the local authority?

[b]Equipment Information[/b]
Land Vehicles: only allowed for civilian vehicles (10) and limited armoured cars or APCs (2). Due to right-hand traffic in our jurisdiction, it is recommended to use appropriate vehicles or convert to accordance our jurisdiction.
Air Vehicles: only allowed one civilian helicopter.
Only allowed for individual smallarms (or non-lethal) and limited for sniper rifle (1) and light machine gun (1).
- Number and Type of vehicles:
- Number and Type of Weapons:

[b]Miscellaneous[/b]
- Do you have any other special requests?
- Is there any additional information we should know?
- Please declare any drugs, alcohol, animals or plants which will bringing into the country:

[b]Additions[/b]
- The Kingdom of Renzynistan will guarantee the extraterritorial status of your nation within to area of embassy and ambassador's residence.
- Only ambassador and diplomatic staff had certain privilege.
- We will establish an embassy in your country as return, unless your country is not willing. Give links in Your Statement. (please give reasons for unwillingness)

Your Statement:
Yours,
Juan Dela Cruz
Secretary of Department of Foreign Affairs
Please send a telegram immediately after filing the application of the embassy.