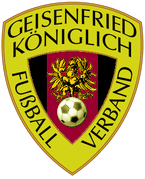 The GKFV proudly presents for AOCAF XXXVII:
DIE GEISENFRIED FUßBALLNATIONALMANNSCHAFT
"the Golden Eagles / die Steinadler"
Base Formation:
4-5-1
Style Modifier:
-φ [-1.6] (defensive)
Current Manager:
Andreas Büchner
Starting Lineup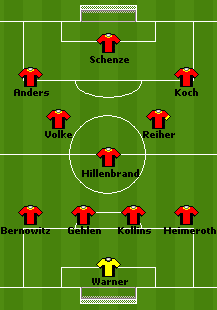 ---
Full Roster:
GK #1 	

Maxwell Warner

			GK	- Königs FC


GK #20	Simon Schulberg			GK	- Silbern Sileväl SV



DF #2	

Asher Bernowitz

			LB	- VfS Königseifert
DF #3	

Matthew Heimeroth

		RB	- 1. FSV Dözel
DF #4	

Frederick Gehlen

		LCB	- Heimüller SC
DF #5	

Holger Kollins

			RCB	- Heimüller SC
DF #14	Ferdinand Forster		RB	- Seifert Barheim
DF #16	Franz Breitner			LB	- Kaiserstadt Altien
DF #22	Johann Braess 			CB 	- Königs FC

MF #6	

Heinz Hillenbrand

		DM	- Königs FC
MF #7	

Rudi Koch

			RW	- Gryphons FC
MF #8   

Eric Reiher (c)

			RCM	- August Gründer
MF #10  

Lorenz Volke

			LCM	- VfS Königseifert
MF #11	

Stefan Anders

			LW	- Eintracht Rödis
MF #15	Ruprecht Appling		DM	- FC Alster Alba
MF #17	Markus Schuster 		RM	- 1. FSV Dözel	
MF #18	David Kellerman			CM	- August Gründer
MF #19	Mark Riedel			AM	- VfS Königseifert
MF #21	Svend Rost			LM	- Heimüller SC

FW #9	

Wali Schenze

			CF	- Seifert Barheim
FW #12	Leon Roshardt			RS	- Königs FC
FW #13	Felix Griswold			LS	- Gryphons FC
FW #24	Aaron Ketzer			CF	- Darnesmark FC
Free kicks and penalties will generally be taken by the captain, Eric Reiher. Corners will be taken by their respective wingers.
---
Official AOCAF XXXVII Kits

---

Colors

---

Whites

---

Keeper

---
Kits are the same as those used in Di Brandini Cup XXIV.
---
Regarding RP permissions - so long as I don't have to replace a large chunk of my roster, thwart a terrorist attack or fend off an invasion, I probably won't have a problem with it. I only ask you be sensible.