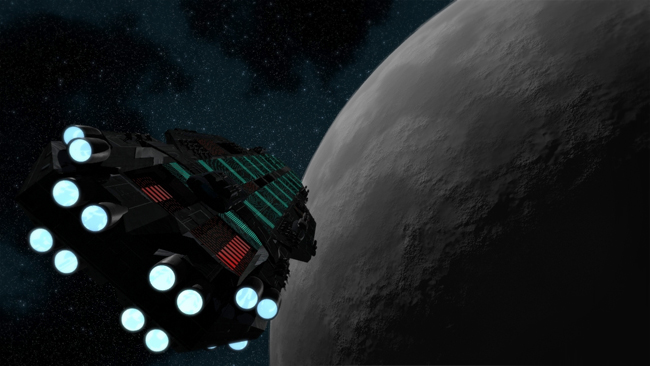 Triton, moon of Neptune (8th planet of Sol)
After a year of planning, more than a trillion in credits from investors, and a 3 hour trip, a poof of light formed briefly between Neptune and Triton, then faded to reveal the
RMF Archer
, fresh out of space fold. The carrier, more than a mile long, had been fitted not only for defense purposes but also for transport. Its array of Ion engines roared to life at full force, glowing brightly in the black sky as it built up speed to obtain a stable orbit.
Triton was more important to the Raysian people and the Capsule Corporation, as it was the first homeworld of their ancestors. The
Archer
was mainly carrying supplies and colonists for establishing a basic outpost, which would grow quickly over the next few weeks.
The Capsule Corporation's intent is to establish a mining and manufacturing colony on the grounds of the original Triton City. There will not be a military base (beyond maybe a self-defense militia) at their city, and CC in no way claims the entire moon as their own.
This reincarnation of Triton City will be the primary Solar trading front for most of the Capsule Corporation imports and exports, and will act as the embassy of Raysia in the Sol system.
Manufacturing facilities and orbital shipyards are planned to enter service in 18 months. This was merely the first run, as several more ships would make the same journey every week, bringing supplies and colonists and pre-fab buildings.
The RMF Archer, however, would stay in geosynchronous orbit as a Defense outpost, and as an emergency evacuation vehicle.
Ooc: sorry for the short dry post, but it had to be done

If anyone actually claims to own Neptune or Triton, let me know.