OOC: Basically I want this to be a thread, from where numerous terrorist groups on NS could begin attacks in multiple nations. As well as intelligence agencies and special operations groups coordinating to stop the spread of terrorism from these various groups as well as martial law, border closings, drone strikes, special ops, media response, media blackouts, diplomatic posts, condemnations and attacks on terrorist strongholds abroad. As well as investigations into who could possibly be arming and funding the terrorists?
IC: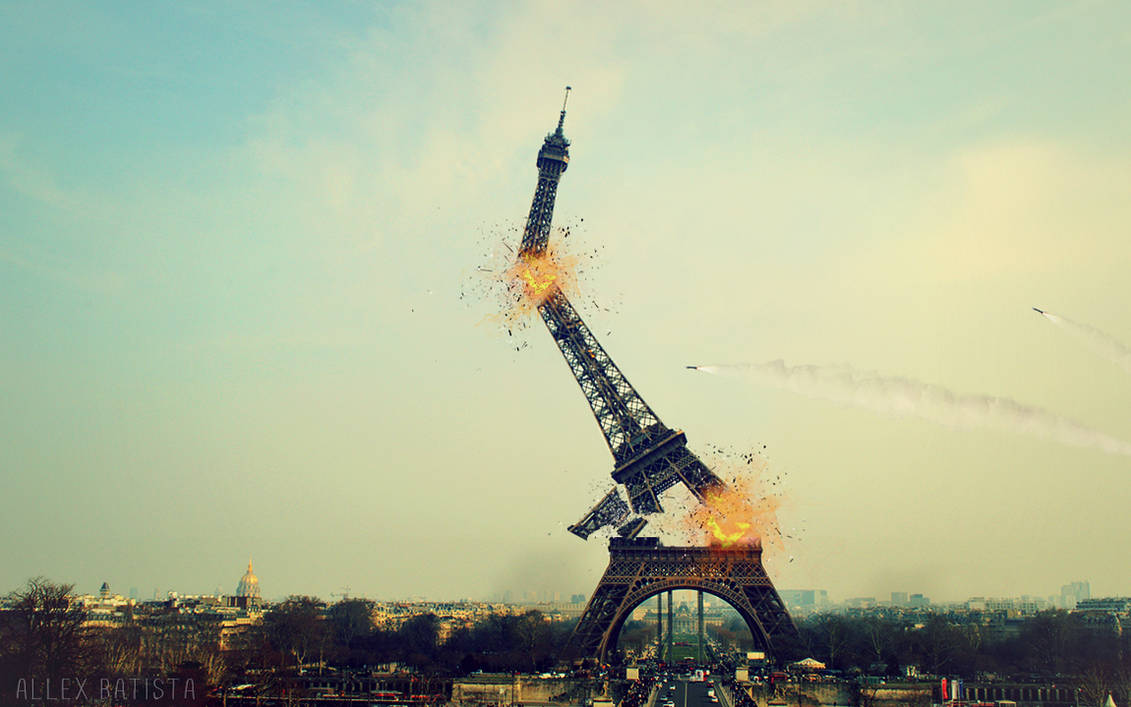 A silent strike was about to begin, as the French went about their daily business, everything seemed calm they were eating their baguettes and drinking their coffee. Talking in their funny accents, living life and were having just the usual day of the average French person often times cheating on their spouse, eating moldy cheese or getting drunk. However this day was no usual day, and it was no happy go lucky day for sure as it was about to be for many their last day.
It was 7:10 PM in Paris, France Muhammed Abdullah was a fighter pilot in the French air-force, a second generation child from Muslim immigrants from Bashriyya. His cousin whom he was very close to was killed by SACTO forces in Bashriyya, Muhammed Abdullah seeking for revenge was approached by an underground Sunni Islamic terror cell run by remnants of Bashriyyan intelligence known as Al-Sayf (The Sword) Today he was about to show his worth in what he viewed as martyrdom. During a training flight, where he would be carrying live ammunition. Muhammed Abudullah speeding in his Dassault Rafale he would speed past the Effiel tower going completely out of order ignoring orders from the control tower. Then he would unleash his payload of two
AASM missiles
destroying the Eiffel Tower causing it to collapse and then finishing off by crashing his jet into a crowd of fleeing tourists and native French people.
The French public was terrified and soon after the government declared a state of emergency, after reports of armed gun-men firing at emergency personnel were reported contributing to the devastation and chaos.
At a studio somewhere in Bashriyya
A video would be uploaded anonymously with an Islamist logo, an American accent would speak.
بِسْمِ اللهِ الرَّحْمٰنِ الرَّحِيْمِ


---




FOR IMMEDIATE RELEASE

---

Avenging the Tawaghit



Background Nasheed

to Dhul Qadah 1439 (10/08/2018) - All praise is due to Allah who said:

"Who is more unjust than one who invents a lie against Allah or rejects His Signs? For such, their portion appointed must reach them from the Book (of decrees): until, when our messengers (of death) arrive and take their souls, they say: "Where are the things that ye used to invoke besides Allah." They will reply, "They have left us in the lurch," And they will bear witness against themselves, that they had rejected Allah." [Al-Araf, 37]

In the night of Friday in France the Mujahideen of the Islamic State of Bashriyya has struck a blow to the infidel, we have undertaken the necessary steps to establish an Islamic State in Bashriyya for the interests of the Islamic nation. The military section for our foreign security operations has conducted a series of raids against the Crusader states of France and and next shall be the United States, this is an open deceleration of war against the Kuffar and the begging of a new era for Jihad.

Our military is active throughout the globe from America to East Asia and from the southern tips of Africa to Chechnya, our men will act upon command and we have specified targets in our campaign as part of our war on disbelief and we will introduce terror everywhere. Most of us standing before you are foreign fighters, we immigrated to your countries, you let us in and we stood as sleepers prepared to strike. This attack was done to bring attention to the occupation of Bashriyya by the greedy crypto-Jews who run SACTO in particular the nations of Inyursta, the traitors in Riysa, and the Zionist Imperialists of Nifon. SACTO is the Zionist and kuffar Army in the land of the Muslims. We urge all muslims to engage in Jihad against the occupiers and their supporters abroad.

Allah is the Greatest and all praise is due to him.