THE SHADOWDANCER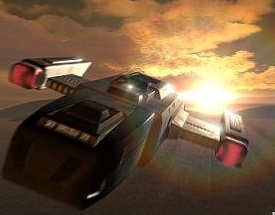 IC
Welcome to the Shadowdancer!

Now, she's not much to look at first glance, granted, but I beg to differ. She's a modified civilian transport that can support up to 12 people and cargo to get her pretty far in any direction. The catch? We don't always work for the Feds. See, we're a motley crew from various corners of the Alpha & Beta Quadrants. Whatever our motives and stories are, we've all banded together in search of pay, adventure or a place to call home. That's what the Shadowdancer is, a home, and that'll be what she'll be for as long as I command her.

So listen here, when you work for me its best you follow the only rule I take to heart: Ship is home, crew is family. Cross that line and we're gonna have some unsavory words between you and I. When you join, you accept the differences that makes us a crew, frankly because no one else will (or at least they pretend so). We're from all walks of life; we are the people the Federation can't abide by: the misfits, rebels, and the downtrodden that don't fit into their 'utopia'. And they've all but forgotten that its us that pave the way to their piece of the pie - their shiny future. But, we keep trucking on because we can't do any less. We go where the money takes us.

Come aboard and weave your piece of the story with us.