March Fifteen, Eighteen Forty Eight.
Paris has seen rejuvenation; the old heart has continued to beat as it did in its prime. Louis-Napoleon, the nephew of the Great Napoleon Bonaparte, had been elected by popular vote and given temporary emergency powers till the end of the year, being placed in control of the Army and having power within the National Assembly. He, however, has been looking for ways to expand this limit. Enlisting the help of Louis Olivier Boubeau, they have began looking through the documentation of the Assembly, as well as beginning a list of "Philippiens et Radicaux", with plans to arrest said list throughout his term.
---
---
In all actuality Louis-Napoleon dreamed of the days of his youth, remembering fondly of his time with his Uncle, the "evil, expansionist, cruel" Emperor who would pick him up and put him on his shoulders to see the parade, who attempted to save France once was no longer blinded by victory after victory. He misses his Uncle, and was disappointed he could not be there when his remains were returned to France. He visits it monthly, however, it is solemn and quiet. He believes that he will avenge his Uncle, to give him the chance of forgiveness and to have the Bonaparte family rise up once more, as the rightful Emperors of the French.

He isn't stupid, however. He knows that any and all aggression will be met by hostile forces on all sides, and that France was not as blood thirsty as it was in the first revolution. He does know, however, that he can provoke. He knew that he needed to isolate control in the Italian peninsula, while supporting the nation of Hungary and whoever that could oppose Austria. He knew that the Austrians, high on their victory from the Napoleonic Wars and stuck on tradition, will look for any reason to attempt to strike them down. Britain does not want any large continental war that was seen three decades ago, and if he expanded in Europe that they would oppose it. Enemies on all sides, however, there was some comfort in knowing that France was a industrial and military beast. Any invasion would be met with radical republicanism, something they wish to avoid. He counts on that.

Multiple factories under the the names "Republican Grand Arsenal I, II, III, IV, and V" would be planned in the south and north, opening to produce the most modern weapons available in Europe. Workers were considered to be part of the army, with their own uniforms and ranks. They were to act in the National Guard if France was ever invaded, serving as its engineers. Below will be its numbers and ranks.
---
---
Conscription and volunteers have began to form a considerable force of around one hundred thousand men, forming a army and several Reserve Corps. The Army, with a mix of veterans and some of the brightest commanders, form the Armee d'Sud. The Staff is headed by the President, surprisingly, as he waits for approval from the Assembly to become Commander of the Military, showing some form of military competency. 50,000 men have been sent to the North East of France, however it is no where in particular. Austria, however will notice it. The rest remain in their current stationing as recruitment carries on, France attempting to build up a military based economy. France also had a substantial navy, with a log being made for use of the Assembly and President.





Currently, in America, there is 3,950 men in Guiana and the Caribbean territories. In West Africa there is 8,000 men. in Algeria there is 15,000 men, and the rest of the military remains in France. The Military's reforms are expected to end by August, with the Nationale Armee effectively formed, armed and trained, Conscription ending, the Arsenal Program finished and ready, and Napoleon being secured as President.
Francois Lehabre would reside in his mansion, having a small civil war between his staff. On his side was the Kitchen Staff, four Grenadiers, and two Cuirassiers. However, the Duke Ferdinand Philippe, moving to the property as a way to possibly find a career in the Mayan Army (which he never appealed to do, rather helping cement relations with locals of Maya and serving as a ambassador despite Francois Lehabre being assigned it) and had support of his family, five Grenadiers, Six local Mayans, and the Chef. Residing in two different mansions, skirmishes occurred daily till now, when Francois demanded Ferdinands head as a traitor to the Republic, as the conflict began when the Revolution occurred. A deadly battle saw a cuirassiers horse killed and his arm broken, two kitchen staff dead, and Francois himself injured. The Dukes force lost one grenadier who had a stroke, residing at the other mansion being treated by the chef till a doctor could come. inspired by the "victory" the duke lead a assault in a room to room battle seeing the Duke captured by kitchen staff and his force, after losing one man, surrendering and reverting to the rule of the Republicans. A public ceremony would be declared, regarding the execution of the Duke. The Duke himself was not anti Republican however he did not want to be executed, as Francois had planned from the beginning. It would occur five weeks from now, word reaching a merchant heading to France and local authorities. Francois would also submit a diplomatic letter to the Mayan Government, indicating that the Republican government had wanted warmer relations with the Mayans



Code: Select all

To: The Mayan Government
From: The French Government; Department of the Navy; West Indies Fleet; Rear Admiral Henri Georgos
Excuse this brief message, however, I have been approved to show case our massive one hundred gun ship of the line as well as one of the very rare steam ships that is in our inventory here in the Caribbean. We will show you the massive broadside of our ship, surely you will be amazed. I have been directed, and considering the fact I still govern the French-American territories, I am to organize a deal between Mayan and French traders to have lower taxes in order to monopolize on each others markets. It is hoped that this leads to better relations to our nations, as our history is that of a positive one. Despite the monarchy's removal, we have no intent to change anything regarding our relations. Military exercises can be done between the units in America and those of yours. Our marines would be interested in seeing how the Mayans battle, and perhaps we can teach you a thing or two regarding ships. It will be a learning lesson.
Thank you for your time
---
Back in the mainland several letters were prepared to be sent to Austria, Britain, and the Pope.



Code: Select all

To: The Holy See and the Pontifical States
From: The French Republic
Greetings Holy Father. France, in wake of the smoke and action of the Revolution, has apparently scared our neighbors. Rest assured that the secularist policies followed previously will no longer be followed, rather, we look forward to working with you! We view the Papacy as the true leaders of Italy, as the others are suspect to influence from nations interested in removing the Papacy domination in Italy. Rest assured that we will defend Rome against all aggressors, and look forward to working with you.



Code: Select all

To: The Kingdom of Great Britain
From: The French Republic
Aware of your blatant "warning" to the Republic of France and her people, rest assured that we have no intention in causing any sort of continental conflict, at least not any large scale one seen over two decades ago. We will, however, protect our interests and allies, as well as protect France against any transgressions. We will warn you, we have began mobilization, and we will not give anything, nor take anything for that matter, for the foreseeable future. Traditionalism of Germany will isolate us against those and we are sure that Austria intends to see us removed, just as it did so many years ago. We will not go on a bloody murdering cycle seen in the first revolution. We hope that we can maintain our trade relationship and avoid any conflict in the years to come.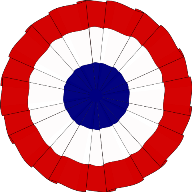 Code: Select all

To: The Austrian Empire
From: The French Republic

Greetings. The French Republic, as you may have heard of our revolution, has undergone drastic changes and practically has became the polar opposite of you. Our few similarities will never reconcile our difference and everything but open hostility is expected. We do stress, however that the French have no interest in sparking some continental war seen so long ago. Peace is desired, and we should both aim to acquire it. Respectively, France denies your claim to Alsace Lorraine however we have no interest into forcing demands that will escalate into war. But do take note we notice it, and hate it. May our conflicts find a diplomatic end if they arise and may war be avoided. We expect recognition as the sovereign ruler of France and that diplomatic communication will be easy and steady between our two nations. Thank you for your time.