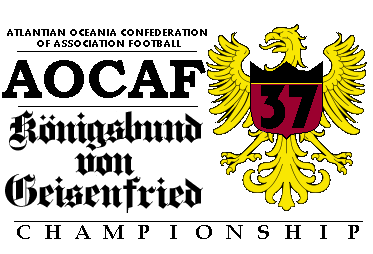 ---
Der

Geisenfried Königlich Fußball Verband

ist stolz auf Sie begrüßen auf den

Königsbund von Geisenfried

für:
The

Geisenfried Royal Football Association

proudly welcomes you to the

Royal Federation of Geisenfried

for:
AOCAF XXXVII
---
The official draw has been made:
Group A
Geisenfried (38)
Legalese (15)
Israeli Apartheid Client-State (39)
Khytenna (49)
Group B
Audioslavia (7)
New Montreal States (12)
Leorudo (25)
Blouman Empire (UR)
Group C
Valanora (2)
Thatius (14)
Lymantatia (33)
Delesa (UR)
Group D
Osarius (6)
Kiryu-shi (10)
Kinitaria (35)
Port Hawthorne (52)
Group E
Andossa Se Mitrin Vega (3)
Wight (13)
95X (30)
Urbis Tractus (UR)
Group F
Pacitalia (1)
Hutt River (22)
Falcania (27)
Austenersey (UR)
Group G
Vilita & Turori (5)
Carpathia & Ruthenia (20)
Farfadillis (42)
Svengarda (UR)
Group H
Dorian and Sonya (4)
Starblaydia (11)
New West Guiana (23)
Mantwenic (50)
We request the football associations of the above nations please use this space to publish any and all necessary information concerning the players and teams to be entered into the tournament, and for that purpose alone. The final draw and information concerning hosting cities and stadiums has been published
here
- we ask you place all other press releases relating to the championship there. Matchdays will begin
Friday, September 21st.
We thank you for participation and hope you enjoy your stay!
---
Please include the following information with your roster.
Style Modifier: any value between -5 (most defensive) to +5 (most offensive). No listed modifier will be assumed as 0 (balanced).
==================================================================
I grant the following roleplay permissions for my opponent:
==================================================================
Choose Scorers: [Y/N]
Godmod Goalscoring Events: [Y/N]
Injure Players: [Y/N] 
 - Limited to Duration of Match: [Y/N]
 - Limited to Duration of Competition: [Y/N]
Godmod Injury Events [Y/N]
 - Limited to Duration of Match: [Y/N]
 - Limited to Duration of Competition: [Y/N]
Godmod Player Discipline: [Y/N]
 - Allow Players to Be Yellow Carded: [Y/N]
 -- Number of Yellow Cards Permitted: ( )
 - Allow Players to Be Red Carded: [Y/N]
 -- Number of Red Cards Permitted: ( ) 
Godmod Other Events: [Y/N]
==================================================================