LY4046 'Dawnbringer' Fractional Orbital Bombardment System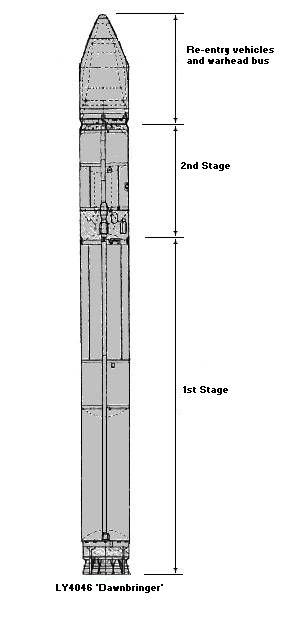 Weight: 210,000kg
Multiple orbit throw-weight: 4,420kg (single warhead), 3,960kg (triple RV)
Penetration aids (by weight): 320kg
Length: 30m
Diameter: 3.4m
Warheads: 3 x 0.5MT, 1 x 3.8MT, 1 x 8MT (exo-atmospheric EMP)
Detonation: Airburst
Engine: Two-stage liquid propellant
Operational Range: Fractional Orbital Bombardment System.
Speed: 7.8- 8 km/s
Guidance system: Inertial, satellite, stellar
Accuracy: <80m CEP
Launch Platform: Silo or Submarine (40m deep)
Background and development
Due to the exceedingly long ranges of the NS world, it became evident to Lyran Executive Command that existing stockpiles of ICBMs were, in actuality, barely capable of striking even the far ends of Greater Dienstad with any certainty, let alone hypothetical targets in Nova, Haven, Tyrrhenia or Gholgoth.
NS map with SS-18/LGM-118 overlay
.
Design work began on what became known as the LY4046 'Dawnbringer' ICBM was commenced shortly after that realisation, using diversely acquired stockpiles of the R-36M2 as the basis.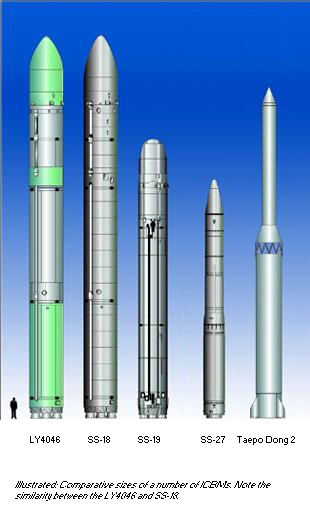 From the outset, capacity to hit any point on the planet was fundamental to the design, and as such selection of a Fractional Orbital Bombardment System was an easy choice. FOBS weapons have the advantage of reaching their targets via orbit, providing them with a theoretically unlimited range, and an RV may approach a target from any angle, and any direction along any given orbital path. That the R36 had already been tested in such a capacity made the changes inherent in the LY4046 considerably easier than may otherwise have been the case.
The most obvious drawback, however, was in the high weight and space requirements of the re-entry vehicles. Unlike conventional ICBMs, FOB systems must actively de-orbit to begin an attack, which consequently requires considerably more systems in place to achieve this aim. RVs include inertial and radio navigation systems linked to available battlespace management systems, a liquid fuelled rocket which serves as the de-orbiting engine, and multiple direction control nozzles with a common gas generator for manoeuvring. These systems combine to consume a considerable proportion of the LY4046's available throw-weight, cutting down the potential warhead load. However, better, it was decided, to have a smaller number of warheads per missile, but each missile be able to hit anywhere on the planet, than have a high number of warheads per missile, unavailable for engaging most potential opposition.
Dinitrogen tetroxides fuel in its basic form was altered by addition of 3wt% nitric oxide/N2O4 mixture, also known as MON3, in order to reduce instance of stress-corrosion cracking of titanium alloys, which feature in many ancillary systems and much aerospace support infrastructure.
Improved guidance and targeting subsystems relative to the R36-series (and borrowed from dubiously obtained LGM-118 and UGM-133 missiles and their warheads), the utilisation of manoeuvrable re-entry vehicles (MaRVs) rather than conventional MIRVs, and satellite guidance through use of the Lyran 'Damocles' constellation brought the CEP per warhead down from 220m to 85m.
As such, 'Dawnbringer' is well able to be used in a hard-target-kill, counter-force role, and it is hypothesised that this may well be the Lyran Protectorate's intended employment of this weapon.
Targeting capabilities of the LY4046 allow it to be programmed for high-altitude detonation, which, when coupled with use of a single, 97% clean, non-re-entering 8MT warhead, grants the 'Dawnbringer' a very highly potent electro-magnetic attack capability, expected to form at least part of any moves in an international missile exchange. Nuclear weapon generated EMP effects first became known in 1962, when the United States conducted the 'Starfish Prime' high altitude nuclear test. A single 1.44MT device detonated at an altitude of 400km (250m) caused disruptions in Honolulu, 1445km away. While EMP area of effect is a derivative of the square of a weapon's yield, strength of the pulse rises in more direct proportion. It was estimated that a single weapon, of equivalent yield, and 480km altitude, would generate debilitating effects over an area with radius of 2350km.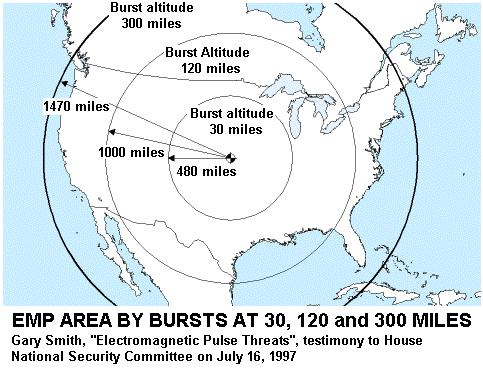 EMP variants of 'Dawnbringer' take this considerably further, by providing five times the yield and improved guidance and precision improving altitude-keeping precision. Peak outputs over 50 and 60kV make short work of all but the most intentionally and effectively hardened systems and circuits, while posing no direct threat to life or limb. Of course, care needs to be taken that use of EMP weapons, in and of itself, not be mistaken for nuclear weapon launch... a problematic position when the launch platform is identical.
As with the R-36, 'Dawnbringer' is ejected from its launch container by a mortar-like piston, and the main engine is ignited once clear of the silo, to avoid damage to the firing platform's internal components, as illustrated below.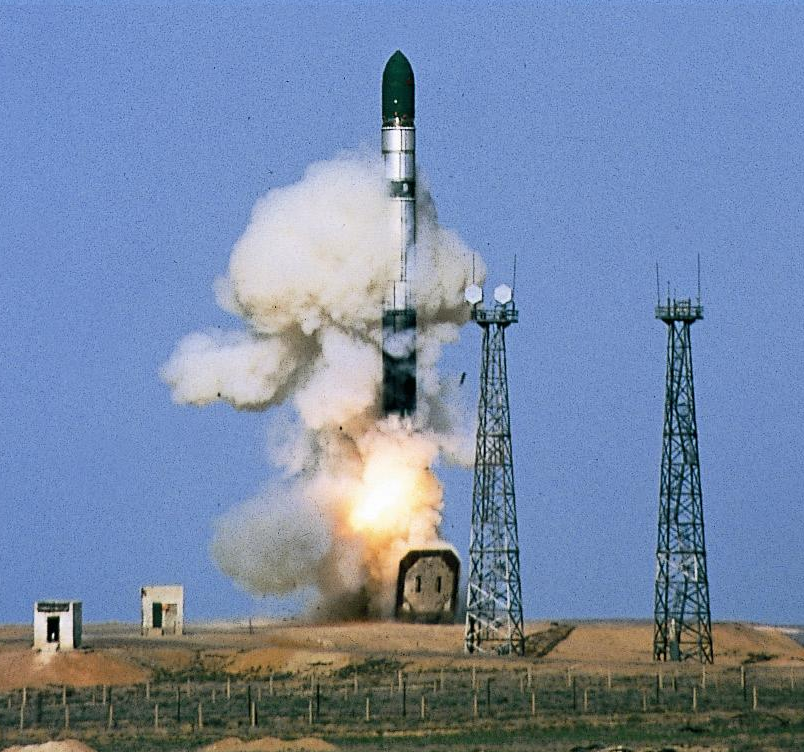 'Dawnbringer' is unusually difficult to engage by anti-ballistic missile systems, for three primary reasons. The first is due to the fact that warheads may de-orbit anywhere along the orbital path, even successfully detecting them prior to re-entry does not provide accurate detail of intended strike location. The second is that the RVs, being themselves manoeuvrable, are unpredictable in their course, and far less constrained in their lines of approach to any given target. Thirdly, the inclusion of multiple penetration aids (such as flares, chaff, false-target balloons and lubricant) makes it considerably more likely that hard-kill ABM systems will be unsuccessful in interception attempts against LY4046 strike.
LY4046 realises genuinely global nuclear reach, and enables nuclear deterrence, regardless of the tyranny of distance.
Export
As an unlimited-range, multiple-RV, low CEP nuclear weapon, export of the LY4046 is tightly controlled. Only states in which the Protectorate has the highest trust are permitted access to the 'Dawnbringer' and its variants. To states thusly accorded the right to acquire, each missile and warhead/s are available at
NS$130m
each, with DPRs going for
NS$130bn
. Please note, purchase prices DOES NOT include the price for silos/launch platforms or fuel, and that maintenance is at purchaser cost. DPRs STRICTLY controlled.
Queries and orders can be lodged through
Lyran Arms
.