Unknown Temple, Southeast Dascus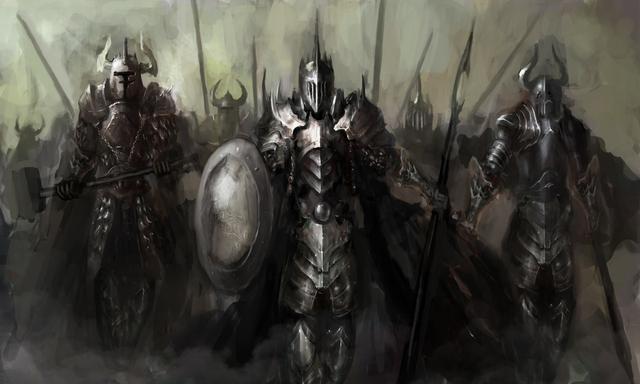 Dulen
"Oh I once knew a Dascan mageee, he couldn't have been half my age. Yet he sang and he danced and when his fingers did blast, well I damn near did shit in my pants!"
A roar of chuckling broke out around a short dwarven man who was singing a ludicrous song among the hired soldiers of the expedition. He didn't look like much of a warrior, he wore silk clothes rather than armor. However he did have a strange crossbow on his back. He had decided the group around him had needed a bit of livening up and he couldn't think of a better way than a good song. He had to admit, this expedition had brought together an incredibly assortment of people. The nobles up front, they were boring but back here? That's where the interesting characters were. He saw a mercenary with an enchanted sword, more beastfolk than he could count, and even some goliaths. Since they still had at least a few minutes until they reached this temple business he decided to make small talk.
There was a wolf like beastfolk nearby, a shi'el knew them to be called.
"Hey there, you're Antoran right? I've been out to your neck of the woods before, very interesting place, though not the safest for someone as small as myself. So what brings you out here? What interest do the shi'el have with a temple in a random Dascian forest?"
Brialya
Being undercover as a soldier was boring. Being undercover as an Athelaian soldier was even worse.
Having spent the last few weeks marching and sitting in brooding silence, Brialya was beginning to question whether or not this mission was worth it. Then she thought of her parents burning to death in their own home and her resolve returned. At the camp things had been much livelier, to the dislike of the priests of the Light. For her cover, she was required to join in, drinking, telling stories, and dancing with other elves. It's a strange feeling, playing pretend with people who had been your enemy since birth. Still Briayla played it well and was now part of a special group headed to investigate this mysterious new temple. To say the Athelaians were on edge was an understatement. Brialya felt a growing sense of unease and tension among their ranks, and it was clear this was the last place some of them wanted to be. Still they kept the peace and had been impressively tame regarding the mages they had been forced to camp with for many nights.
Brialya didn't care about any of the politics though, she was there for one reason.
Someone here knows who Purity is, and I'm going to find them.
Purity was the name she knew the man who had killed her father by. He was a high ranking member of the Athelaian army and he was leading some kind of secret organization. She was on a mission to kill him and that's what mattered to her. Still she knew she had to be careful, she was dressed like an Athelaian so people were going to treat her like one. She had done a good job of putting on the act. She convinced her fellow soldiers that she was a devout follower of the path but she knew the truth.
By Faenar's cloak I am shielded, by my faith I am reborn.
That mantra anchored her to her true identity, her faith and determination was something no circumstance could take from her.
"Commander says they're only letting us bring five soldiers in." One of her fellow soldiers said in front of them.
"Bunch of bullshit that is." Another replied. "If they think we'll just let the mages run this show they are as dumb as they are deviant."
Brialya couldn't help but feel this peace of theirs was very temporary.
Faith guides my blade, I kill to protect the innocent, in Faenar's care freedom lives on.
Sir Quentin "Wolf" Raeden
If the ancients were kinder, they would have built their temples in nicer places.
The knight thought in an absent-minded manner as he rode atop his horse through a thickly forested path. He was accompanied by a half dozen other knights of Shotarr as part of a larger international expedition. Their
flag
flew above them proudly as they marched. In total there was probably a hundred and fifty people travelling together. They were all part of an expedition to explore a recently discovered temple of unknown origins. The various nations descended upon it like vultures as had been the trend for the last few years. Thankfully however instead of fighting a war, they actually decided to try to handle things diplomatically. Quentin was likely in the minority among his fellow knights in that opinion. Many of them welcomed war with Dascus or Athela or anyone really. Whether it be to earn glory as a warrior or secure land and title as a commander, the motivations of the Knights of Shotarr had fallen far from their original purpose. Many assumed Quentin had these desires as well, after all the famous Wolf had the potential to be a mighty warlord.
I just want to protect people.
It was laughably naive for a man who was trained to kill others and likely made most common folk shit their breeches when he walked past, but it was true. He didn't want to be some lord growing fat in a castle, that was never his interests. Still he was loyal to the knights, his brothers, and to the will of their benevolent lord Shotarr. He was just grateful for the opportunity to prevent death rather than cause it.
Sir Quentin and his entourage were close to the front of the group. Alongside them stood a group of Knight Enchanters from Tashar as well as a number of their researchers. Next to them, standing a healthy distance apart was the Dascian contingent, led largely by the representatives of the Magi Consortium. Their symbol, a phoenix flying over the rising sun, flew above them. They were also accompanied by members of the royal army. Of course King Adrian himself was not in attendance. Quentin knew that poor boy had more than enough on his plate to deal with in his own home.
Trailing a good distance behind them were the Athelaians. Strange folks those elves were. They were clearly not comfortable intermingling with humans, or even worse mages. Still something was more off with them then usually. Their contingent was larger than the other nations, and they had far more warriors than researchers. Behind them were the various mercenaries that had been contracted as protection. It was an extremely motley crew and that made Quentin wary. The last thing they needed in a heated situation like this was an undisciplined sell sword quick to draw their blade.
After another twenty minutes or so of riding they approached the
entrance
to the temple. It was inconspicuous enough but it gave Quentin a dark feeling. He didn't want to be anywhere near these ruins, but duty called that he moved forward. He turned to his second in command, Sir Lucius.
"Pick two other knights to come inside with us, and bring one of the Chosen as well. Gods forbid we need them."
With that done, they descended into the temple. The path was narrow, and only one knight could enter at a time until it opened up into a wider chamber. The first
room
of the temple was as bizarre as Quentin might have expected. At the center stood a fountain with a glowing magical orb. The orb was projecting images onto the walls. It depicted monstrous horrors, demons with tentacled faces and massive claws. Images of fire flicked across the walls and another wall showed the image of a great war between these demons and an army clad in white.
What the hell have we walked into?