THE SHADOWDANCER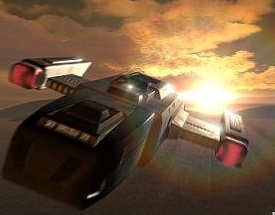 OOC
Soltok VI
Osterdaag
Gul Remec despised rain. Not a single fiber in his being could appreciate the benefits of the current torrential downpour. It had a way of drenching the bottom of his uniform pants despite his best efforts to stay dry, it turned his boots a sickly brown that only squished with every footfall - not to mention leave a cracked and caked layer afterwards when drying. And the ground was a hazardous minefield that he'd sooner deal with a ship under fire any day rather than trudge through the filth with precarious balance. The worst of it all, Remec groused, was the cold.
And Cardassians
hated
the cold.
It was more insidious than anything the Gul could imagine. It was everywhere, it blanketed itself almost immediately following the downpour. It stayed and spread itself across the town, through ground, walls, and clothes. It slithered itself into his skin, tendrils cooling his otherwise warm Cardassian blood. But unlike the humans who seemed unfazed by it and some even looked as though they relished the weather, the cold stayed as an affront to their Cardassian oppressors. It was a reminder, an affirmation, why Cardassians did not favor the cold; and it served to stew the anger and hatred from within, one that the cold was slowly testing his the resolve of his men, including himself. He longed for Cardassia, hoping - almost wishing - reinforcements would arrive by the next morning's sun and be relieved from this place.
But Remec knew better than to easily give in once Hadar and the reinforcements arrived. This planet was his and it would be his duty to oversee whatever Command saw fit. His status, and that of his family, would rise. If all went accordingly, and the humans were dealt with, Remec envisioned himself as Gul of his own station, or even Prefect. His hopes and ambition were the only things keeping the cold from consuming him.
"Gul Remec!" Glinn Pjarr's voice came crashing as hard as the rain outside the Gul's office.
"What is it?" The Cardassian barked, the cold did little to hide his contempt for the interruption, much less his mood over all.
"Of the six patrols we sent, two have not reported in. I've ordered a small search party to their last known position." Pjarr, despite the cold, sounded oddly proud of himself.
Remec could only glare at the Glinn, whose new found pride was eroding with every millisecond past. "The Maquis?"
The Glinn hesitated, "We are not certain."
"Who else would it be?! Certainly not these sheep roaming around here!" Remec shouted, the chair he sat on fell backwards as he got to his feet. The Glinn took a step back, fear had taken over. "You would lose more of our men on some futile search? Our patrols units were fully armed; it stands to reason the Maquis would have killed them and procured the weapons for themselves. Get the search team back and reorganize the perimeter. No one is to leave this compound without my explicit orders."
"Yes, Gul!"
"Get out of my sight. Send for our illustrious mayor. He and I have much to discuss."
Pjarr left without a word and only a salute, scurrying out of the office as fast as his cold leaden legs could go. The door shut quietly, leaving Remec to his thoughts once more.
The Gul moved over to the office, watching the town he had annexed and no sooner, Pjarr, who had come out, barking orders as though a Gul himself. Weasel, Remec thought with disdain.
---
Shadowdancer
Normally the rain would put Nathan at ease. He loved the rain, didn't see too much of it given his spacefaring ways, but the handful of times he did, Nathan found it peaceful. Even now, on Soltok VI helping a desperate band of backward villagers against their Cardassian rulers, the pitter-patter of the rain dancing across his ships hull was a stress reliever, a calmness that he hadn't felt in a very long time.
The only one to really put a dampener on that was Dan, having been on board since their departure from Ajilon and now seated across the table. Although the two had done their best to keep their distance, the ship was small, and working together was a necessity rather than an option. It also helped that the rest of the crew were here in their large dining area.
"The Cardassians haven't said anything," 'Dancer informed them. A Maquis unit had intercepted a patrol and taken them captive. Their weapons and communication devices were seized. Where they were held was unknown, Dan insisted it was better that way and Nathan didn't argue about that.
"And the rest of your men?" Nathan asked.
Dan shrugged, eyeing the captain who in turn kept his own stare fixed on anything but him. "They're around. A few of them have met with the other town locals some 10-20 miles from here, but don't expect them to assist - overtly anyway."
Nathan only nodded, glancing over to Arelle, "Any luck with the sensor array?"
Whatever the Cardassians were up to, it was playing hell upon 'Dancer's own sensors and they needed to know if - when - more Cardassians suddenly popped in orbit of Soltok VI. They'd need a quick getaway rather than being bombarded from high up. There were other challenges about that, but Nathan couldn't recall all that Arelle had listed.
"What of our power reserves?" He asked immediately after, eyeing Suval and Samantha. A litany of issues on that one; or else this job would have been a simple sweep with the transporter and they'd be on the way. Nothing was ever as simple as that; the transporter took an inordinate amount of power, a dampening field was erected around Osterdaag, and the power was mainly kept to conceal 'Dancer from enemy sensors.
The captain eyed his newest crewmember next. A young pale waif who looked about as out of place with them as they did to the rest of the galaxy. Well, she was technically home now, but for entirely different reasons - once Nathan's crew had a common goal towards if they wanted to see payment. "Have you managed to draw up a map of Osterdaag, Hadassah? We can input that into our database and use the sensors - once its properly fixed - to determine the best way to tackle the Cardassians."