Hircus Factbook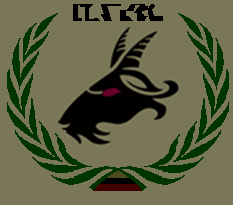 Interstellar Commonwealth of Hircus
Name Adjective:
Hircine
Hircus Is a
Virtual Forum Democracy
.
1. Personnel pleasures are accepted as long as free will among the participants is active for all.
2. Medical service to all visitors is free of charge.
3. Any weapons not specified are illegal. (If you are not here to cause harm they are not needed.)
4. Slavery/Bondage is illegal. (See 1st rule.)
5. Asylum is offered to those who request it. A panel will investigate the situation and will make recommendation for full asylum or expulsion.
6. Facilities are available for Summits/Talks between different governments.
National Information:
- Full Name of Political Entity:
- Major Sapient Species:
- Government Type:
- Head of State:
- Head of Government:
- Minister of Foreign Affairs or Equivalent:
Ambassadorial Information:
- Ambassador's Name:
- Ambassador's Family (if any):
- Are there any special species needs, quarters or security issues local authorities should be alerted of?
Staff and Equipment Information:
- Diplomatic Staff (6):
- Security Staff(6):
- Service Staff(6):
- Will you be hiring locally?
- Number and Type of Weapons (Standard Sidearm Or Melee Weapon only):
- Number and Type of Ship/Shuttle (2):
Miscellaneous:
- Would you like us to establish an embassy in your nation?
- Do you have any special requests?
- Would you like to enter into trade/treaty talks?
- Is there any additional information we should know?
- Please declare any drugs, alcohol, animals or plants you are bringing into Hircus.
--------------------------------------------------------------------------------------------------------------------------------------------------------------------------------
(We Will supply these
Free of Charge
if you wish.)
Our Other World Missions
---------------------------------------------------------------------------------------------------------------------------
---------------------------------------------------------------------------------------------------------------------------
_________________________________________________________________________________________________________________________________
Embassies at the Starport
Friends-Allies
-The Kingdom of the Isles of Ceasario-- Section 1 Forward Suite 1
-The Magocratic Empire of Olwe--- Section 1 Forward Suite 2
-The Anglo-Germanic Empire of Karlsland--- Section 1 Suite 4 combines with Suite 3 (Aquatic Environment)
-The Greater Yang Empire of Minroz (FT)--- Section 1 Suite 5 Combines with 6 (Religious Shrine)
-The Constitutional Monarchy of Potlimitomaha--- Section 1 Suite 7 (CLOSED)
-The Most Serene United Kingdom of Bordoria---- Section 1 Suite 8
-YellowApple, Inc. -----Section 1 Suite 9
-The Planetary Diplomatic Corps of Lananara (Cameroi) ----Section 1 Suite 10
-The Commonwealth of Benjamin Mark ----- Section 1 Suites 11 (includes 12)
-The Desternian/Persean Imperium of the Skyheld----Section 2 Suite 1
-Incorporated Colonial Tribes of Scinan Government Services----Section 2 Suite 2 (Includes 3)(Special interactive Holodeck for species safe interaction)
-Third Federation of Danarian Clans---- Section 2 Suite 4 (includes suite 5)
- People's Republic of Jichang---- Section 2 Suite 6
-Imperial Kingdom of Kettering town---- Section 2 Suite 7
-The Mind Empire of Lotrabme ----- Section 2 Suite 8-10 (Includes Holo-Suite)
- The United Socialist Regions of the Azerothian Union ------ Section 2 Suite 12 --(Maintains a Bar Store 11 in Promenade)
- Saurisia --Section 2 Suite 13 and 14
- Fratanica ----Section 2 Suite 15
-The United Kingdom of Tuskamo --- Section 2 Suite 16
- Holy Empire of Eddoren---- Section 2 Suite 17 and 18 (Temporarily Closed due to loss of contact)
- The Archailect Collective of Aeiouia ---- Section 2 Suite 19
- The Unified Federal Republic of Tovakestan -----Section 2 Suite 20 and 21
- Democratic Monarchy of Ashane ----- Section 2 Suite 22 (Temporarily Closed due to loss of contact)
- Vacant ------------Section 2 Suite 23 and 24
- The Democratic Co-Kingdom of Zogradia ----- Section 3 Suite 1
- Island Kingdom/Principality of Soreka ------Section 3 Suite 2
- The Galactic Federation of Odinburgh --- Section 3 Suite 3 and 4
- Empire of Gim --- Section 3 Suite 5
- The Brotherhood of Planets ----- Section 3 Suite 6 and 7
-Accordance of Free Worlds-
Alliance Thread
Neutral
Watched
-The Constitutional Monarchy of Potlimitomaha
-The Empire of Greater Sveriege
Enemies