Baptism of Fire 35


Golden Throne—Uiri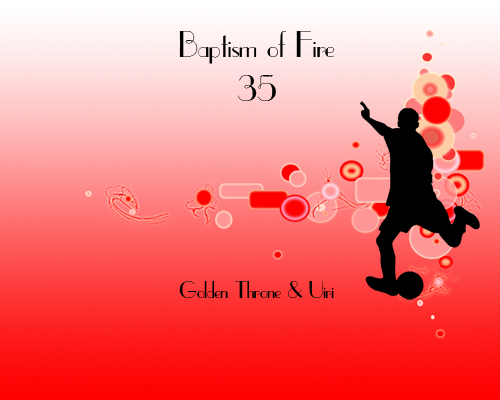 "Promoting fair and healthy competition…"
Both Uiri and the Second Empire of the Golden Throne enjoy a long history of association football. We would like to share our football culture with the world by bidding to host the Thirty-Fifth Baptism of Fire. Our aim is to offer national football teams just coming up onto the world stage a great beginning to the wonderful experience that is participating in the World Cup. Our principle goal, other than the general objective of hosting the tournament, is to foster fair play and competition. From there comes our motto—we believe that this is the key to a successful tournament. Also, it will—in some sense—indoctrinate upcoming national football teams towards a type of play which is cleaner and more entertaining to watch. In other words, our plan is to set a standard for world stage football competition of fair play. This type of example is imperative to culture successful world teams from the "Baptism of Fire and up".
Geography:
One of the main advantages to the Second Empire's and Uiri's bid is that the two candidate co-hosts are relatively proximate to each other geographically. Indeed, at their closest point the two are less than one thousand kilometers away from each other (Uiri and the Golden Throne are geographic neighbors). Although half of the teams will find themselves hosted at either country, it will make it easier for these teams to interact with each other, and when the time comes to host the final then the team previously playing in the opposite country will find it easy to transfer themselves to the location of the final game. Furthermore, it is relatively easy for fans to travel back and forth, given cheap airfare and seaway rates. There are near constant aerial and naval tourist assets commuting back and forth throughout the day, and fare prices tend to be incredibly low.
Football for the masses:
We believe that, as a sport, football games should be viewable to the masses. Sponsor companies (the bid is completely privatized) will offer cheap ticket prices to fans, making sure that the stadiums are filled and those willing and able can watch their favorite team play during the Baptism of Fire. Furthermore, game sponsors have begun to team up with hotels and nearby motels to provide fans affordable living accommodations while they stay at either Uiri or the Golden Throne. Companies are preparing for the event by setting up a process which will lead to widespread "vertical stacking", which effectively means that sponsors will partner up with other related industries to cut costs so that the consumer can enjoy the good (in this particular case, football and housing) at an affordable price.
Proposed Official Song of BoF35:
Dreaming
Experience:
The Second Empire of the Golden Throne has been the home of many tournaments, including two futsal (
futbol sala
) tournaments and the first Díenstad Cup. Uiri has previously hosted the Quidditch World Cup and is set to host the Second Díenstad Cup. Both nations have also hosted their own private football leagues and have the stadiums to hold the expected amount of people which will visit the tournament. For example, the Fedala Imperials' Stadium, in the city of Fedala, is designed to hold an estimated 300,000 spectators (a total city population of roughly 150 million; there are four major football stadiums in the city, for four "major" teams—three of these are second and third division teams. All other stadiums that are earmarked for the Baptism of Fire 35 are of similar dimensions, in both the Second Empire and Uiri.
Scoring:
The latest version of NSFS will be used. Scores will be provided at around 12 to 1 PM Pacific Time. Roleplay bonuses will be given. These bonuses will reflect quality over quantity. Given that no team is ranked, roleplay bonuses will have a big impact on scores. Teams that put time and effort into the tournament will be rewarded justly.
Questions?
Our public relations office will be happy to answer them for you!