The Atlantian Oceania Confederation of Association Football
in association with
The Krytenian Football Association
present
Welcome, nations of Atlantian Oceania, to the forty-eighth edition of the AOCAF Cup competition, being held for a record sixth time in the nation where it all started: Krytenia.
Welcome To Krytenia!
Or welcome back, to the many of you who've visited these shores before. Krytenia is a modern, cosmopolitan nation, full of sights to see and things to do. The host cities have vibrant nightlife, and marijuana is legal (though strictly licenced, please buy from authorised stores). Curry is the national dish, and there are plenty of restaurants that specialise in the stuff; spicy desserts are not uncommon, blending the sweetness of chocolate or caramel with the spiciness of your main course. If you don't like spice, there are a glut of international restaurants, so you'll find something to your tastes. Prices are reasonable, especially with the current strong argental, and purchases of non-essential items include sales tax in the price, so no having to add 11% before getting to the till. Duty free stores operate at most major cities, and at all airport and ferry/sea terminals; on presentation of your passport and travel details, non-terminal stores will deliver to "pick-up points" at air or sea ports, so long as you purchase at least 24 hours before departure. The central cities, Emberton and Avidia, both contain large Hispanophonic communities, whilst the south of the country is almost entirely English-speaking. English is the only national language, but plenty of French and Spanish speakers abound.
Please note if hiring a car in Krytenia, smoking is not permitted in rental cars and we drive on the left.
Host Cities and Stadia
EMBERTON
Stadium: Isserson Olympic Stadium, cap 204,661
Emberton is the place to be in Krytenia. The largest city, the Olympic host, and the "City of Nations". Almost all countries of the world can find a friend from their nation within this glittering metropolis. The stadium itself is the jewel in Krytenia's crown, and has hosted World Cup finals, and most famously, the VII Summer Olympics.
AIGBURTH
Stadium: ArenaWest, cap 54,862
Aigburth may not be the swinging cosmopolitan centre, or the grand old gem, but they make up for this with a raft of import shopping. Placed on the shores of the Sea of Vilita, it is said that everything that Krytenia is passes through the Aigburth Docks. Visit Wavertree Bay, a few miles south, for the best beaches in the Provinces, and enjoy the noise of the acoustically-engineered ArenaWest during the games here.
AVIDIA
Stadium: New City Stadium, cap 88,553
The Second City, and ancient capital, Avidia mixes ancient and modern. The famous Guildhall takes a Victorian meeting hall, and turns it into a concert and indoor sports venue of grand spectacle. The Spanish Quarter is excellent for shopping, and though the stadium (in the Avidia New City development) is outside the centre, the Avidia Metro provides good rail links.
BROMHAM
Stadium: Cygnus Stadium, cap 105,013
When it was the capital of Nova Mercia, Bromham was famed for political debate. Now, it's skyscrapers and high technology, thanks to the Cygnus Corporation. They also sponsor the stadium, which was the original permanent home of the Cygnus Cup final.
CAVERSHAM
Stadium: Draconium Arena, cap 51,233
Long considered a backwater of the nation, Caversham's star has risen in recent years thanks to them being the centre of the nation's glass and crystal manufacturing industry. The City of Glass is now a hive of activity...and yes, you can get some lovely crystal trinkets for the other half cheap here. Look out for the huge dragon mural in stained glass at the stadium, too.
NORTON
Stadium: Munitis Stadium, cap 74,593
The "Northern Capital", Norton has a lot of influence from its northern neighbours in Mertagne. One thing that is decidedly Krytenian, however, is the Munitis Stadium, named after legendary goalkeeper Alan Munitis.
OSTERIA
Stadium: Coalfields, cap 71,119
The "City of Smoke" from its position as the centre of Krytenia's coal refining and steelmaking industries. Indeed, the stadium here is built on a former spoil tip. Don't worry though, the industry isn't as big as it was, so the pollution shouldn't be a problem. Probably.
OUSEVALE
Stadium: Southern Arena, cap 91,093
Osevale, the "University City", is jam-packed with students and cheap beer. It's also, statistically speaking, the sunniest city in Krytenia, which is why the Southern Arena has an unusually high roof.
SIMPSON
Stadium: Walton Gardens, cap 55,208
The "Green City"; parkland and picturesque garden squares abound here. The Simpson Botanical Gardens moved to a new location many moons ago, and their former home is now home to Caledon Simpson at the stadium you'll be visiting.
STANTON
Stadium: Harbour Stadium, cap 60,622
Stanton's trade has long come from their position on the shores of Lake Bekk, known as the Beck by locals. Stanton's historic docks now house a bevy of interesting uses for former warehouses; a couple were demolished, though, to make room for the Harbour Stadium.
Map of host cities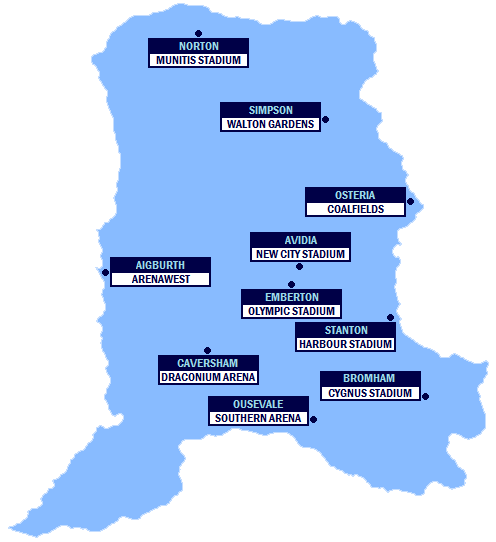 Competing nations and groups - rank in square brackets:
GROUP A
Krytenia [31]
Ko-oren [6]
Semarland [17]
Swilatia [UR]
GROUP B
Vilita and Turori [5]
Mertagne [9]
Western Sunrise Islands [22]
Lindmark [42]
GROUP C
Osarius [3]
Cosumar [12]
Equestrian States [15]
Weimania [44]
GROUP D
Valanora [2]
Starblaydia [11]
Ratastan [18]
Tallaga la Falla [UR]
GROUP E
Audioslavia [1]
Farfadillis [7]
West Guiana [19]
Austenersey [=51]
GROUP F
95X [4] - holders
Royal Kingdom of Quebec [10]
Greater Watford [13]
Protectoria [UR]
MD1 (1v3, 2v4): Friday 28 August
Matches:
A - Krytenia vs Semarland (Emberton), Ko-oren vs Swilatia (Aigburth)
B - Vilita & Turori vs Western Sunrise Islands (Caversham), Mertagne vs Lindmark (Ousevale)
C - Osarius vs Equestrian States (Simpson), Cosumar vs Weimania (Bromham)
D - Valanora vs Ratastan (Stanton), Starblaydia vs Tallaga la Falla (Norton)
E - Audioslavia vs West Guiana (Emberton), Farfadillis vs Austenersey (Avidia)
F - 95X vs Greater Watford (Caversham), Royal Kingdom of Quebec vs Protectoria (Osteria)
MD2 (1v4, 2v3): Sunday 30 August
Matches:
A - Krytenia vs Swilatia (Stanton), Ko-oren vs Semarland (Ousevale)
B - Vilita & Turori vs Lindmark (Bromham), Mertagne vs Western Sunrise Islands (Aigburth)
C - Osarius vs Weimania (Avidia), Cosumar vs Equestrian States (Emberton)
D - Valanora vs Tallaga la Falla (Osteria), Starblaydia vs Ratastan (Simpson)
E - Audioslavia vs Austenersey (Norton), Farfadillis vs West Guiana (Caversham)
F - 95X vs Protectoria (Ousevale), Royal Kingdom of Quebec vs Greater Watford (Stanton)
MD3 (1v2, 3v4): Tuesday 1 September
Matches:
A - Krytenia vs Ko-oren (Avidia), Semarland vs Swilatia (Bromham)
B - Vilita & Turori vs Mertagne (Norton), Western Sunrise Islands vs Lindmark (Osteria)
C - Osarius vs Cosumar (Ousevale), Equestrian States vs Weimania (Stanton)
D - Valanora vs Starblaydia (Aigburth), Ratastan vs Tallaga la Falla (Caversham)
E - Audioslavia vs Farfadillis (Bromham), West Guiana vs Austenersey (Simpson)
F - 95X vs Royal Kingdom of Quebec (Emberton), Greater Watford vs Protectoria (Avidia)
Round Two: Thursday 3 September
Quarter Finals: Saturday 5 September
Semi Finals (Ousevale/Avidia): Monday 7 September
3PPO and Final (Bromham/Emberton): Wednesday 9 September
Group winners, second place, and best four third placed sides qualify for Round Two.
Round Two Draw:
1: Winner A vs 3rd C/D/E (Avidia)
2: Second B vs Second F (Simpson)
(will meet in QF1 in Emberton)
3: Winner C vs 3rd A/B/F (Bromham)
4: Winner E vs Second D (Emberton)
(will meet in QF2 in Caversham)
5: Second A vs Second C (Osteria)
6: Winner D vs 3rd B/E/F (Aigburth)
(will meet in QF3 in Ousevale)
7: Winner B vs 3rd A/C/D (Stanton)
8: Winner F vs Second E (Norton)
(will meet in QF4 in Bromham)