MUSINGS OF AN ARMORED DINNER JACKET
Official blog of Ibrahim Ahmadinejad, Right Fielder of the Verbergerkinnh Cubs and the Abanhfleft Revolution
THE REVOLUTION HAS FINALLY BEEN DEFEATED...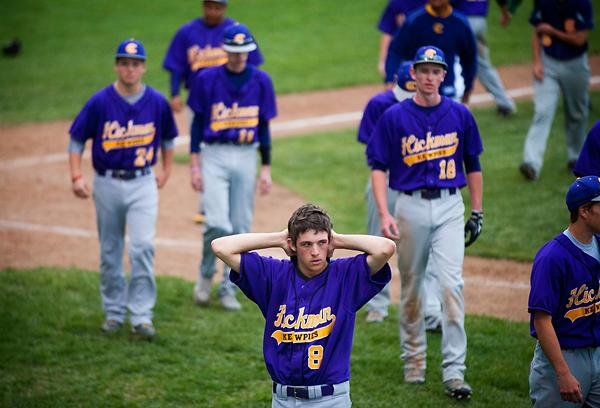 Players of the Abanhfleft Revolution walk off the diamond silently following their 11-3 trouncing against the Gregoryisgodistan Bat Slaves.
(Courtesy of Crescent News Network Sports Channel/Noburo Paulsky)
LIVE FROM TOHOKO, NOBURU TAIYOU - Oh, well, you win some, you lose some. The Abanhfleft Revolution really tried to put up a spirited performance against the Bat Slaves, but they were simply just too strong. But you know what, we were actually lucky that we even managed to score 3 runs against them.
Let's take a look at this game 2 of the Finals. The Bat Slaves started off strong, with denying the Revolution any runs at the top of the first inning and scoring two runs at the bottom. These Bat Slaves players, with weird names like Shirtmaker 9DHUAS and Soldier USUALSO (probably because their names are controlled by their Xerxes-like dictator or something) are very good for players coming from a dictatorship. But the guy to really watch out for was Enemy Crusher Bobby Furgles, who scored a two-run homer against Justin Yardley to put him and that Soldier JSIAISKS through to home plate.
It was during the fourth and fifth innings that the Bat Slaves showed why they were the top team in NS baseball. 4 runs in two innings... Damn, son! Don't get me wrong, we tried to put up a good offense, we really did. But their defense was just very much better than our offense, and we got nothing for three consecutive innings. Okay, so Carlos the Jackal and Jiangming scored two runs at the top of the seventh, but then the Bat Slaves scored a three-run homer to keep their lead up to ludicrous levels. By then, the will had totally gone out of the Revolution, and we didn't even try to mount a decent defense. Luckily though, the Bat Slaves kept striking out and fouling and whatnot, and only managed to score two runs at the bottom of the eighth. And we didn't even make an effort to score at all at the top of the ninth. So the Bat Slaves scored the walk-off home run, and we walked off with the knowledge that while we can beat a lot of ranked, we can't defeat all of them.
This loss has given us yet another meeting with Imota for who will face the Bat Slaves in the battle for the championship. We've beaten them before, so I think our chances of facing them again are good, but then again Imota is ranked fifth. It's anyone's game at the moment? So who do you guys think will win this time? The Revolution? Or the Sunwings? Tune in to tomorrow's game to find out. This is the Armored Dinner Jacket saying,
ciao, peace.
Catch you in my next post.