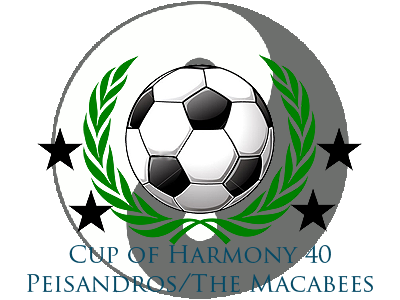 Cup of Harmony 40 Peisandros/Macabee Bid
The Cup of Harmony has oft been relegated to the standings of a second-class football tournament, if only because those which partake in said tournaments are oft considered to be second-class teams. This is a position which cannot stand up to scrutiny. There are a myriad of reasons a team can fail to qualify for the WCC World Cup. This list of reasons does not have to include a poor performance on average. If the qualification stage for World Cup 48 proves anything it is that the general worldwide level of rendition has risen, which means that officially low-ranked teams are able and willing to compete against squads which should theoretically be much better. As a result, there is no reason to presuppose that teams which are "condemned" to the Cup of Harmony are worse in quality. Yet, present stereotypes seem to reaffirm this attitude. The hosting committees of Peisandros and the Second Empire wish to reverse this prevailing opinion by putting together one of the most extravagant Cup of Harmony tournaments known to the WCC. We wish to send the message that Cup of Harmony teams do not deserve less than their World Cup counterparts, and that Cup of Harmony squads can put together the same quality of game.
In the Second Empire the drive to host a major international football tournament has led to the investment of billions of Ríokmarks. For example, the Fedala Imperial Stadium has been expanded to 350,000 seats, making it one of the largest stadiums in the world. Dozens of other stadiums around the Second Empire have been build and expanded in order to accommodate the hundreds of thousands of foreign citizens expected to arrive for any given tournament hosted. Their hosting potential has been tested in recent times. This nation hosted Díenstad Cup I, where Lamoni were crowned regional champions, will host Díenstad Cup II, and also ran the inaugural Kings' Cup tournament (where Starblaydia took its second international title of that year). Apart from football, the Second Empire has also been the host country to Futsal World Cup I. It, unfortunately, has yet to host a WCC-sponsored event. It bid jointly with Uir for the Baptism of Fire, but did not win the vote. It hopes to turn its fortunes around this year, by hosting the Cup of Harmony. It was a hosting history to provide those reluctant to vote with enough of a reason to trust its abilities. Besides experience, the amount of money poured into renovating the country's stadiums for these international tournaments should provide a good reason to vote in favor of this bid, as well. There is a guarantee of sorts that no team will experience poor conditions with the grass on the pitch, and the guarantee that all fans will be accommodated as proper.
Peisandros, the Second Empire's bid partner, has experience manifested in the form of being the host of Cup of Harmony 37. As a result, Peisandros has direct hosting experience with this exact tournament. Peisandros is also a country with world class stadiums, improved overtime and kept maintained and up to date. The mixture of direct experience and a pool of indirect hosting experience proves invaluable.
Some considerations (most of these are OOC):
Scoring times:
There is a major time difference between the two hosts. Scoring will occur, on average, between 1:30PM and 2:30PM Pacific Time. In regards to the Macabees, on Wednesdays he gets out of class at 1:15 and may start work at 2:00, so scoring should come between 1:30 and 1:45. If not, the participants will be warned ahead of schedule in order to make the proper arrangements to cope with the distortion in scoring time.
Roleplay bonus:
There will be a cumulative bonus advantage given to roleplaying nations. It is added to the KBP-point bonus. The bonus will take into consideration past matchdays, as to not give a fatal disadvantage to those who cannot roleplay on a constant basis.
Qualification:
A team can qualify for the Cup of Harmony by having posted a roster and at least one-RP for the World Cup 48 qualification stage. These teams will receive an invitation from the hosts. The tournament groups will remain even and so invited teams will be accepted on a first come, first serve, basis. However, the hosts will try to accommodate all qualifying teams that accept the invitation to the best of their abilities.
Host teams:
If Peisandros and the Second Empire do not qualify for World Cup 48 and instead are invited to the Cup of Harmony as hosts they will be organized into groups in the opposite country. There is to be no home-team advantage (and, as a result, the hosts will make all accommodations necessary to host the final match in any of the two capital cities).
Questions or concerns?
Thank you,
Peisandros Hosting Committee and Macabee Hosting Committee