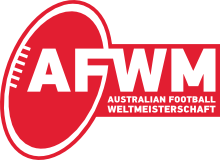 Australian-Football-Weltmeisterschaft
Australian Football World Championship
The Lontorikanische Sportbund invites the
Australian football
associations of the world to participate in what it assumes to be the sport's first world championship.
Entry rules
Each association may enter one team in the tournament, which may either be a club team or similar entity, or a representative team composed of players from the association's several clubs. Participating associations are expected to submit their club name (unless sending a representative team), their coach's name, a roster of no more than thirty-six players, and uniforms colours (image not required, but I may create them if requested). Each association is asked (though not required) to provide a team of officials; these teams will be assigned to matches by the organizers.
Format
The first phase of the competition will, in principle, consist of a double round-robin of all participating teams, with each team playing each opponent at home and away. (Alternative formats will be considered if more than eight teams enter.) Teams will receive four match points for each win and two for each draw. In the event that two teams finish with the same number of match points, the tie will be broken by scoring percentage (points scored divided by points conceded, like goal average in other sports). In the unlikely event that teams are still tied, the next tie-breaker will be points scored; if a tie still remains, these tie-breakers will be repeated considering only matches between the tied teams; if teams absolutely cannot be separated, lots will be drawn.
The championship will be decided by a play-off involving all participating teams (again, to be reconsidered if more than eight teams enter). The format of the play-off will depend upon the number of teams, but will assign home advantage to higher-seeded teams, and will allow some high-seeded teams to advance regardless of whether they win the opening match. In the event of a draw, two five-minute periods of extra time will be played to determine a winner; if the teams are still level after extra time, two further periods will be played. The
Meisterschaftsfinale
(Grand Final) will be the only match of the tournament held at a neutral site. Tristiano Droga Arena, located on the top floor of the Olympic Tower in Aeropag, Paripana (below the better-known Olympic Tower Stadium), will host the match, as it is the highest-capacity stadium in Paripana which can be economically reconfigured for Australian football. If the
Meisterschaftsfinale
is drawn, it will be replayed the following week; extra time will be played if the replay is also drawn.
Scorinator
This competition is part of the
Festivalo de Tutmondaj Futbaloj
(Festival of Worldwide Footballs), and as such will be scorinated using the beta version of Footba11er. Since Footba11er does not natively support extra time (except of the golden goal/sudden death variety), a modified formula will be used in the event that extra time is needed.
Entries (6)