FloorGang, capital city of United Hemand Insia
9:23pm local, evening before Matchday 10
Avalance team members were filing out of their conference room after an evening strategy session with the coaches. Tomorrow evening would be the deciding match on whether they would be advancing in the tournament. Excitement was in the air, with the team on the brink of unprecedented territory.
"Hey Sampson," said Blake Ketchum, jogging up to catch one of the more senior members of the team. "You wanna catch a drink before we turn in?"
At 34 years old, Bob Sampson was the third oldest member of the Avalanche who made the trip to the World Cup of Hockey. This was set to be his final season before retirement, and he was relishing the team's performance in light of that. "You know what, why not. I could go for a glass."
"I'm gonna grab Andersen, too. Heard there's a decent pub a couple minutes away. I've put in for a ride, should be here in a few."
"Sounds good. I'm gonna drop this bag off, meet you in the lobby?"
"Cool." Ketchum turned to catch his other prospect while Sampson caught the elevator to their floor. A few minutes later, he was back downstairs and walking into the lobby.
Ketchum, alternate captain Karl Andersen, and junior reserve Mikey Howarth were chatting as he walked up. Ketchum glanced at his phone. "Ride's here. Let's load!"
The group walked out the front of the hotel to a rideshare. "As leader of this expedition, I call shotgun!" said Ketchum. Sampson injected, "Shotgun pays, right?" to laughs from the others.
A light rain had started about ten minutes before their meeting ended, and the streets glistened in the lights as they drove to the pub. They passed by the ice arena on the way, still lit up with preparations for tomorrow night's game with the home team.
Shortly, they arrived at their destination, getting out and dashing to the covered entrance of the historic
Bell's Grub & Pub
as the rain started to pick up. Ketchum grabbed the door. "Cap'n first," he said as he waved Andersen in.
The hundred-twenty-year old tavern had a hearty atmosphere, with great wooden beams and hardwood floors, photos of famous patrons hanging on the wall, and a massive mahogany bar that spanned the length of one wall, with dozens of brews and ales on tap behind it. The place was evidently a local favorite, as the floor was full of people. The group worked their way up to the bar.
"Welcome to Bell's! What can I get for you gents?" asked the bartender.
"I'll take a pilsner," said Andersen, opting for something light. "Same," answered Sampson.
Ketchum looked them both up and down. "Well, I'm gonna get the full experience here. We're after the local taste. Whiskey neat, please, and how about a plate of sliders." Howarth got a local ale, and the four grabbed a spot at the bar.
The sports channels were doing a rundown of the Word Cup of Hockey, hitting some highlights from around the tournament. One of the scores from the last New Waldesian game was played, during which Ketchum missed his assignment. Some good-natured ribbing followed. Ketchum just grinned, and threw back his glass. A local musician took a bar stool in the corner and strummed out a tune. A regular, no doubt, as he soon had a crowd on his end of the pub, with some joining in on his songs.
The cuisine was flavorful, and the guys agreed that the sliders were top-notch, and worth another round. Andersen glanced at his watch. "We should probably call in a return ride, and Ketchum, that's probably enough whiskey, don't you think?"
Ketchum looked at his pint ruefully. "Yeah, I was about done anyway. Lemme see if that Yuber is around still." He fumbled around in his pocket for his smartphone, and pulled up his rideshare app. "Yeah, got'em. Four minutes out. Must live close or somethin'."
The four pushed back from the bar, and left their tips in the jar.
"I've gotta come back to this place," said Howarth. "Yeah, and when we don't have a game the next day so we can soak it up," added Ketchum.
Sampson chuckled. "I think you soaked up as much as you needed to, pal." He swung an arm around Ketchum's shoulder. "Don't worry, I won't tell coach this time."
As they exited Bell's, they found that the rain had picked up somewhat and was coming down pretty steadily. Their ride arrived, and they piled in. Sampson took the front seat, and the other three slid in the back.
As they passed the arena again, Ketchum started to make a comment about the hotel, when suddenly...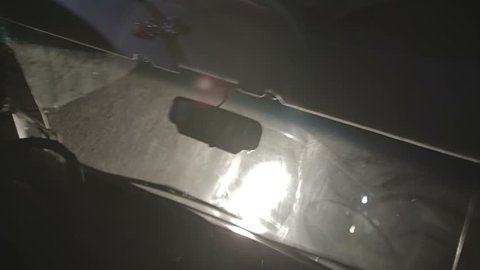 Ketchum's ears were ringing, and his head pounded. Confusion flooded his mind as he struggled to move.
What... what is..."
he thought. Sounds started fading back in, and he regained control of some of his senses. He heard groans, and sizzling of hot engine parts. They must have been involved in an accident.
A car in the other lane had hydroplaned in the rain and slammed into them head-on. The hood of their card was crumpled up like tin, and the motor had been shoved back toward the front of the cab.
Ketchum spat blood out of his mouth. Glass was everywhere.
"Is everybody okay?" the voice of Karl Andersen. "Bob, can you hear me?"
Mikey Howarth tried the door handle, but the door was crumpled and wouldn't budge. "I think I'm okay." Ketchum likewise responded as he fumbled with his seat belt.
Andersen felt a searing pain in his leg, but he ignored it as he reached forward to try and reach Bob Sampson in the passenger seat. Neither Sampson nor the driver were making noise.
Footsteps echoed as several people were running up to the scene of the accident. Somebody was on the phone, calling the emergency services. "We've got help coming! Is everybody okay?"
"I think we're okay in the back seat, but the door's jammed, and the guys in the front aren't responding," called out Andersen. Haworth had his seat belt off and was leaning into the front of the car. "Guys, I think they're hurt bad."
Sirens wailed in the distance, gradually getting louder. In a few minutes, a crowd of emergency workers were endeavoring to free the men from the damaged vehicle. Howarth was able to crawl out the window with assistance, and made a call to the coaching staff.
Within minutes, Ketchum was out and being checked over by medics, and Andersen was extracted with an apparent broken ankle. They were still working on Simpson and the driver, both of whom were conscious but in tremendous pain.
Coach Sexton and others from the team got on the scene, but were held back for the most part by police (with the exception of Sexton and the team's medical staff). Guys huddled in the rain, anxiously watching as firefighters used hydraulic rescue tools to pull Simpson and the two drivers from the vehicles.
By a little after 1am, Simpson and Andersen were transported for surgery at the city hospital. Howarth was largely uninjured, and Ketchum was treated on scene for a concussion and minor cuts.
5:22am
Head Coach Sector poured a cup of coffee. He texted one of their medical staff to check on Andersen and Sampson's status, and then sat down at the table. The other coaches started to trickle in.
"Gents, we've got some work to do. Just got word that Sampson is still in surgery. Banged up real bad, but they think he'll pull through. Andersen had his ankle operated on a few hours ago, but otherwise looks to be okay. Ketchum's got a concussion. We've got to shuffle guys around tonight."
Assistant Coach Barnard spoke up. "We're down three defensively, four really. Christie's got the flu or something. I've got Bolton and Bowler moving up but it leaves us thin."
"Not much more we can do under the circumstances," said Assistant Coach Wirth.
"Well, let's do what we can with what we've got," said Seaton. "We'll brief the team on Andersen and Sampson at 8, and then try to get their heads focused."
ROSTER
Goalies
Number	Name			Age		Info

	
#6	Jarvis Dunlap		27		Starter/Alt Captain/2nd WCOH		
#22	Stephan Portillo	31		2nd WCOH
#14	Connagh Patrick		25		2nd WCOH
Defenders
Number	Name			Age		Info

	
#36	Karl Andersen		28		Alt Captain/1st Line/2nd WCOH injured, out indefinitely
#10	Otto Benitez		29		1st Line/2nd WCOH		
#13	Blake Ketchum		26		2nd Line/1st WCOH injured, out 1 week
#74	Jesse Beltran		30		2nd Line/2nd WCOH injured, out 2 weeks
#85	Haakon Olsen		19		3rd1st Line/2nd WCOH/WJHC
#55	Billy Bull		33		3rd2nd Line/2nd WCOH


#58	Jeffrey Bolton		36		2nd Line/2nd WCOH

 promoted from reserves
#16	Audric Dunlap		24		4th 3rdLine/2nd WCOH


#35	Marlon Bowler		27		3rd Line/1st WCOH

 promoted from reserves
#69	Jarod Murray		25		4th Line/2nd WCOH
Forwards
Number	Name			Age		Info

	
#60	Caspian Estes		26		Captain/1st Line/2nd WCOH
#8	Bob Sampson		34		1st Line/2nd WCOH injured, out indefinitely 
#44	Ioan Searle		30		1st Line/2nd WCOH
#12	Igor Duffy		32		2nd1st Line/2nd WCOH
#30	Piers Handley		28		2nd Line/2nd WCOH
#7	Bard Perot		20		2nd Line/1st WCOH/WJHC
#39	John-Paul Snider	29		3rd2nd Line/2nd WCOH
#81	Patrick Stokes		24		3rd Line/2nd WCOH injured, out 4 weeks
#96	Nikola Mackie		35		3rd Line/2nd WCOH
#19	Noel Coates		27		4th3rd Line/2nd WCOH
#3	Mikey Howarth		22		4th3rd Line/2nd WCOH
#38	Tye Gallagher		29		4th Line/2nd WCOH


#42	Dag Wilton		19		4th Line/1st WCOH/WJHC

 promoted from reserves
Reserves
Number	Name			Age		Info

	
#13	Greyson Christie	23		Utility/2nd WCOH
#26	Herman Dunn		19		Goalie/1st WCOH/WJHC