Kazatlan

-class Amphibious Assault Ship
Kazatlan-class image
Dimensions
Length:
250m
Beam:
32m
Draft:
8m
Displacement:
25,810 tons
Powerplant:
2 x LA570-KFA1 cruise gas turbines (10MW)
2 x LA-FT4A-2A1 boost gas turbines (57MW)
Maximum speed: 23 knots
4 rudders
Range:
17,600km @20 knots
Complement:
250 + 90 aircrew + 1,200 embarked
Armament:
4 x LY774 35mm naval autocannons
2 x Goalkeeper CIWS
8 x RIM-116B 21-cell Rolling Airframe Missile Launchers
Electronics:
WARRIOR II/Cromwell II BMS
BAe/Thales S1850M multifunction search radar
2 x Thales Scout navigation radars
MIRADOR electro-optical sensors
UL 5000(K) ESM suite
Thales-Nederland SMART-L long range air and surface surveillance radar
MLD-261 Signature self-detection unit
2 x MSS-127
Owl
surface surveillance optronics systems
4 x MSG-183
Gjallar
close-range fire-direction systems (integral to LY774)
2 x MSP-133
Tuesday
(helicopter landing system)
MQU-268 (keel-mounted MF/LF sonar)
MQU-269 (bow-mounted LF sonar)
2 x MRC-201 VHF/UHF transceivers (complete arrays)
MRC-202 EHF transceiver
MSP.123(V)2
Gna
(Link 17.2D; secure drone control datalink),
MSW.125(V)2
Ran
(Link 17.2G; secure missile guidance datalink),
MSY.121
Alvis
(secure satellite communications system),
NQC.128(V)2
Dvalin
(Link 17.2U; encrypted acoustic modem)
Countermeasures
2 x TKWA/MASS decoy launchers
MLQ-188(V)4
Valtarn
(radar/signals processor and retransmitter)
MLQ-189(V)4 (jammer, complete system)
MLR-165(V)4 (receiver and direction-finder)
Praire-Masker system
MPR-184(V)4
Nott
LWR/DF
SLQ-32 Electronic Warfare suite
MDV-302 Kelpie surface decoy unit
MLE-140 130mm decoys
NLQ-305 underwater defence system (sidemounted barrage arrays)
MEQ-185 SELKIE anti-torpedo system
LYIW MkIV(N) CBRN emergency overpressure system
Aircraft:
Flight deck:
8 points for medium helicopters or VTOL aircraft -OR- 4 points for CH-46/CH-53 sized helicopters
Below deck:
24 points for medium helicopters/VTOL aircraft
2 aircraft elevators
Heavy Vehicle Deck:
1,450m2
Light Vehicle Deck:
1,930m2
Well Deck
2 x LCAC or equivalent
Background and Conceptualisation:
As both Lamonian and Lyran military doctrine shifted to support the employment of large scale force projection and military intervention generally, the need for dedicated amphibious assault ships became increasingly clear. Use of retrofitted vessels, and legacy systems such as the
Tarawa
and
Ocean
-classes satisfied immediate requirements, but it was evident that the solution was a temporary one at best.
With the data-exchange systems of the
Tarawa
s causing problems during Lyran deployments on a number of occasions exacerbating this, the Lyran Protectorate began to investigate available options for either foreign purchase or implementation of ship development. Large scale espionage was also considered, but was determined to be too high a risk for too little a relative gain.
However, simultaneous investigations into similar questions on the part of the Free Republic of Lamoni quickly came to the Protectorate's attention, and within two weeks of the shared problem being discovered, agreements in principle were reached on the conduct of design and manufacture of a new class of ship to fit the required specifications.
Networking, sensory and fire control systems:
The
Kazatlan
-class, as with all existing and planned Lyro-Lamonian vehicles across all areas of the battlespace, uses a battlespace integration system as the basis of its electronic and information warfare suite. The default systems are WARRIOR II/Cromwell II, which have become global benchmarks in the field, and continue to expand and adapt to optimise whole-of-battlespace combat potency. In each case, the system inputs and actively seeks information from a wide variety of sensory sources, not limited to those on the platform in question.
Cromwell II system follows on from its Inter-Vehicular Information System (IVIS) conceptual ancestor, and is part of an integrated and adaptive battlespace network that maximises combat lethality, and enables command and control on an unprecedented scale. Information is sourced not only from multiple sources on the individual aircraft, ship, vehicle or soldier, but from every Cromwell II equipped friendly platform within the battlespace, which provides constant informational updates across a broad spectrum of sources, both known to the operators, and operating below their awareness.
The Cromwell II system utilises this information to compute firing solutions, based upon analysis of the target and selected weapon. This is achieved in less time than it would take the operator to depress the firing stud or authorise the missile launch. The firing solution that Cromwell II generates ensures a near-perfect hit percent at standard ranges, across all conditions.
At the most basic level, the Cromwell II system aims to accelerate engagement cycles and increase operational tempo at all levels of the warfighting system. This acceleration is acheived by providing a mechanism to rapidly gather and distribute targeting information, and rapidly issue directives. Cromwell II's ultra-high speed networking permits nearly completely error-free, high integrity transmission in a bare fraction of the time required for voice-based transmission, and permits transfer of a wide range of data formats, from a multitude of compatible sources.
As well as conventional radar, the fire control system on the
Kazatlan
-class also has an extensive suite of additional sensors, including electro-optic channels with long-wave thermal imagers, infrared direction finder, digital signal processing (with automatic target tracking), fire-finder radar, sonar and more.
The Cromwell II network coordinates the fire power of (utilising the greater computational power available to a warship, as opposed to the mobile, ground-based LY471 from which the system was derived) up to 80 other Cromwell-equipped vessels, spaced at distances of up to 900km. Any vessel can be the network master controller (although larger vessels with larger computational facilities, or dedicated task group command vessels, are of course more effective in this role) and the network can link with other command facilities, or even other networks, in real time, allowing for individual ships to control the anti-air coverage of taskgroups, and integrate the entirety into a cohesive whole, a system-of-systems approach, which has increasingly been prevalent globally.
The fully automatic real-time data exchange includes aerospace control data, weapon control orders and fire control orders, target identification data, individual system status and vehicle position, threat prioritisation and optimised weapon allocation, engagement status, weapon status and jammer triangulation data, and provides full details of usage of consumable resources for logistics control.
In an anti-aircraft role, the warship's computational facilities can track and target up to 560 air or ground targets near simultaneously, a sixteen percent increase on its battery-level Skyguard predecessor and on par with its
Hatchet
-class cousin, with the control point directing the network to ensure the right weaponry arrives at the right time. The system can also assign targets to other vehicles in the network that are operating with their radars in silent mode, maximising lethality while maintaining proportionally high levels of emission concealment. A network controller can also vector in extra weapons systems, in flight, if targets are missed or if the ships magazines have been depleted beyond its capacity to engage hostile force elements.
The Cromwell II links for the
Kazatlans
, as with the
Hatchets
, Skyguard and Shepherd, use frequency-agile radios or direct laser LOS transfer, satellite assisted if required. Over 4,000 frequencies with 20kHz channel spacing are used in the frequency agile radio link. The system architecture provides full duplex data exchange and simultaneous half duplex voice communications.
The S1850M multifunction radar serves the
Kazatlan
s as an air- and surface-search system. S1850M is a long range radar, optimised for wide area search. It is built by Lyran Arms (and the wider Lyran Protectorate) under full license from BAE Systems Integrated System Technologies (formerly AMS UK) and Thales. It is a modified version of the Thales Nederland SMART-L radar. The S1850M is capable of fully automatic detection, track initiation and tracking of up to 1,000 targets at a range of 400 kilometres (250 miles). It is also claimed to be highly capable of detecting stealth targets, and is able to detect and track outer atmosphere objects at short range, making it capable of forming part of a Theatre Ballistic Missile Defence system.
An upgraded version of the S1850M is under testing, which is itself a further updated version of the currently serving SMART-L radar (which the Dutch Navy will call the Smart-L mk2), with a still-greater search radius. It would have a tracking range of over 800km over sea and 400km into space, a function which Lyras is seeking with some vigour.
It is worth noting that while the
Kazatlan
is more than capable of performing as the fleet control station, its own integral detection systems and armament are not designed with fleet protection in mind. It can direct a fleet, and co-ordinate data received from other sources within it, but this should not be taken out of context. The
Kazatlan
-class is an exceedingly well-equipped amphibious assault ship, not a fleet radar piquet or missile carrier.
Well implemented networking, using the Cromwell II system, can contribute to improved effectiveness in other ways as well. Rather than micromanage Cromwell-equipped platforms with close control via a command link tether (such as a radio), networked platforms are given significant autonomy, defined objectives, and allowed to take the initiative in how they meet these objectives. The size, integration and scope of the networked Cromwell II system enables all units across the battlespace to respond faster than their opposition, and this increased tempo generates increased lethality across all levels of the engagement spectrum.
The system, in its entirety, is fully insulated against electronic interference and data-hacking, and all communications and information exchange programs are 512-bit encrypted to ensure maximum network security.
Armament:
While the
Kazatlan
s are, first and foremost, assault transports, they are far from unarmed, and in keeping with Lyran and Lamonian design norms feature a number of different armaments. They are, however, primarily optimised for short-range self-defence tasks, not wider firepower projection or fleet defence roles.
The
Kazatlan
carries four LY774 35mm naval autocannons for short range anti-light watercraft, in-shore and anti-aircraft defence. One autocannon is mounted on each of the corners of the vessel. The system is not designed to engage larger surface vessels, or engage in conventional naval gunnery exchanges, but exists entirely as a short-range self-defence measure. Most variants of naval-grade autocannons are compatible, and are controllable either manually, or by radar/optronic assisted targetting, either from the firing station or from the bridge. The standard system has an effective range of approximately 2400 metres (1.5miles).
Protection:
As with most amphibious assault ships the world over, the Kazatlan-class is not extensively armoured, but relies on active protection for its defence. This takes two broad forms; self-defence systems, and escort ships. While doctrine holds that escorts should accompany
Kazatlan
s, the ship still features extensive self-defence capabilities to ensure, as far as feasible, the security of the personnel and equipment being transported.
The NBC system follows Lyran standard, and features quite adequately as a climate control system, making for working temperatures easily adjustable to every national or personal need (operating temperature range -40C to 55C).
Eight 21-cell RIM-116 rolling airframe missile launchers are carried for surface to air point defence. The RIM-116 RAM is a small, lightweight, IR-homing or HoJ surface-to-air missile designed as a point defence system for use against anti-ship cruise missiles. Aboard Lyran ships, and many others that utilise Lyran hardware, the system is integrated into the Cromwell II battlespace management suite. While designed primarily for the anti-missile and anti-aircraft defensive role, the weapon system can be employed against surface targets. The system uses a Mk49 launcher, with a total weight of 5.8 tons.
Designer: Raytheon, Diehl BGT Defence
Length: 2780 mm
Diameter: 127 mm
Fin span: 445 mm
Speed: Mach 2.0+
Warhead: 11.3 kg blast fragmentation
Launch Weight: 73.5 kg (162 lb)
Range: 7.5 km
Guidance System: tri-modal; Passive RF/IR, IR, or infrared dual mode enabled (radio frequency and infrared homing)
Flares, chaff, an MLQ-189(V)4 radar jammer, MEQ-185 anti-torpedo system, Praire-Masker sonar camouflage system, an MLE-140 130mm sonar decoy array, and a host of other systems makes the
Kazatlan
arguably the most self-defence capable, survivable amphibious assault ship in its class.
Propulsion and mobility:
Two marine turbines, 4 boilers, 29 days of cruising at 15 knots. Maximum speed is rated at 32knots, depending, of course, on sea state. Underway-refuelling facilities featured as standard.
The Kazatlan is a little unusual in that the engine spaces are considerably larger than they need to be, allowing for far easier maintenance, and also possessed of a degree of modularity that is far higher than the norm. Substantial changes will likely still require drydock facilities, however.
Manning:
The
Kazatlan
is a large vessel, with many personnel-intensive roles to fulfil, and as a consequence, despite the traditional Lyro-Lamonian utilisation of extensive automation, the class is heavily manned.
At full complement, the vessel will house 340 personnel, of whom roughly 1 in 7 will be officers. The body of personnel enables combat redundancy, and also maximises the ability of the vessel to conduct underway repairs, as well as co-ordinate large-scale combined arms operations on the strategic-level.
A well-deck capable of supporting two LCACs or equivalent is also a feature, providing rapid deployment options for heavier force elements, for which airlift is not feasible.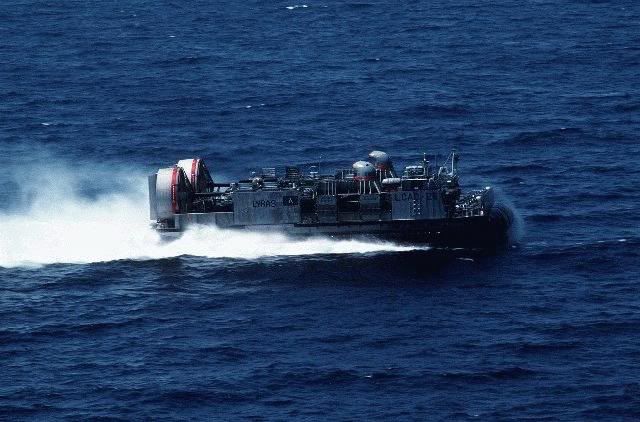 LCAC from the Kazatlan-class ship 'Dexter', June 2010
The class is designed (as a primary tasking) to be capable of transporting large numbers of personnel, although 'transient berths' are spartan, and designed to sleep 4 to a room, enabling transport of up to 1,200 personnel under normal conditions. The upper limit of emergency transportation capacity has not been established, but is estimated to be quite considerable.
Export:
The
Kazatlan
-class is available for purchase at NS$
1.5bn
, and purchase DOES NOT include aircraft or LCACs. DPRs are available for NS$
1.5 trillion
, which assumes a production run of 1000 ships.
All queries and purchases can be lodged through
Lyran Arms
.
Sources:
http://en.wikipedia.org/wiki/Canberra_class
http://en.wikipedia.org/wiki/Landing_Helicopter_Dock
http://www.tomw.net.au/technology/transport/amphibious.shtml
http://www.armchairgeneral.com/forums/showthread.php?t=60008
http://forums.army.ca/forums/index.php?topic=63551.0
http://en.wikipedia.org/wiki/Buque_de_Proy...strat%C3%A9gica
http://z4.invisionfree.com/NSDraftroom/ind...=0#entry3278583