---
Seas of Tomorrow Naval Works Ltd. is a company established in the year 2010 in the coastal city of Iskanderun, Khataiy and continues to be based in the city. The company rose from the minds of multiple dedicated and visionary engineers, scientists and entrepreneurs seeking to revolutionize how we as a people can use the ocean as our most advanced and sophisticated tool in the 21st Century. As sources of energy become increasingly scarce, as our environment continues to fall victim to pollution and as we run out of ways to solve basic needs, Seas of Tomorrow Naval Works seeks to address these issues to not only solve these issues but better ourselves and change how we satisfy our modern-day needs for the better.
---
Welcome to the future of Nautical technology
Our company provides multiple new and innovative resources from energy production and beyond. Our team is made up of the brightest minds in the fields of Naval Architecture, Engineering, Consultation and more. Seas of Tomorrow holds exclusive proprietary technology that will fave the way for the future in how we use our oceans far beyond transportation, food, and entertainment. With an innovative industrial focus Seas of Tomorrow Naval Works will change how industry and our precious oceans come together reducing if not eliminating concerns such as pollution or species endangerment and more.
Be part of the future of our Naval technology.
---
Products and services: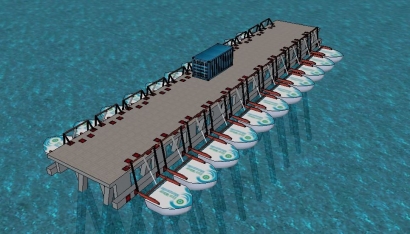 Product

Asifa Wave Power Station


Description

Asifa (literally meaning Storm) Wave Power Stations are purchasable units that are installed by our experts at the requested location of the purchaser whether a state or private venture that produce power by using the power of the ocean's waves to propel mechanisms in the unit to create mechanical energy to be converted to electrical energy to fuel your electrical needs in a clean, renewable Eco-friendly way.


Power output

One unit produces 4.1 MW of electricity


Additional accommodations

Helicopter pads, unit connectors, per-manufactured dorms and offices, satellites, internet connection, boat docks, cargo area (prices do very)


Price

178,000,000 NSD per-unit (discounts are available for multiple units purchased at once if applicable)


Current Operators


Reino do Brazil
Vilamoura
Deutschess Kaiserreich
---
Product

Numioun Power Buoy


Description

The Numioun (Literally meaning Growth) Power Buoy functions in a manner similar to the Asifa Wave Power Station however on a much smaller scale using the same innovative technology to produce electricity, the unit is great for small areas or for testing our products to see how well they work for you, the Numioun Power Buoy is also an excellent addition to off-shore oil rigs, emergency power, as well as a complement to existing wave producing units such as a Asifa Wave Power Station.


Power output

One unit produces up to 15 kW (depends on site location average is 7 kW)


Price

12,000,000 NSD


Current Operators


Deutschess Kaiserreich
---
Product

Burkan Nautical Welding System


Description

The Burkan (Literally meaning Volcano) Nautical Welding System is the most advanced of its kind on the market while not only durable but sophisticated applying the latest technology to your welding needs for the best weld possible. Our welding system is also reliable and a perfect choice for under water welding projects.


Price

20,000 NSD


Current Operators
---
---
Forms:
Purchasing
Code: Select all

[b]Purchasers Nation/Company/Other (Please link storefront if possible):[/b]
[b]Purchasing Representative:[/b]
[b]Product(s) being Purchased:[/b]
[b]Additional add-ons being purchased (If none leave N/A):[/b]
[b]Unit location:[/b]
[b]Desired Installation date:[/b]
[b]Additional Requests, Comments, or Concerns (If none leave N/A):[/b]

Partnerships
Code: Select all

[b]Partnering organization (Please link storefront if possible):[/b]
[b]Partnering Representative:[/b]
[b]Service being provided:[/b]
[b]Desired payment:[/b]
[b]Partnership length:[/b]
[b]Additional comments/notes:[/b]
---
Current Partnerships:
---
All rights reserved® Seas of Tomorrow Naval Works Ltd.©
114 N. Ibn Abdul Aziz Rd. Suite No.307, Iskanderun, The Arab State of Khataiy