LY219 Armoured Multirole Tactical Vehicle (AMTV)
Variants:
APC
IFV
Light IFV
Anti-tank Missile System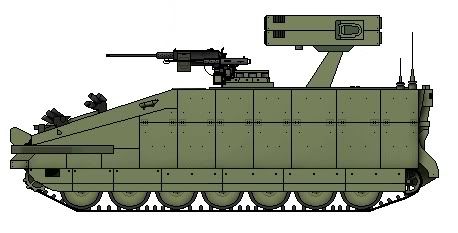 Ambulance
Command/Signals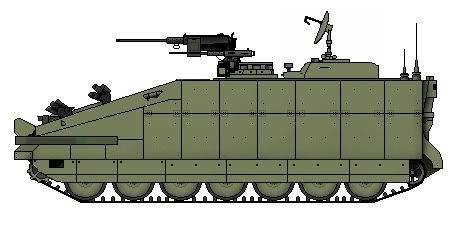 Armoured Mortar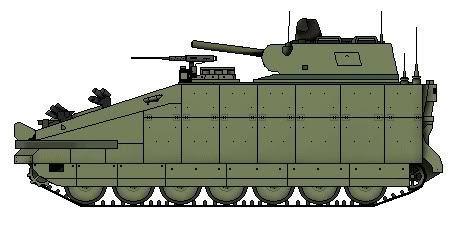 Mobile Gun System
Key Data
Crew: 2
Number of soldiers, APC: 12
Light IFV: 10
IFV: 8
Dimensions
Length: 6.2m
Height : 2m
Width: 3m (+ 0.60m with slat armour fitted)
Internal volume: 14m3
Role volume: 11m3
Weights
Combat Weight: 14.5 tonnes
Maximum Weight: 17.7 tonnes
Payload, Universal Load Carrier: 7 tonnes
Payload, Personnel Transport: 5.5 tonnes
Performance
Maximum (Governed) Speed: 110 kph (68.75 mph)
Cross Country Speed: 80 kph (50 mph)
Speed, 10% Slope: 53 kph
Speed, 60% slope: 37 kph
Acceleration: 0kph to 32 kph in 7.8 seconds
Range : 590 km (488 km at operational cruising speed)
Manoeuvrability
Vertical Obstacle Crossing: 146 cm (57 in)
Trench: 300 cm (10 ft)
Suspension: Hydropneumatic
Armament
All variants: Forward mounted 4 barrelled multi-purpose grenade launchers
APC: LY60 14.7mm HMG (900 rnds)
LY64 7.62mm machine gun (2,400 rnds)
IFV: KWF PAK2 25mm automatic cannon, (550 rnds)
LY60 14.7mm HMG (900 rnds)
LY64 7.62mm machine gun (2,400 rnds)
Light IFV KWF PAK2 25mm automatic cannon, (550 rnds)
LY64 7.62mm machine gun (2,400 rnds)
AT Missile System: LY60 14.7mm HMG (900 rnds)
LY64 7.62mm machine gun (2,400 rnds)
8 x TPFMI "Helios" BVR ATGM OR 8 x TPFMI "Apollo 3" MP ATGM
Ambulance: LY64 7.62mm machine gun (600 rnds)
Command: LY60 14.7mm HMG (900 rnds)
LY64 7.62mm machine gun (2,400 rnds)
Armoured Mortar: LY519 "Stormdrake" 120mm Heavy Mortar (70 rnds)
LY64 7.62mm machine gun (2,400 rnds)
Mobile Gun: L74 105mm rifled gun (55 rnds)
LY64 7.62mm machine gun (2,400 rnds)
Power
Propulsion: 10L LY688 multifuel, propane-injected, twin-turbocharged V6 350hp (197kW) diesel
Transmission: Hydropneumatic automatic transmission (5 fwd gears, 1 rvse)
Power-to-Weight Ratio (APC): 24.14hp/ton
Armour and Protection
Armour: Chobham, RHA, 4th Generation Composite, ERA blocks, optional slat attachments.
NBC Protection: SCFM, clean cooled air, LYMkII CBRN overpressure system.
Countermeasures: WATCHKEEPER ADS, Active ECM suite.
Conceptualisation
The LY219 "Ironheart" AMTV is a modular vehicle series based around an APC chassis. The vehicle is rapidly strategically deployable, very well protected for its class, light, agile, well armed and with a (default) passenger complement of 12 personnel.
The vehicle's modular design allows it to be configured for 16 different roles including, but not limited to: armoured personnel carrier, command post, ambulance, anti-tank missile system, anti-aircraft missile system, mortar vehicle, forward observation, NBC (Nuclear, Biological and Chemical) decontamination centre, mine clearance and armoured recovery.
Background
With the obsolence of the M113 family many years ago there has been a lack of serious and modern APCs to fill a whole spectrum of battlefield roles. While discussing collaboration on the LY4 Wolfhound and AR-44 weapon systems, the United Democratic Empire of Asgarnieu requested that the Protectorate of Lyras develop and produce of a family of next generation armoured multi-role vehicles to resolve this issue in both their militaries, with a further eye towards international export revenue.
The program became known as the Armoured Multirole Tactical Vehicle (AMTV) in Asgarnieu, and as the LY219 AMTV in Lyras.
The two states signed a memorandum of understanding with the Holy Empire of Verenberg, granting them equal access to the program, both by weight of Lyran insistence, and also by the realisation that, despite relatively small size, certain Verenberg equipment was highly suited to the intended roles. Shortly after initial development talks were held in Verenberg, the new vehicle was dubbed "Ironheart".
The mission- or role-specific modules can be quickly and easily fitted on the vehicle base units. Plug-in building blocks have been used, allowing fast adaptation and quick upgrades as new technologies become available, or as mission requirements change. The vehicles are capable of operation in a many different types of terrain and in a wide range of climatic conditions.
Government-companies and military-industrial groups in all three nations form the bulk of the production, Kaiser Waffen Fabrik (KWF) in Verenberg, Lyran Arms in Lyras, and AMIndustries in Asgarnieu.
The project is being managed by the Lyran Research and Development Commission, while non-participatory sales are handled through the Lyran Governmental Trade Department.
Armament
The Ironheart, building on the success of the LY4 Wolfhound's close-in defences, mounts two lateral grenade launchers as standard. Each launcher is electronically-fired, and consists of four barrels which can be intermixed with either smoke, fragmentation or chaff grenades. The smoke grenades are capable of shrouding the vehicle from visual or thermal detection, and the chaff grenades are utilised as a means of breaking up the vehicle's radar cross-section.
Also standard across all variants is the LY64 7.62mm machine gun, essentially analogous to an FN MAG, used for conventional anti-personnel, general defence roles.
Early discussions between Asgarnieu and Lyras on the best choice for the main armament of the IFV had not yielded fruit, nor had similar talks on how best to equip such a vehicle, and which layout was most appropriate. When the Holy Empire of Verenberg entered the project there was more than a small degree of concern that a wholly new set of requirements would drag out the negotiation and conceptualisation phases still further. The opposite was the case, and the excellent and battle-tested KWF PAK2 25mm automatic cannon was chosen, and innovative suggestions led to the adoption of a unique triple-armed remote turret station, featuring all the offensive systems operating from the same point.
The PAK2 can destroy lightly armoured vehicles and aerial targets (such as helicopters and slow-flying aircraft). It can also suppress enemy positions such as exposed troops, dug-in positions, and occupied built-up areas.
This chain-driven weapon system uses sprockets and extractor grooves to actively feed, load, fire, extract, and eject rounds. A system of clutches provides for the use of alternates thus allowing the gunner to switch between armour piercing, high explosive and high explosive incendiary rounds, as well as manually selecting the rate of fire.
It has a rating of 31,000 mean rounds between stoppage (MRBS), which is much higher than many comparable devices.
Cartridge; 25mm x 216mm
Operation: chain gun (1.5hp)
Feeds: Disintegrating link belt
Weight: 115kg
Length: 2.25m
Muzzle velocity; 1200m/s
ROF: Cyclic 200 +/- 25 RPM
Max effective range; 2200m
Max range; 6800m
Fitted co-axially to the PAK2 on the IFV, and in the primary role on other variants, is the LY60 HMG, for use against light vehicles, aircraft or heavy infantry. The LY60 heavy machine gun was one of the first weapons designed and produced by Lyras, appearing in both watercooled and aircooled versions. Combat experience demonstrated that the aircooled version was highly suitable for many applications, following a modest increase in the mass of the barrel, and it is in the aircooled version that the LY60 serves today. In AA roles, the LY60 is used on several Lyran AA platforms, and serves as the primary co-axial weapon of the LY2 Mastiff series. The weapon is a belt fed, short recoil operated, open bolt, fully automatic weapon. Metallic disintegrating link belts can feed it from either the left or right of the reciever. The quick change barrel is removable with the barrel jacket as a unit. The bore is chromium plated to increase barrel life and durability. The weapon fires the the LY112 14.7 x 115mm cartridge. The LY60 has a maximum effective range of 1400m against air targets, and 2200m against ground targets. The gun is simple in design and rugged in construction, and considered one of the most reliable heavy machine guns in service anywhere in the world.
Cartridge; 0.588 cal (14.7mm x 115mm)
Operation: Short-recoil automatic, open bolt
Method of locking; roller locking
Feeds; Disintegrating link belt
Weight: (with bipod): 13.15kg
Length: 1.625m
Muzzle velocity; 960m/s
ROF: Cyclic 600-700 RPM
Max effective range, bipod; 800m
tripod or pintle: 2200m
The Ironheart ATGM version mounts a pair of command-fired "Helios" or "Apollo" series BVR top attack HEAT missiles. The firing mechanism is linked to the Cromwell-system, to prevent superfluous engagement, and for shorter ranges command-input is via a TOW-style cable. At BVR engagement distances, the system is guided using the Cromwell link. Delays in the induction of the "Helios" system have lead to the missile pods being adapted to allow a veritable host of alternate systems, although the recommended option is the Apollo III, which shares many of the features that the Helios is expected to field. If and when Helios becomes available, all AMTVs will be fitted with these as soon as possible, and purchasers of the Ironheart will be notified, and supplied, accordingly.
Armoured Mortar variants are structurally fractionally different, and although the Ironheart-M (for 'Mortar', logically enough) has the same silhouette as the LY219 Personnel Carrier, it features a welded-in cross beam, additional floor support structures to withstand mortar reaction forces, and an three-piece top firing hatch. The 120mm LY516 "Stormdrake" system is a 120 mm automatic twin-barrelled, breech loaded mortar turret. Stormdrake has been developed specifically to suit the Ironheart chassis, and while "Ironheart-M" remains the official designation, "Stormdrake" in Lyran parlance has generically come to mean the weapon system and platform. Stormdrake can fire 30 rounds in one minute, of which the first 16 can be set to detonate or impact on the target, or in the target area, at the same time. This is achieved by modifiying the trajectory and adjusting the propellant of each round fired, and simultaneously apply precise time calculations between shot release. Rounds fired earlier are released at higher trajectories, and employing more propellant, thus increasing the size of the ballistic arc. Ensuing rounds are fired later, and with a sequentially less powerful propellant and lower angle. The process can be repeated eight times, constantly adjusting angle and power, ensuring an equivalent effect to a time-on-target (TOT) barrage. The adjustment between shots is calculated, if requested, by the Cromwell FCS. The strike of one Stormdrake unit is assessed as yielding approximately equal explosive yield to the strike of a battery of conventional 120mm tube artillery. The Stormdrake turret has a full 360-degree field of fire, at elevations between -4 and +88 degrees. Stormdrake is capable of both conventional indirect fire and direct fire for self-protection or close support.
The Stormdrake combines the accuracy of the Cromwell II digital fire control, powered traverse and elevation, and high-speed autoloading, and an advanced aiming system with a 120mm fin-stabilised smoothbore mortar system to give precise direct support. From complete shutdown, an Ironheart-M can power up, load and fire an aimed shot within 10 seconds of opening the hatch on the vehicle. The weapon is fired remotely, from within the vehicle, but can be fired manually if the automatics cease to function. As with all current Lyran weapons, the LY516 Heavy Mortar is fully compatible with most internationally in-service force information systems, to mitigate the chances of a blue-on-blue. The Stormdrake is the current benchmark in quick reacting, strategically mobile and high lethality intimate fire support to rapidly moving armoured, mechanised or motorised forces.
Caliber: 120mm
Rate of fire (max): 30 rnds per minute
Rate of fire (sustained): 6 rnds per minute
Minimum effective range: 200m
Maximum effective range: 9,000m (14,000 with rocket assisted projectiles)
Munitions: HE, Smoke, Illum, Prac.
The L74 105mm rifled gun is an autoloading Swedish variant of the highly successfully British Royal Ordnance L7 105mm rifled gun. The L74 was built for the unusual Stridsvagn 103 turretless MBT, and is 62 calibres long (6.51m). The weapon has an eccentrically mounted bore evacuator, and uses a horizontal sliding breechblock for loading the fixed cartridge cases. Versions of the L74 fitted to the Mobile Gun System on the LY219 has the upper back corner of the breech reduced in size and rounded off so gun can be depressed without hitting the turret roof. The ammuntion is stored in blowout panels in the turret, which is itself sealed from the crew compartment by armoured bulkhead, and fired by remote from within the hull of the vehicle. The turret itself is low profile, although the LY219 variant is not roll-on/roll-off (RORO) capable from a C130. It remains RORO capable from C17, C5 or equivalent aircraft, however.
Caliber: 105mm
Rate of fire (max): 10 rnds per minute
Rate of fire (sustained): 6 rnds per minute
Maximum effective range: 1,800m
Munitions: APFSDS, HESH, HEAT, HE(I), Smoke, Canister
Elevation: -5/+22 degrees
Traverse: 360 degrees
Missile Countermeasures
Like the Wolfhound MBT, all versions of the Ironheart uses a protective shield system dubbed the WATCHKEEPER to intercept incoming missiles and rockets. WATCHKEEPER uses a multi-projectile, shotgun-like blast to destroy incoming munitions just before they impact the AMTV itself. WATCHKEEPER was designed and developed by Lyran Arms together with The People's Freedom.
The WATCHKEEPER includes an F band fire control radar on six flat-panel antennae mounted on the vehicle. When mounted, the combined radar field of view is 360°/6400mils. When a weapon is fired at the vehicle, the Cromwell fire control computer detects the incoming weapons system and calculates an approach vector. Once the attack is fully classified, the Cromwell system determines the best time and angle to fire the active component of the WATCHKEEPER. The response comes from four launchers installed on the vehicle, two on each side of the turret. The launchers can pivot/rotate on x and y axes, and can therefore engage targets in any direction that the fire control computer deems necessary. The launchers fire small metal pellets, similar to the projectiles of an M18A1 Claymore anti-personnel weapon. However, unlike the claymore, the WATCHKEEPER is designed with a very narrow engagement area, minimising the chances of friendly or civilian casualties.
The WATCHKEEPER system also features an automatic reloading mechanism that can not only identify, track and destroy multiple inbound threats, but can do so simultaneously and from all directions, while the Ironheart is on the move.
As with the LY3 and LY4 MBTs, the Ironheart AMTV is also fitted with the Lyran InfoWar Mark III laser-based ATGM counter-measure device. This is attached to the rear-left of the turret, and is designed to neutralise the guidance systems on laser-, infra-red and radar-guided anti-tank missiles. Unguided and visually-directed/TOW missiles are by nature unaffected by this system.
The LYI Mk III ATGM CMD is usually activated by the Cromwell system only when it determines that the active defence measures are insufficient or becoming overwhelmed.
The Ironheart also, as is becoming the Lyran standard, sports an impressive suite of active ECM as a means of defeating incoming radar guided missiles, and the suite is usually activated if detection equipment determines that multiple radar signatures are illuminating the vehicle in question.
Networking, Sensory and Fire Control System
The Ironheart, as with all contemporary Lyran-designed vehicles, uses the Cromwell II fire control and battlespace integration system as the basis of its electronic and information warfare suite. Cromwell II system inputs and actively seeks information from a wide variety of sensory sources, including the thermal or daylight gun sight, a manually operated laser rangefinder, automatic crosswind sensor, a pendulum static cant sensor, ammunition type and temperature, and a high-precision muzzle reference sensor (MRS) that calculates barrel drop due to gravity and temperature.
Cromwell II system is part of an integrated and adaptive battlespace network that maximises combat lethality, performance, output and enables command and control on an unprecedented scale. Information is sourced not only from multiple sources on the individual platform, but from every Cromwell II equipped friendly vehicle within the battlespace, which provides constant informational updates across a broad spectrum of sources, both known to the operators, and operating below their awareness.
The Cromwell II system utilises this information to compute a firing solution for the gunner, based upon analysis of the target beneath the reticle. This is achieved in less time than it would take the gunner to depress the firing stud. The firing solution that Cromwell II generates ensures a near-perfect hit percent at standard ranges, across all conditions.
At the most basic level, the Cromwell II system aims to accelerate engagement cycles and increase operational tempo at all levels of the warfighting system. This acceleration is acheived by providing a mechanism to rapidly gather and distribute targeting information, and rapidly issue directives. Cromwell II's ultra-high speed networking permits error-free, high integrity transmission in a bare fraction of the time required for voice-based transmission, and permits transfer of a wide range of data formats, from a multitude of compatible sources.
This system does not only allow for precise fire control and networking. The integrated high-resolution autonomous terrain-scanning systems constantly scans the areas to the immediate front of the Ironheart, and allows the Cromwell II system to constantly alter its suspension and tracking to provide for a smoother ride, less vibration, greater durability of vehicular components and, perhaps most importantly, further increased targetting accuracy.
Not just a fire control system, the Cromwell II on the Ironheart features a wide range of mission- or role-specific systems, such as medical databases for ambulance variants, and extensive technical and repair data for armoured recovery versions.
Well implemented networking, using the Cromwell II system, can contribute to improved effectiveness in other ways as well. Rather than micromanage an AMTV or similar Cromwell-equipped platform with close control via a command link tether (such as a radio), networked platforms are given significant autonomy, defined objectives, and allowed to take the initiative in how they meet these objectives. The size, integration and scope of the networked Cromwell II system enables the Ironheart to respond faster than any other APC or IFV anywhere in the world, regardless of their specific role within the battlespace.
The system, in its entirety, is fully insulated against electronic interference and data-hacking, and all communications and information exchange programs are 512 bit encrypted to ensure maximum network security.
All weapons stations are fitted with Networked Independent Thermal Viewers, which can be used to locate targets and pass them on to each other, to their peer units, or to the networked higher command, to ensure optimum engagement flexibility. The thermal sight uses NS (and Lyran) standard common modules, with 120 element cadmium mercury telluride, CdHgTe (also known as CMT) infra-red detector array operating in the 8 to 14 micron waveband. The infra-red detector units are cooled with a closed-cycle engine.
Armour
As with all armoured vehicles, the Ironheart is designed to be proof against small arms and shell fragments, with the highest levels of protection designed to protect the personnel compartment.
The hull is of high hardness steel armour construction rated to completely protect against shell fragments and rifle rounds. Lyran Arms has developed several new types of TiO-based light-weight ceramic armours, in conjunction with internal kevlar spall-liners, providing all-round protection against 30mm armour piercing fin stabilised discarding sabot (APFSDS) rounds.
Explosive Reactive Armour is fitted to crucial areas of the hull, but its use is generally reserved for high-threat environments, due to the risk of the ERA causing casualties amongst friendly dismounted infantry.
AMTVs are, like many Lyran vehicles, designed to be fitted with slat (or bar) armour, which is a simple "cage" on the outside of the hull, designed to detonate anti-tank weapons before they contact the main body of the MBT. This also increases the weight and width fractionally, but, especially in urban operations, is more important in that it adds an additional 30 cm of width to both sides of the vehicle. Ironhearts are generally fitted with slat armour as a matter of course in high-threat areas, viewing that the drawbacks are far outweighed by the benefits that the armour provides against many forms of anti-tank weaponry.
Automatic, location-specific fire-suppression system is also fitted as standard to detect and render safe any internal fires that might erupt.
The decoupled suspension also provides a spaced outer layer which gives improved protection against mines, a feature which compensates for the band tracks relative vulnerability to them. The Ironheart can withstand an 8kg TNT explosion under a track, however KWF, based in Verenberg, has developed a protection kit that provides protection against advanced mines with explosively formed penetrators.
Propulsion and mobility
The LY219 Ironheart AMTV is powered by a LY688 multifuel propane-injected, inter-cooled twin turbo-charged 10L V6 diesel, generating 350hp at 2000RPM. This gave the Ironheart a hp/ton ratio of 24.14.
The Ironheart features an electric transmission system (the drive shafts have been replaced by cable and the power from the engines is transferred by cable), which delivers a number of advantages, including volume efficiency, very high fuel efficiency, reduced lifecycle costs, and reduced environmental impacts.
The new electric drive has also greatly improved low observability characteristics in terms of thermal and acoustic signatures as well as low visual and radar signatures.
They are fitted with rubber bandtracks rather than conventional steel link tracks. The bandtracks are notably lighter and much quieter. The noise developed by the running gear is reduced by about 8dB (note, the decibel system is logarithmic, so an increase of 10dB doubles volume). Bandtracks also have a lower rolling resistance. Band track technology has been used previously by several other armoured vehicles, such as the BAE Land Systems Hagglunds Bv206 articulated carriers which use short track length bandtracks.
The cnew tracks are also offer substantially greater service life on-road than their steel counterparts (to the order of 80% longer). The new tracks are a little more vulnerable to mines, but less vulnerable to small- and medium-arms.
The engine is decoupled from the final drives allowing flexibility in the placing of systems in the vehicle and also easily allows two smaller engines to be installed instead of one, should local engines be preferred for export purposes. Batteries are integrated into the electric drive system, which allow the vehicle to be driven silently for several hours with the engines shut down.
The final drives are connected by a cross-shaft which gives higher power efficiency in turning manoeuvres by transferring the power regenerated at the inner track during a turn to the outer track. The vehicle is fitted with a bandtrack developed and supplied by the Lyran Arms plant at Castlegate, North Lyras.
In the LY219 Ironheart, the suspension is mounted on the underframe and not on the side frames, so the suspension is separated from the hull. A result of using a decoupled suspension and bandtracks is that the internal noise level is as low as 83dB which is sufficiently low to meet civilian vehicle noise requirements.
The Ironheart's LY688 engine is, like the LY665 engine on the Wolfhound MBT, linked to the Cromwell system, which keeps track of the temperatures of each individual segment of the engine, and both monitors and records engine stresses. The system then notifies both the operators and higher command when replacement or repair is required for components, as well as when the engine or parts of it are coming due for routine maintenance. This contributes to greatly reduced attrition, and total combat readiness is markedly improved as a result, while lowering maintenance workloads. The Cromwell system is also responsible for monitoring the active cooling of the vehicle's exhaust, as a means of reducing the vehicle's already low thermal signature, further enhancing the vehicle's low observability characteristics.
The entire engine is also fitted with deployable sand filters for use in high-sand environments, such as deserts or certain parts of the littoral.
Building on experiences from the Wolfhound MBT, Ironhearts are fitted with driver rear-vision cameras for manoeuvering in close country or urban environments.
Tracks are shrouded as standard to increase resilience to battle damage, and have with seven road wheels and two drive rollers, with only the rear roller on each side unshrouded.
The Ironheart, without modification, is capable of drive-on drive-off operations from a C130 or similar, allowing for genuine rapid strategic mobility. Further to this, the vehicle is amphibious, and can deploy propellers to provide propulsion while swimming. As a backup, the tracks can drive the vehicle, should the props cease to function.
Crew Amenities
Until relatively recently, requirements of crew comfort had been almost completely overlooked on most internationally produced vehicles. The Wolfhound began to change this, and the Ironheart seeks to build on that position.
Each crew station occupies 0.35m³ of the available hull space, notably higher than the international average, to allow for rapid access and egress, as well as comfort. The crew stations and the man-machine interface were developed under a collaborative venture by Verenberg and the Lyran Research and Development Commission.
AMTV does contain a drink point, providing hot water, cold water, and with two further compartments that can be filled with hot or cold drinks of the crew or unit's choice. As well as being morale boosting, hot water in particular can be of direct military value, with it being used to brew tea or coffee, produce other hot beverages and, most importantly, it is used for dehydrated ration packs common to many armies and armed services.
Situated immediately below the drink point is a small bar fridge, which can either carry spare rations, 'jack' rations, or approximately two cases of soft-drinks or equivalent. In ambulance variants, this bar fridge is substantially larger, and is usually used to provide refrigeration for medical supplies.
The NBC system follows on from the adaptations made to that of the LY4, and features quite adequately as a climate control system, making for working temperatures easily adjustable to every national or personal need (operating temperature range -40C to 55C). These modifications are standard to all Ironheart models, integral to the chassis, and operate regardless of variant. Incidentally, this saves on additional modification required for decontamination and electronic warfare/command variants of the Ironheart, in addition to making ambulance versions far more comfortable.
Seat warmers/coolers are also fitted, to ensure greater comfort and optimise combat endurance and deployability of both crew and personnel being transported. The seats can also be adjusted, manually or electronically, to ensure optimum comfort and control access for any shape or size.
Ironhearts are also equipped, as standard, with integral high-speed wireless (satellite) broadband internet connections, allowing the crew to surf the internet, check their emails, or correspond with family. The provision of insulated external connections allows accompanying or transported personnel to simply plug in to the side of the vehicle, and then they to can go online. Ironheart-class vehicles are immensely popular with the units that field them, or are attached to them, as they not only ensure vastly improved support, both combatant and otherwise, but also mean that personnel are going to get a ride, hot drinks, snacks and a way to talk to home, all of which ensures dramatically higher morale (and thus effectiveness) for the battleforce, as a whole.
Conclusion
The Ironheart AMTV chassis is extremely durable, light, extensively networked, highly mobile (tactically, operationally and strategically) and features an astounding number of modular variations, capable of meeting almost any battlefield requirement. The listed modifications are, however, not exhaustive. Like few other vehicles before it, the Ironheart can be adapted for nearly any concievable role, with virtually any imaginable equipment set, in almost any conditions, and perform that role to great effect. Whether utilising the specific versions detailed, or adapting it to meet other military or civilian necessities, the Ironheart AMTV has a part to play anywhere in the world.
Export
Export versions are identical to Lyran versions, with most of the Lyran cryptographic and communications equipment being memory erased to prevent compromise. All are, however, still integratable into a single force, should the requirement to synchronise operations on a multinational basis arise. Further modified and/or specific custom versions of the Ironheart are available from the Lyran Protectorate, with costs altering as circumstances warrant.
Asgarnieu, Verenberg, TPF, Errikland, Central Prestonia, the Fedala Accord and select other nations are eligible for special dispensation, if they wish to utilise the LY219 AMTV.
Purchases and enquiries through
Lyran Arms
.
Prices for variants are listed below, for a single vehicle.
APC = NS $4,000,000
Light IFV = NS $4,150,000
IFV = NS $4,250,000
ATGM Carrier = NS $5,250,000
Ambulance = NS $4,100,000
Command/Signal = NS $5,400,000
Stormdrake = NS $5,750,000
Other (Minelayer, Minesweeper, Armoured Recovery, NBC Decon, FO, SAM) = NS $4,050,000