Overview
Undarat Capital Airport (IATA: UCA) is the main airport serving the twin cities of Undarat City, the capital, and San Mateo. Undarat Capital Airport, along with Copper City International Airport, are important transportation hubs in Undarat. Undarat Capital Airport has train service connecting the airport to the city centre via the Rivervalley line on the metro. The Airport is the busiest airport in Undarat, a title which it has held for over 10 years.
There are 4 terminals, however, a fifth one is being built and is scheduled to be opened soon. It will be used for cargo flight and will have 20 - 30 runways. Undarat Capital Airport is about 40 minutes away by car from Central Undarat City, 45 minutes to San Mateo, and 1hr to the coast.
There is more information
here.
History
The first section of the airport was completed in 1932, with two terminals. One was reserved for Undarat Air, the main airline serving Undarat, and the other was used by Undarat Regional Airlines, a secondary airline mainly flying to smaller towns in the north. The first flight was a daily flight from Undarat City to Clinhurst. Later several more routes were added, including ones to Copper City, Akrosta, and many more cities.
In 1945 the second section of the airport was finished, and as the years went by more terminals and runways were added to ease congestion. Now, another terminal is being built to accommodate the increasing amount of flight to and out of the airport.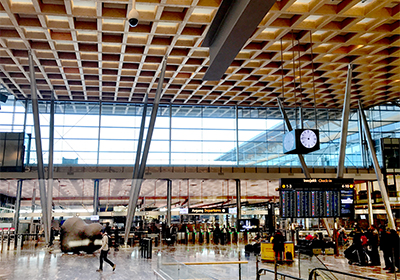 Terminals
Undarat Capital Airport has 4 terminals, however, terminal 1 is reserved for domestic flights and cargo flights. Terminal 2 handles both international flights and domestic.