Mariobo International Airport
Gateway to the 2018 Olympics
Mariobo International Airport
is the largest and primary international serving the Mariobo metropolitan area among 3 other airports in the metro area, Panhouston Tollywood International Airport, Rhodeston Logan International Airport, and Mariobo Pinera Airport. The airport handled 242,764,581 passengers in the last calendar year and 697,138 flight movements, making the airport the 2nd busiest in the nation and the busiest in the state of Patagonia.
Mariobo International Airport has 4 terminals and 4 runways. All terminals have customs and immigration facilities, therefore, a new concept of all terminals being able to handle all sorts of flights, dramatically reducing delays and flight cancellations. The Federal Aviation Administration categorized the airport as a "primary commercial service airport".
Mariobo International Airport replaced the old, rundown Mariobo Pinera Airport in 2002, opening in June. The airport originally had 4 terminals and 3 runways. The first flight to arrive at the airport was Aerolineas Argentinas 300 from Argentinstan City while the first to depart was ARG Express 3541.
A new terminal was added to handle the capacity growth with the closure of Mariobo Pinera Airport to passenger traffic. The growth didn't stop even when Pinera airport reopened in 2011. 2 new runways were proposed in 2013 but were never built until 2016 due to the City Council refusing to vote on the matter.
The airport is currently undergoing a major renovation following the city's Olympic bid to be accepted by the
United Nations of Earthlings
' Security Council.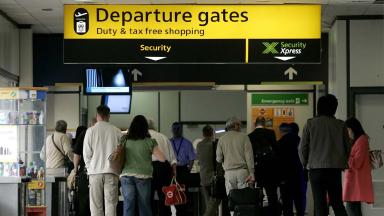 Parfum Paris

Latnam =mariobo=
Jack Spears
Clover Farms
Coffee Bean & Tea Leaf
Air Argentine
Please visit the
Air Argentine
website for a full list of destinations.
Red Kangaroo
Sydney, Melbourne, Brisbane, Perth
Royal Brazilian
New Frontier
Tobiasian Airlines
Tobiasia City, Arkford City, North Forest City
Singapore Airlines
Singapore-Changi
Azul Air
New Frontier
FlyMorcavo
Athena
Uruair
Montevideo-Jay Whiteburn
Frejo Royal Airlines
Edmonton, Frejo City
Cirdiana
Alothea, Alticea
Nanako Airlines
Schoubi, Hokuto
Arthropol Airlines
Arthropol City, Lyon, Toulouse, Amenidor
Blue Bird Airlines
Greenport, Applesburg, Saltview, New London, River City
Lemon Airways
Lemon City
Undrarat Air
Undarat-Capital, Copper City
Northern Airways
St. Joseph, Paradise Gate
Code: Select all

Nation:
Airline:
Destinations:
Lounge (Y/N):
Comply with regulations?:
*All airlines are required to fly passengers back to their home countries if they are denied entry upon arrival. They are also responsible to check for correct documentation before departure.