Imperium Aerportum Administratum
The only authorized air travel entry point for foreigners! Theros, the crown jewel tourist spot!
Introduction and History
The Imperium Aerportum Administratum was formed during the creation of the Imperium itself. During the next few months air travel proved chaotic as the civilian administration from before the reform was absent and therefore unable to coordinate flights. It was then decided by the Adeptus Administratum to task the Imperium Militare, Adeptus Aerum with the responsibility of managing all airports and non-military aircraft within the countries airspace. It has several commands, in charge of multiple areas of airline management, including one for each airport as well as Airport Management, Aircraft Control & Escort, and Airline Restriction Enforcement.

The Imperium Aerportum Administratum manages virtually all international entry into The Imperium, allowing access to currently one airport within the country.This airport is the John Henry Memorial International Airport, servicing the city of Theros, also known as the Jewel of the Imperium. Tourists from across the world flock to this city, taking in the sights, sounds, smells and tastes the diverse metropolitan area can offer. Beaches and wildlife refuges surrounding the city ensure that millions of foreigners will continue to flock and explore flora, fauna and culture together in Theros.
Many services are offered at John Henry Memorial in order to ensure that all foreigners travel safely, smoothly and securely.
Currency Exchange and Financial Services
The Adeptus Administratum operates a branch of the Ministorium Tresarium at John Henry Memorial providing a wide variety of financial services. Within the airport is a massive national bank branch that provide withdrawal and deposit services for foreigners entering and exiting the country. The Tresarium guarantees cooperation with all foreign banks. In addition, throughout the sprawling airport complex, there are Exchange counters which swap foreign currencies into Shivaltiers at market rate.
Information Desks
The Ministorium Externii and Publicum are responsible for foreigner information within Theros. At customs and security points are information services desks, supported by roaming foreign relations officers. These representatives are distinguished apart from airport workers by the rigid blue military dress uniforms. Cultural relations officers are present at the information desks, whom can provide information about the latest events as well as hit destinations of Theros. Additionally the desks provide accomodations and transport information/booking, as well as information on flight status and terminal/gate guides.
Lost Property
Due to the severity of global situations and instability with several chaotic nations and groups around the world, any unclaimed and unattended property will be seen as a threat to Imperial security. Therefore, all property found in such circumstances will be immediately confiscated and promptly destroyed.
Medical
In the center of the airport complex sits a Ministorium Medicae general health office supporting only the airport. Physicians are on duty 24/7 with a full staff of nurses and supporting medical personnel. Be warned that foreigners will not be released back into the airport without proper identification and will be held until otherwise verified. Closest hospital to the airport is Theros Area Medical Center (TAMC) which offers level four care for any needs.
Misc.
Baby changing stations and family restrooms are co-located with all other restroom blocks throughout the airport. At the arrivals section there is a public shower facility, customs officers will direct passengers who may not exactly meet the hygiene requirements of public access. Telephone booths are located at customs, baggage claim, departures and arrivals. Foreign airlines are permitted to offer wi-fi throughout the complex for their passengers, after it has been screened and secured. Passengers wishing to utilize the wireless and hard line internet available must fill out a registration and surveillance waiver.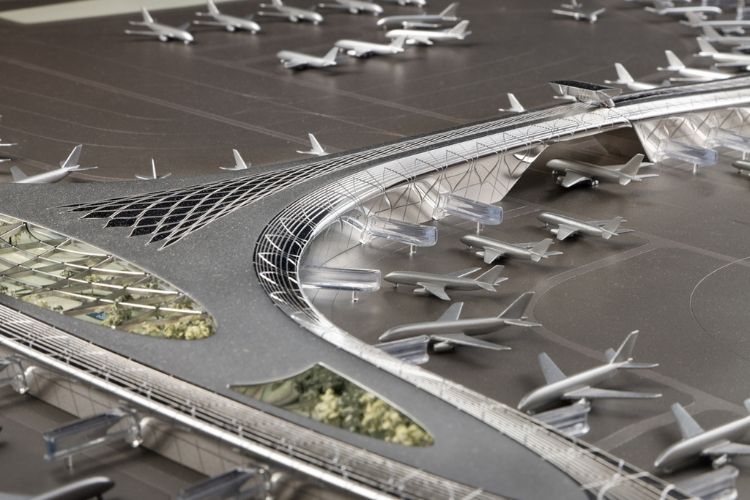 Concourse A
Alpha Concourse exclusively handles all international flights going into and out of the country. Being as there are foreigners coming and going all day every day, this concourse has the highest presence of the Cura Condendi as well as Imperium Militare checkpoints. Increasing amounts of foreign civilian stores and foodcourts are being established regularly. This concourse exclusively serves Foreign international flights
Concourse B
Bravo Concourse handles all domestic cargo flights for the Imperium and handles further importation of foreign goods. It is at this area that foreigner cargo is subjected to intense screening and sorting methods before being shipped off either by air or transferred to ground transport services.
Concourse C
Charlie Concourse handles all domestic flights throughout the Imperium for Birtonian and Foreign citizens. Birtonian State Air is the flag carrier and the only authorized civilian method of flight. Several foreign commercial stores and venues have recently popped up providing rare goods and services exclusive only to the airport and surrounding Theros area. After the most recent renovations this is actually now the oldest area of the entire airport, albeit only ten years old.
Concourse D
Delta concourse is currently closed but will serve as the international departure terminus for Birtonian citizens travelling to other countries.