Electrum Airports Authority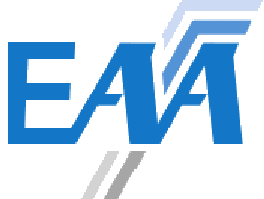 Your gateway to Centralis, co-host city of the Games of the X Olympiad
The Unified Electrum Airports Authority was established under the
Electrum Airports Authority Act 2015
by the new joint Suarez-McCallahan government, in order to make the management of airports in Electrum more efficient. It's major functions replace the old
Civil Aviation Agency
which was established since 1946 as a result of increased jetliner travel in Electrum. It has several boards, in charge of multiple areas of airline management, including one for each airport as well as Airport Management, Aircraft Control and Airline Safety Guidelines. The Electrum Airports Authority will handle licenses for all aircraft carriers who want to use Electrum's ports of entry all the way up to gate allocations and other logistical services.
The unifed Electrum Airports Authority is unique in the multiverse, and is one of the only authorities to manage virtually all international entry into Electrum, allowing access to multiple airports around the nation. One of these is the largest city and capital of Electrum, Centralis, which is served by William Garter International. In the mountainous regions to the west, lies Prescott, Electrum's second largest city and is the hub for tourism in Electrum. It provides easy access to Electrum's highest peak, Mt. Pecan, and is used by snowboarders and skiiers across the multiverse. Hamilton International, to the north of the nation, is in the desert, and is the Electrum centre for mining. Businessmen are more likely to travel to this destination. Finally, Agri Airport is the last airport under the control of the authority, it is the smallest, and contains links to Electrum's delta and agricultural regions.
The Electrum Airports Authority is happy to welcome all airlines of all nations to Electrum's friendly blue skies. You can be assured that you can rest easy over Electrum.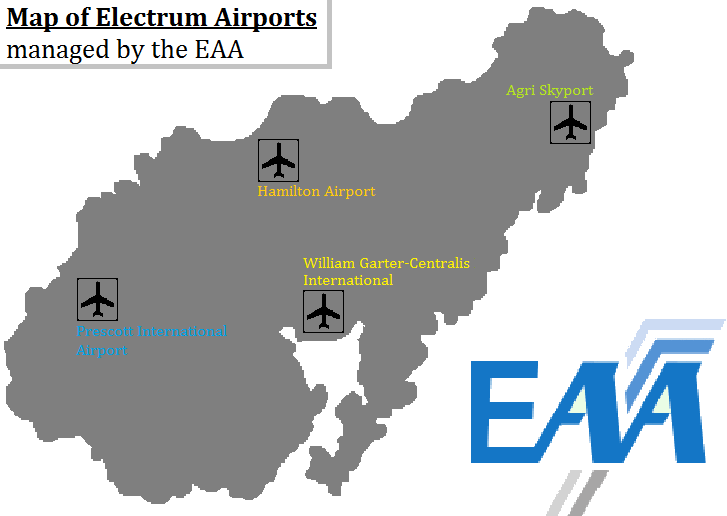 There are lots of services available at the airports managed by the Electrum Airports Authority to ensure that our passengers can travel as smoothly and as seamlessly as possible.
Currency Exchange and Financial Services
We are proud of Electrum's history of corporate friendliness and worldwide cooperation. There is therefore, a huge range of financial services in the airport. Electrum Bank International, National Bank of Electrum and MeBank are all banks that have branches in our airports (especially in Hamilton and Centralis). They provide withdrawal of funds for people with Electrum bank accounts and also bank accounts from around the world. There are also EXchange counters all around the airport which swap Electrum Synergies to other currencies used around the multiverse. The EXchange counters are up to date and have tickers on the top to know exactly what the rate is from one currency to another.
All transactions in Electrum are conducted through Electrum's electronically-based smartcard currency system, the Synergy. This is protected through a system of encrypted communications networks and cryptology, so the technology is safe. Each EXchange counter will swap money into the smartcards at just less than the market rate, so that more smartcards can be produced. Everyone/all businesses either have a phone or a machine which is linked to the system, which makes transferring money between two cards easy, whenever performing a transaction.
Disabled Access
There are lifts all throughout the terminals and the airport is 100% disability compliant. Wheelchairs and transport cars can be provided on request which can transport people all throughout and between our terminals. Braille signage and tactiles are available throughout the airport. Ask at any information desk if you require any of these services. Minders are also available for disabled passengers and TTY services are available throughout all of our terminals.
Information Desks
Information desks are scattered all throughout the terminal, but are mainly found just before Customs and Security, in Check-in Areas and at Arrival Halls. These are the starting point for those who require assistance in any way shape or form. You can also find out about latest events (including sports and cultural events) as well as destinations that Electrum has on offer. Accommodation, hire car or chauffeur cars can also be booked here. Finally, the information desk provides information on flight status, and terminal/gate guides so you can never get lost in our airports.
Lost Property
We understand that airports are a large place. That's why we endeavour to make sure that we do our duty in preventing lost baggage. There are signs all around the airport that serve as reminders to check that you still have all your baggage and the other essentials. However, in the case of misplaced baggage, go to the one of the Lost Property desks which are conveniently located at our Information Desks. There, a receipt will be printed out of the description of the bag and the item number. When it is found, airport staff will call you on your given number and you can retrieve it. If you leave the country when the bag is found, the airport will ship the bag by plane back to your home address. Be warned that there is a cost to this service.
Luggage Services
In every terminal (with the exception of budget and freight), there is a smartWRAP counter where passengers can wrap their luggage in a clear wrap to ensure protection against damage to luggage. Additionally, it prevents illegal opening of your precious luggage where valuables can be for the taking (the EAA cannot be held responsible for any goods that you lose). The cost is 5 Synergies per bag. There are also storage facilities and lockers for luggage/other things which are available in the Departures sections of terminals.
Medical
There is also a General Practitioner's Office at the Check-in area at each International terminal. A pharmacy will be situated next to it. Be warned that you will require identification and a script to be allowed to take prescription drugs. Non-prescription drugs can be purchased freely in the pharmacy. For fear of differing laws throughout the multiverse, recreational drugs are not sold here.
Other Facilities
There are baby change/family and disabled toilets wherever the toilet blocks are situated. There is also a public shower facility at each Arrivals section of the Airport, just past Customs, with some airlines (private boarding lounges) providing their own showers. There is no cost in using the airport's facility. Telephone booths are also provided in the main check-in areas or past Customs as well. Finally, there is free wifi all around our airports, where you will need to complete a registration form before you are allowed access to the internet. There are also web kiosks all throughout the various terminals (except for budget/freight terminals) with tablets or computers to allow those without access to internet otherwise to surf the web and catch up with their friends online.
Passengers with pets are welcome to leave their pet at the Electrum Airports Authority Pet Hotels in the Departures Section of each of our International Terminals. The cost for this service is 50 Synergy per day. Finally, there are also smoking rooms scattered throughout the terminal to cater for smokers. Although smoking is illegal in public places, special dispensation has been granted by authorities to allow smoking in these rooms.