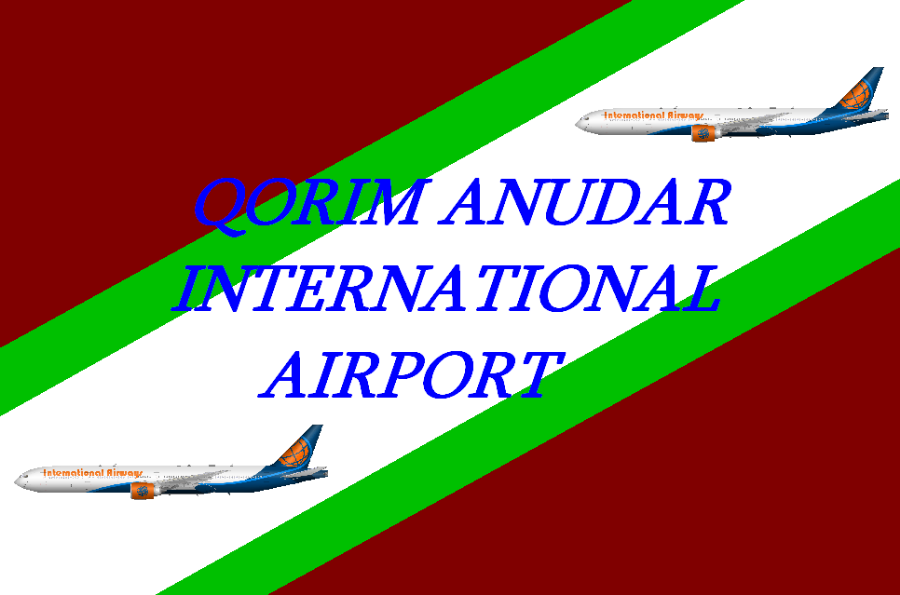 Contents

---
Overview
Located in western Anzinzar,
Qorim Anudar International Airport
is the nation's largest international airport. Located on the outskirts of the capital city, the airport can be easily reached via public transport with bus and train connections, as well as major highway links.
The airport serves as a major hub for commercial and tourist traffic, with hundreds of flights daily to destinations within Anzinzar, the continent, and globally.
Qorim Anudar's earliest airport was founded in 1946CE, and soon began commercial flights across the continent. The original site was closed down in 1971CE after quarter of a decade of service, and the new site (the current airport) opened.
Since the opening of the current site, the airport has been through several major overhauls to keep up with expanding international interests and demands.
Amenities
Qorim Anudar International sustains around 78-80,000 jobs directly, and around 120,000 in the immediate vicinity indirectly.
The airport has four active terminals (one domestic, one interregional, and two international/global) with a combined 218 gates, with a fifth terminal currently under construction. There are two runways present, both of which are 3,200m (~10,500ft) in length.
There are a combined 7,236 car parking spaces divided between three car parks, 31,040 square meters of retail space, 15 bars and restaurants, and a hotel with 2,272 suites (3,786 berth).
Travel Documentation
All persons wishing to enter Anzinzar must hold a valid passport from their nation of citizenship. Any person without a passport will be detained, and returned home as quickly as possible.
Travelers will usually be required to obtain a valid visa. The following visa types are obtainable from the nearest Anzinzar diplomatic mission, or may be obtained upon arrival:
Basic Visa


Valid for one month, may be obtained prior to or on arrival. Once having departed Anzinzar, a person holding a Basic Visa may not reenter for a minimum of 3 months unless upgrading to a different visa class (Student, Business, Employment).
A Basic Visa costs $10 NSD / Ǯ5.30.
Student Visa


A student visa may be obtained by those wishing to come to Anzinzar to study in one of our many diverse universities. There are a multitude of courses available, and foreign students are always welcome.
Dependent on the duration of the course, a student visa is valid for between 1 and 4 years, but may be renewed at any time.
If a holder of this visa wishes to leave the country for a brief time, they may be liable for a reentry fee upon returning.
A Student Visa costs $25 NSD / Ǯ13.25.
Business Visa


A visa for regular visitors on business. This visa was introduced as more of Anzinzar was opened up to the international market.
A business visa lasts a year, but may be automatically renewed (saving the business traveler the hassle of obtaining a last minute visa), and a holde of this visa may enter and exit the country at his/her/hir leisure, without a reentry fee.
A Business Visa costs $100 NSD / Ǯ53 for the first year, and then $80 NSD / Ǯ42.40 per year.
Employment Visa - Class-1


A visa for those seeking work in Anzinzar. The visa will be valid for one year from the time of entry, and upon leaving the holder may not return for a minimum of six months. If the holder has a full-time job prior to the visa's expiration, s/he may apply for a Class-2 Employment Visa.
A Class-1 Employment Visa costs $20 NSD / Ǯ10.60.
Employment Visa - Class-2


A visa for those offered work in Anzinzar. The visa will be valid for five years from the time of entry, and upon leaving the holder may not return for a minimum of six months.
If the holder still has their job at the expiration of the visa, they may either renew their visa or apply for full citizenship.
A Class-2 Employment Visa costs $50 NSD / Ǯ26.50.
Visa Exemption / Discount
Depending on current diplomatic relations and international deals, some nation's citizens may be entitled to a discounted entry visa, or even exemption from a necessary visa. If you are unsure please contact your nearest diplomatic office. Below is a list of nations who's citizens have exemption / discount rights:
Those seeking to emigrate permanently may contact the nearest diplomatic branch.