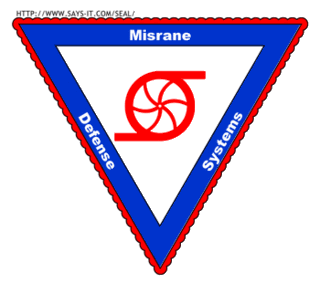 Misrane Defense Systems
"We have the authority in your needs"
The Misrane Defense Systems
The Misrane Defense Systems Inc. (or MDS) is a government-owned defense company and the only and primary military contractor in Soviet Martilia. As the sole military contractor and defense company in the country, the MDS have the monopoly in the production and manufacturing of weapons and military hardware to the Soviet Martilian Armed Forces, Soviet Martilian National Police, and other various customers around the world.
History
The Misrane Defense Systems was formed last 2001 under the name Soviet Martilian Defense Authority. The formation was authorized under the Soviet Bill #6417, also known as the Military Procurement Bill, in which the People's Commissar for National Defense will form a defense authority which are made up of different military contractors in Soviet Martilia that will serve under one government entity. But in 2005, the Supreme Soviet and People's Assembly passed the Soviet Bill #6743, known as the Military Defense Contractor Bill, in which all defense contractors around the country will be absorbed by a government-owned company and will distribute its product under one name, this let to the establishment of Misrane Defense Systems.
Company Divisions
The Misrane Defense Company has various division which has its own expertise in producing and manufacturing guns, rockets, vehicles, aircrafts, helicopters and ships. These divisions are also the result of merging with other companies such as the Harvod Integrated Defense Company, one of the former leading defense companies in making land vehicles for the Soviet Martilian Ground Forces, and Torvov Aeronautical and Space Engineering Company, the makers of the series of successful bombers for the Soviet Martilian Air Forces. Currently, the company has six business divisions:
Misrane Weapons Division
Misrane Land Division
Misrane Naval Division
Misrane Rocketry, Aeronautics and Astronautics Division
Misrane Electronics and Communications Division
Misrane Nuclear, Biological and Chemical Division
Ordering and Payment
Governments and/or nations can order and pay through our Network Ordering and Payment System (or NOPS) in our company website. With NOPS, we can receive your orders and payments more efficiently and be able to confirm you if we have receive your orders or payment. You can choose either the Fixed Cost Procurement Contract (FCPC) or the Cost Plus Contract (CPC) when ordering our products using NOPS. On payment, our customers can only use the NOPS in paying our products.
Company Policies
The Misrane Defense Systems has its own company polices in selling and exporting their products to the countries and customers they serve. We can sell and export our products through direct commercial sales between our company and you or through foreign military sales that can be setup between the government of Soviet Martilia and your government.
Company Copyright
All Patent Rights, Know-How, Trademarks, Final Art, Name and Technology, are owned exclusively by Misrane Defense Systems and no license with respect to them or any other intellectual property of Misrane Defence Systems is granted to any third party, except for the limited and specific purpose of making Misrane Defense Systems products in accordance with any agreements signed between Misrane Defence Systems and a contracting party and otherwise performing its obligations hereunder.