Allanean Arms Corporation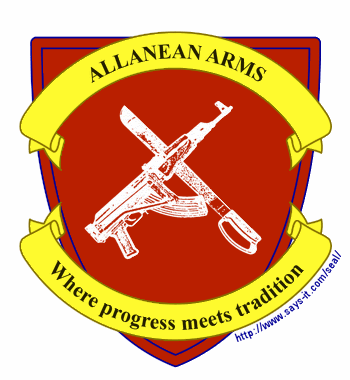 Rules:
1. Please do your own math for your orders.
2. There are two separate systems of orders – for governments and corporations (where you state "My nation orders N of X, money wired"), and civilian. If you want to claim that a given Allanean product sells in your nation, please just state "N of these rifles/shotguns/boots are sold in my nation every year.
3. Some of the designs here are not made by me and are not RL designs, but are designs by other players.
They appear here with their permission.
If you want your design to appear on this storefront, please contact me.
Sections:
Section I: Infantry Weapons
Section II: Anti Tank Weapons & Grenade Launchers
Section III: Support Weapons
Section IV: Tanks
Section V: IFVs/APCs
[/url]
Section VI: Artillery
Section VII: Helicopters
[currently offline]
Section VIII: Landmines
Section IX: Aircraft
Section X: Ships & Submarines
Section XI: Artillery Rounds
Section XII: Missiles and Aerial Munitions
Trucks, Jeeps, and Civilian Vehicles
(separate thread)
THIS STOREFRONT IS NOW OPEN
[/b]
OOC:
The layout, and some of the the links to RL product, are
courtesy of TWSP.