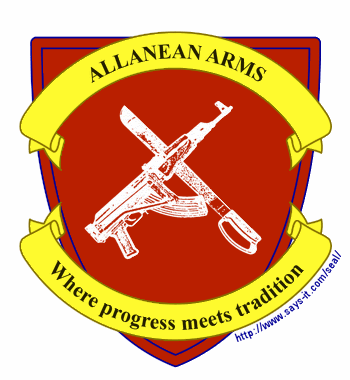 We at Allanean Arms welcome you to our storefront. Here you can find information about all our civilian vehicles, and even about our main competitors – like VLT from Van Luxembourg.
Our Cars
Firestorm Pickup Truck
Dominator all-terrain truck/SUV
Sandstorm SUV
Lightning/Acid Trip Van
DAA - Developing Area Automobile (really, really cheapskate SUV for poor people in developing countries)
'Turtle' Utility Truck
StreetWyze Urban Mini-SUV
Firebolt Motorcycle
Rebel Youth Motorcycle
Rebel-50 Budget Scooter
Spearhead Semitrailer truck
Dragon X V2.0 supercar
De Huzman Hyperia supercar
Other Vehicles:
Jetbike V1.0
Icarus Driverless Bus
The Media
Barronian Broadcasting Corporation on the Dominator
The Romandeos

Tasmardonia Telegraph

reviews the Firebolt.
WIBC News talk about the Firebolt
Relorian

Motoring Weekly

Review of the Firestorm
Relorian

Jelaia Gazeta

review of Allanean Arms cars in general
Cartoon depiction of Firestorms in Pantocratorian media
Total Vehicles Sold Per Year Globally:
15,057,131,016
Revenue:
$68,880,749,144,000
Employees:
536,050,000 Allaneans
Employees Abroad:
5,000,000
Facilities Abroad:
ALAF
- Alserta Automobile Factory, Holy Marsh, employing 5,000,000 Marshites and 50,000 Allaneans
FT/Gravitic Vehicles:
NOTICE: Any and all MT/PMT vehicles sold above are also available to any FT nation. They remain ground vehicles, but in an FT setting, of course, they use a high-power energy cell instead of internal combustion, and the entertainment systems are composed of appropriate futuristic shiny. The vehicles below are purpose-designed for an FT setting. That is all.
Swifter-6 Gravbike
Cadence Gravitic Family Sedan
Bolt Gravitics Sports Coupe
Buzzsaw AirSpeeder
Total Vehicles Sold Per Year Globally:
344,020,000
Revenue:
$4,670,300,000,000
List of foreign leaders who own and operate Allanean Arms Vehicles
Altanar
– The King and Prime Minister (Firebolt motorcycles)
Calizornistan
– President (Firebolt motorcycle)
OOC: This isn't a regular storefront. Basically what you do here is just post however many of my cars are sold in your nation per year and I'll note that in my stats. Note, the following (Van Luxembourg is due credit for this):
[quote="Van Luxemburg";](OOC: About car sales: There were about 220,000 cars sold in The Netherlands last year. That's on a nation of 16 million people. in the US, 16.5 million cars were sold in 2006. That's for a nation of 300 million people. Just to give you an idea of the total car sales of a nation, so you can calculate your own.)[/quote]