$291,417,977.00

(Updated - 02.04.2015)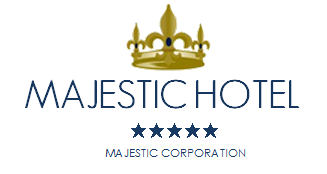 ---
W
ELCOME
F
ROM
T
HE
G
ENERAL
M
ANAGER
---



Mr. Terry Reddick
We are delighted to welcome you to one of the most popular 5 star hotels in Edom, The Majestic Hotel. We rank among the finest of the capital's leading luxury hotels in Venta Silurum, and have a distinctive style and ambiance that makes us unique.
Our luxury hotel in Venta Silurum combines classic elegance and grandeur with the deluxe facilities required by today's discerning travelers, such as hotel conference rooms, fantastic restaurants and bars, a luxurious Spa & Health Club with a 20 meter swimming pool and a gymnasium.
At our hotel in Venta Silurum, we continually strive to ensure that we not only meet our guests' expectations, but that we exceed them. We take pride in offering the highest level of service to ensure that we continue to be one of the leading 5 star hotels in Venta Silurum and is the reason why we are one of the most popular wedding hotels in Venta Silurum, too. Therefore, if you want to indulge in a night of pure bliss and relaxation, we recommend you visit our hotel.
You do not have to stay in our hotel in Venta Silurum to take advantage of our fantastic facilities. Our award winning Afternoon Tea is the perfect way to enjoy a leisurely afternoon, and you can indulge in an array of delicious sandwiches, French pastries and freshly baked scones.

Mr. Terry Reddick


General Manager of the Majestic Hotel - Venta Silurum
---
O
UR
H
ISTORY
---



Sir Paul Eaton
Majestic Hotel was bought by Sir Paul Eaton in 1965, when it was known as the Royal Retreat Hotel, in a bid to renovate the old and tired Hotel. Sir Paul started the renovations with a goal of spending just $3.3 Million, on improving rooms and suites, the bar and swimming pool. Despite this goal and after meetings with the building and renovation teams, that budget stretched to over $5.7 Million. With this, Sir Paul took the 150 rooms and 13 suites and expanded them to 302 rooms and 51 suites. Sir Paul improved the existing gardens, and added a further four bars and restaurants, the swimming pool was re-modelled, a gymnasium and spa was also added.
The Majestic Hotel was re-opened to the public in 1967, were it started life as a 3 star hotel. Over the past 46 years, The Majestic Hotel has has gained 5 stars for the improvements in space and services to the public. Today, Sir Paul is the President of the Board of Executives, and has created The Majestic Corporation, which contains over fifty Majestic Hotels, worldwide. On the 25th November 2011, Sir Paul sold 15% of Majestic Corporation to Mr Paolo Mancini for $1.2 Billion.

Sir Paul Eaton,
Chief Executive Officer of Majestic Corporation,
President of the Board of Governors, Principal Shareholder
---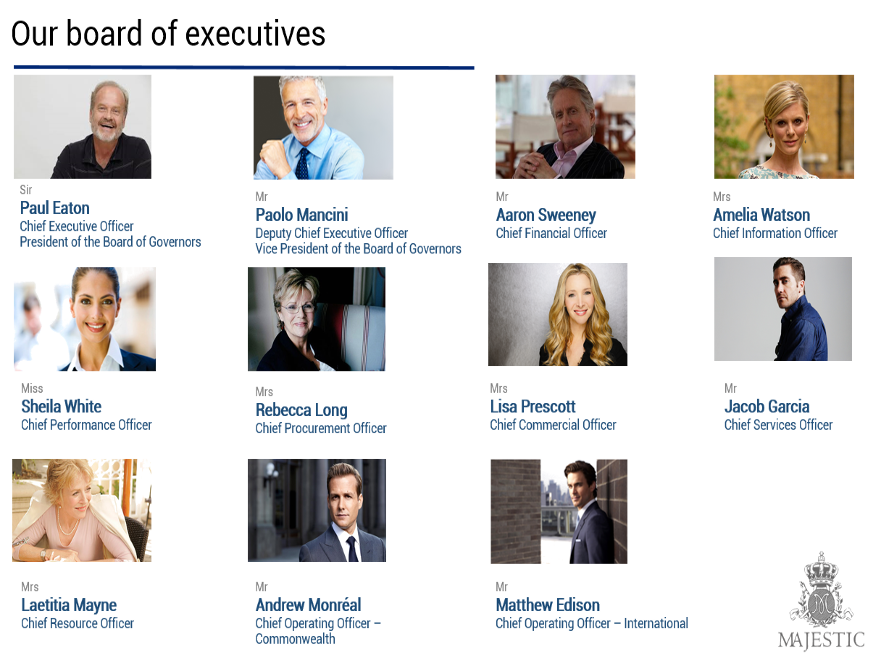 Majestic Hotel Corporation
(MAJCORP)
Gyflada, Storefront | Industry: Tourism & Hospitality
      

Price Per Share

NS$ 280.00

▲

0.27 (0.03%)

      

Total Price

NS$ 224,000,000,000.00      

Total Volume

800,000,000

      

1y Target Est. Price

NS$ 350.00
      

Remaining Volume

0 (0.00%)



Owners



---
O
UR
B
USINESS
P
ARTNERS
&

B
RANCHES
---
Branch Application Form
(This is an In Character thread, therefore please include a communique that is at least a paragraph long with all application forms. Only orders made In-Character or RP'd will be accepted.)
Code: Select all

[size=150][b][u]Branch Application Form[/b][/u][/size]
[size=125]Full Name of Nation:
Capital:
Population:
Organisation Making Application (E.G Government Ministry, Local Tourism Board, Individual etc):
[b]Location of Branches:[/b]
[b]Estimates Number of Employees:[/b]
[b]Estimated Revenue:[/b]
[b]Estimated Cost of Build:[/b] [/size]
---
A
CCREDITATIONS
---
---

---

---
---

---

---

---