NOTE: This RP was already done before, and therefore, there is a clear result. I will repel ZSeparatists and win this. However, I don't think I did this RP very well, the posts for pretty much everybody in it were pretty short. So, I'm going to remake this, with the same result, but in way more detail than before. New nations will be accepted. Also, The Democratic Federation is my puppet, but the other nations are not. If you are The Democratic Federation, Champagne Socialist Sharifistan, Great Humania, or Third ZSeparatists, I did the descriptions in the belligerents area for you anyway.
IC Thread
---
The Allied Tribe was a group of tribes that was officially founded in 12,000 BC. They farmed vegetables and ate them. They lived mostly simple lives.But at the same time, they were a democratic state. The first of its kind. They were intelligent. And a simple progressive feeling meant that within no time, they developed some modern tech greater than any other of the superpowers of the time. They were a peaceful group of tribes, and they knew that they'd have to fight a war someday, but that wouldn't come for a long time.

People began to realize a war was coming closer. As they were developing and years, decades, centuries went by, so did newer threats to their sovereignty. These threats understood that they wouldn't be earning much from invading The Allied Tribe. They decided to pass them by, which let their pacifist foreign policy to continue thriving for what would be more than 10,000 years.

However, a new enemy came into the area, which this time didn't care what they would be receiving from invading, or how strong their opponents were. By now, they were already received as a threat by The Allied Tribe, and by then, they knew that war was coming. All they could do now was wait for their enemy to make the first move, and try to defend themselves from the threat.

The threat is ZSeparatists, which is now known as Third ZSeparatists. They are a nomadic group of the Oumaji race, and they invade other areas, with hope that they can conquer enough decent land to create a fascist dictatorship where they settle, and then they can continue their destructive expansion into other areas. They are also seen as a threat in many other parts of the world.

Eventually, ZSeparatists began its invasion, attacking the Allied Tribe Bridge which crosses the Allied Tribe River and is close to Allied Tribe City. It failed, so ZSeparatists will attack a different area. Due to The Allied Tribe's pacifism, they barely have a military at all, which will make it easier for ZSeparatists to invade. There are hopes that they will succeed, but their chances are not very high. However, the World Assembly and many large nations are still showing their support for The Allied Tribe.
---
---
The Allied Tribe and allies/supporters



The Allied Tribe is a group of seven tribes, that follows regulated capitalism. They united sometime during 12,000 BC. They are the first nation ever founded, and despite that, they have never entered a war. Not until now. Times have changed. There are newer states forming, and one has already cast greedy eyes on The Allied Tribe.

The Allied Tribe, however, does have some experience, as they have entered several peacekeeping operations in bloody wars that have occurred in other nations. In addition, The Allied Tribe has many citizens who will not give
up the oldest and longest-lasting nation in history. The Allied Tribe also has many allies who can help them turn the tide in their favor.




The Democratic Federation was the third of eight of the tribes in The Allied Tribe, but The Allied Tribe gave them independence since they were eventually separated from the other eight tribes by the Dandoran Mountains.
Because of this, they later became the third nation ever founded, and like The Allied Tribe, until now, they have never been in a war. Since their only ally who is almost bordering them is under attack, they have decided to give full military support to The Allied Tribe.






Champagne Socialist Sharifistan is a nation of classes. People are divided into a social class system, while maintaining their socialist ideals and creating a monarchy. They are anti-fascists, and are also the second most important ally of The Allied Tribe. They will send some of their military and resources to The Allied Tribe.



Terria is a powerful empire that is probably the strongest of the allies of The Allied Tribe. They are ruled by the House of Laron, which has controlled them for a long time. They are clearly anti-fascists, and have fought against them in many wars. They will provide some military support and some resources to The Allied Tribe.






Piikala is a nation formed from two different warring states, one which is Hawaiian and the other which is Asian. They will provide a mixture of military and economic aid to The Allied Tribe.

(I couldn't gather much information here)






Bala Mantre is an absolute monarchy, although it has an upper house and lower house as well. It was founded in 7800 B.C. which means that it is slightly newer than our nation but still pretty old. In 1230 B.C. they split into more than a thousand kingdoms, and reunited after a lot of fighting. Right now, they are a very powerful nation. They will provide military and medical aid to The Allied Tribe.
---
ZSeparatists and supporters






ZSeparatists is a group of nomads who want to establish a fascist dictatorship. They will be based around market socialism. Since 6,000 BC, they have been invading nations, but have not been very successful in general. Right now, they are mostly new to battle, but have very high numbers (some 750,000). They are slavers.
---
RULES:
1. You must have your application approved to post in the IC thread.
2. Please try your best to use proper grammar and spelling.
3. For players in the original thread, a minimum of two sentences. For new players that are joining, a minimum of two paragraphs. I'm not looking for quality, just something enjoyable.
4. No god-modding or metagaming. (You should know how this goes if you read the whole thing, but don't make it seem like your leaders know it too
5. No WMDs of any kind here.
6. Please don't put a date in your IC posts, location should be enough.
7. I will decide on arguments between players.
8. Type "vegetarian" in the part of the application that says "Have you read the rules?"
---
ORBAT:
The Allied Tribe:
10,100 total, 5,000 infantry, 5,000 cavalry (not including guards), 100 guards
1st Guards Cavalry (100 guards cavalry)
1st Infantry (2,500 infantry)
2nd Infantry (2,500 infantry)
1st Cavalry (2,500 cavalry)
2nd Cavalry (2,500 cavalry)

The Democratic Federation:
20,200 total, 10,000 infantry (not including guards), 10,000 cavalry, 200 guards
1st Elites (100 guards infantry)
2nd Elites (100 guards infantry)
1st Infantry (5,000 infantry)
2nd Infantry (5,000 infantry)
1st Cavalry (5,000 cavalry)
2nd Cavalry (5,000 cavalry)



Champagne Socialist Sharifistan:


1. Special Forces
3. Air Cavalry
4. Layabouts
7. Layabouts



Great Humania (Terria):


Unknown
Piikala:
Total: 1915 personnel
Total of: 1915 personal
15 Kempeitai intelligence officers, 800 Piikalan marines, 8 Type 90 tanks and crew, 10 tons of assorted weapons: SAR 21s, 50 calibre machine guns, bazookas, and mortars, 3 C-2 transport aircraft, 8 mi-26s, 800 combat enginers, five bulldozers, five demining vehicles, five tractors with trailers, 170 modified 2018 Toyota Tacomas mounted with 50 calibre machine guns, 30 tons of building supplies, 100,000 tons of assorted ammunition, 50 medical personal, 10 tons of medical equipment, 15,000 barrels of gasoline, 25,000 barrels of jet fuel, one Zumwalt class destroyer, 15 A6Ms, 30 F-2s and aircrew,20 B-52's(Will be operating from Piikala with full aircrew), and 200 tons of assorted Piikalan MRE's.
Bala Mantre:
Total: about 200,000
180,000 Infantry
200 Guards (Infantry)
500 Guards (Mobile)
300 Guards (Planes)
9,000 Pilots
3,000 Tank Drivers
7,000 Special Soldiers
Trebonia:
Total: 150,000
90k Army, 10k Air, 50k Navy
- 2nd Brigade, 1st Marine Division (G36, AAVP-7, M8 AGS, AH-1Z)
- 18th Infantry Division (M16, LAV-25, Leclerc, AH-64E)
- 26th Armored Division (G36, CV9040 w/ SPIKE-LR, Leopard 2A7+, AH-64E)
- 88th Armored Division (G36, CV9040 w/ SPIKE-LR, Leopard 2A7+, AH-64E)
- 3rd Regiment of Hussars (Airmobile), 1st Brigade, 7th Cavalry Division (G36, UH-60 Black Hawk, RAH-66 Comanche)
- 137th Tactical Fighter Group (F-15E)
- 65th Tactical Fighter Group (F-22A)
- 7th Fleet (2 CVN, 1 CG, 4 DDG, 4 FFG)
Nacrad
Unknown total, no military aid
Military advisors, medical supplies, military materiel (mainly our old guns that we've phased out and matching ammo), humanitarian aid
United Holdings Incorporated
1st UHI Aircav Regiment, Blackhawks, Darkhawks, Mi-28, FOB. 100 soldiers, 24 pilots.
1st UHI SAM Squad: S500s, Iron dome, Radar. 10 Engineers, a few drivers w/ supplies.
1st UHI Armor: T-90M, T-14, M1A2C, 100 tankmen w/ supplies.
2nd UHI Marine Squad: AAVP-7a1, LAV-25, M1A1 FEP, 2 Arleigh Burke class destroyer, LCACs, 43 Tankmen, 250 Sailors, 350 Marines.
1st CAS Squadron: SU-25T, 4 pilots.
-Still a WIP, waiting for other nations-
---
MAP
This is without ZSeparatists. Yellow dot is capital, black dots are cities.
---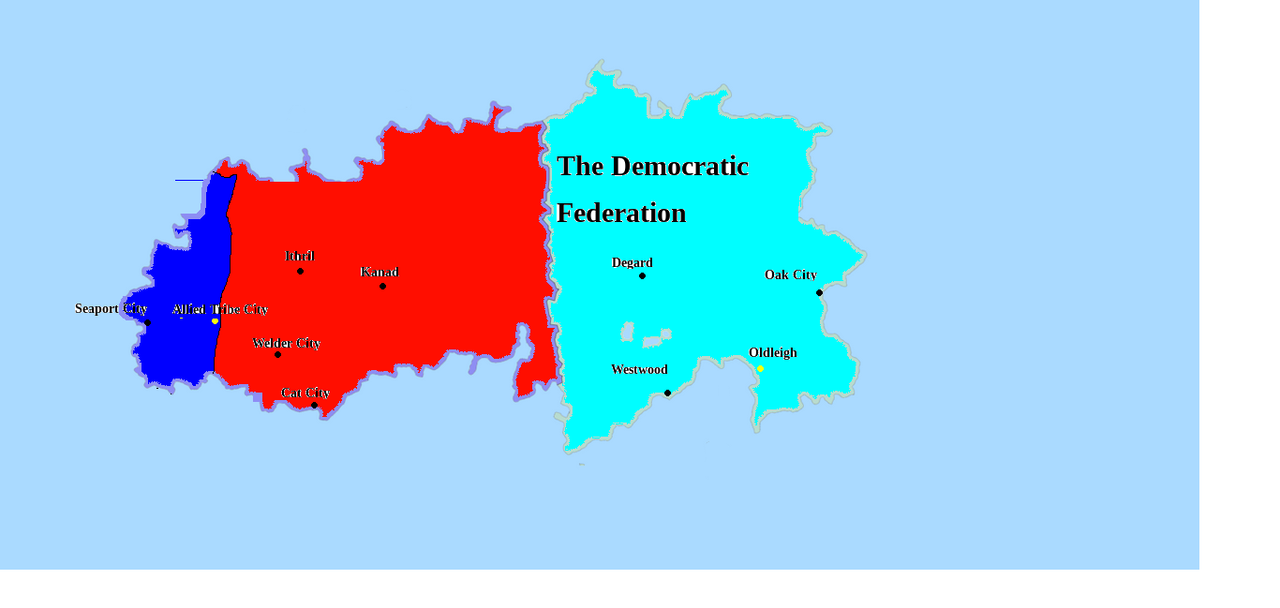 This is ZSeparatists (red) at its height during the war. They were unable to capture the capital. Yellow dot is still capital, black dots are still cities.
---
APPLICATION:
Code: Select all

Official Name of Country:
Short Name of Country:
Type of Government:
Population:
Order of Battle:
Will you support The Allied Tribe (defenders) or ZSeparatists (invaders)?
What will you provide to the country you are supporting? (Military aid, medical aid, etc.)
Have you read the rules?
Who wins the war?
Nations excused from application:
The Democratic Federation
(although The Democratic Federation is a puppet of The Allied Tribe),
Champagne Socialist Sharifistan
,
Great Humania
,
Third ZSeparatists
Another note: I will add you in the belligerents section and a brief description of your support in the war. I may also give some information about your nation. How long it is will depend on your factbooks and how much time I have.
Map