Iskanderun, Khataiy
Khataiyi Naval Commandos from the Abu Hafs al-Iqritishi Commando Battalion
---
It was early in the morning before sunrise as a vessel from North Korea traveled from the Suez canal into the Eastern Mediterranean near Syrian and Khataiyi waters, the Khataiyi government noticed the vessel near northern Lebanon and continued to track it until it moved further and further north towards Khataiy, orders were given to seize the vessel and its crew as well as search it.
10 Naval commandos were dispatched to board the ship, while 2 patrol boats surrounded the North Korean ship, the commandos boarded and began to detain all the boat's crew by handcuffing and blind-folding them, after detaining the crew they were escorted onto a patrol boat and taken back to Iskanderun, while the cammandos searched the ship for drugs, weapons and intel. The ship was found to be a regular shipping vessel however two kalashnikov style rifles were found and have been seized by the government, and the vessel itself has been impounded and will remain under Khataiyi possession until further notice.
The government of North Korea has responded with outrage to the incident with Kim Jung-un threatening to go to war with Khataiy over the incident, and has asked US President Donald Trump to intervene as both President Khairallah and Kim Jung-un hold good relations with him,
Pyongyang, North Korea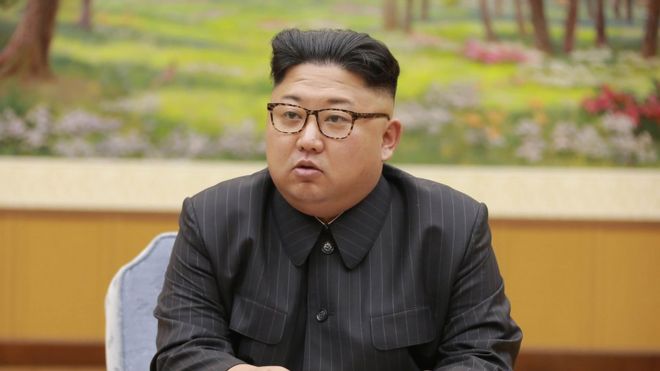 Kim Jung-un's televised speech on the developing crisis
---
"The government of Khataiy has no right to unlawfully detain and terrorize our citizens, Khairallah acts more like a thug than a President he is a gangster, a terrorist and a dangerous man. We demand the release of our citizens from Khataiy otherwise, military action might by taken by the Democratic People's Republic of Korea against Khataiy, our citizens will never be targeted or victimized, and I call upon President Donald Trump of the United States of America to assist us in freeing our citizens."
Antakya, Khataiy
President Khairallah's televised reply (
play
in background for effect)
---
President Khairallah televised his own reply to Kim and explained the situation as Khataiyi military
music
proudly played in the background,
"In the name of Allah the most Gracious the most Merciful, yes we did seize the North Korean ship they were sending arms to the vile Hezbollah and illegal regime of Bashar al-Assad, and the Yemeni Houthi terrorists, and we suspect they were heading towards Venezuela and Cuba to support the idiotic Maduro regime we found firearms on board and intel proving they are supporting the Safavids in Arab countries, we do not tolerate this, and we may put them to death for arming Hezbollah and Iran, giving the Iranians so much as one cent, we will punish you for it. If Kim want to invade Khataiy I welcome him to do so, because we have our own arsenal of missiles that we will fire at Pyongyang, his country is in long need of regime change and I will bring that change if needed, this prepubescent child doesn't know who he is dealing with, he should go back to stuffing his face in front of his starving nation instead of threatening successful nations like mine. Kim, if you are watching this, no they are not going to be released and that ship is my ship now, and those rifles on board are mine, go ahead and cry because you are insignificant to our country, and God is the greatest."