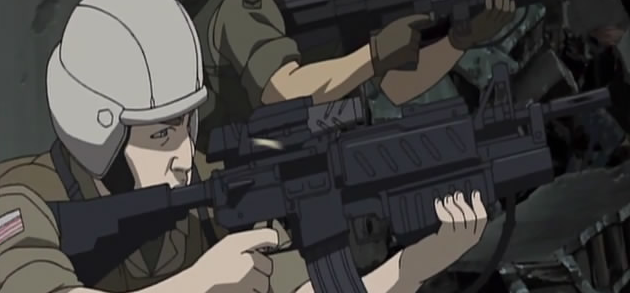 Task Force Atlas - Direct Action Mission
Soundtrack
OOC: Briefing Reading is Mandatory.
Atlas -
Status - Green
"Atlas 1-1 Actual, reporting here." Locke said over comms, from Insertion Bravo. "Fighting has died down, I say again, fighting has died down. Clear for Operation Go."
"Roger that, Atlas 1-1, we are Mission Start." The pilot of the MH-X Stealth Hawk responded, "We're goin' in everyone."
The helicopters began their descent into the area, each holding a full compliment of Task Force Atlas personnel. Already, the mission got heated. Bursts from an anti aircraft gun ripped past the aircraft, causing the pilots to utilize evasive maneuvers to avoid it.
"Atlas 1-1, what the Hell?! I thought you said the area was safe!" The pilot growled into his headset, still dodging AA fire.
"Never said it was safe, they must have been waiting. You stop now they're going to hit you again; we need to hit them now!" Locke called in once more, "I've got unidentified AA guns in the distance and I need the rest of the teams for a strike!"
"You owe me a beer." The Pilot grumbled, and beginning to unload Atlas personnel.
ISAF Commandos pinned down at the C-130 began returning fire, drawing the opposing force's attention to them, rather than the helicopters. They utilized short controlled bursts from their carbines, and used specialized scopes to root out enemy positions. A firefight soon broke out between the two groups. The ISAF Commandos were battered from hours of fighting; the Bradley IFVs which had gotten them there were steaming piles of smoke, thanks to a number of RPGs disabling them.
The C-130 crash site provided ample cover for the time being, and the Commandos utilized it to their advantage.
Across the way (Grid Ref C-12) , ISAF Commandos engaged in fierce close quarters combat with militants who had managed to make their way to the structures on that edge of the dried river. At least 18 militants holed up in the first building (C10) alone, with more steadily reinforcing their position with RPKs and more grenade bandoliers. 7 ISAF Commandos valiantly held their ground in the two buildings north of that location, but they would need Atlas to relieve them soon; they were extremely low on Ammunition, and their Carl Gustav had been disabled in an RPG blast. Their M320 Grenade Launchers were in short supply, and they had to ration their HE Grenades. An M240b gunner within the houses managed to suppress most of the enemy action for a brief period, but in between reloads, they were peppered by AK fire.
The UDT/SEAL Team had infiltrated just before Atlas' arrival, and stayed behind with a number of ISAF regulars dispatched to support the commandos. Two large buildings concealed the small force for a while, with short exchanges between insurgent snipers and Frost occurring every so often. Two misguided airstrikes by the ISAF regulars later, and they soon found that the Insurgents had been employing human shields in their operation. The village had a large amount of unarmed civilians hiding within, and the militants exploited them as much as they possibly could. ISAF would never fire on civilian targets.
Locke was charged with recon of the area, and radioing for the Atlas QRF/RRF when the fighting died down enough or the ISAF Commandos advanced. Though the Helicopter pilots had trouble, they would be able to land relatively safely. Insertion Alpha would have a much easier time; they were being deployed by Stryker IFVs. Hopefully they'd arrive in time to support the pinned down Commandos in the buildings near Grid Reference C-12.
Once the word had reached the main Atlas force that it was time to move in, Locke and his team gathered their gear and moved south, to Grid Ref F-13. Two large empty cargo crates provided cover, along with a desolate shack to their west.
They held their position there and gave supporting fire to the ISAF commandos pinned at the C-130 crash site. Frost scanned the area with his scope. The Militants in this area were well equipped, utilizing old soviet technicals and machine guns, as well as brand new Kalashnikov rifles, and even a few polymer/ceramic combat vests. It was obvious the Prophet had supplied this group. Odyssan uniform pieces were prevalent as well, and it was possible that the Migs that downed the ISAF F-16s belonged to them as well.
Whatever was going on, Atlas had an objective. Rescue the HVTs in the Village at ANY cost. Command was reluctant to tell them, but it was clear these individuals were of extreme importance to ISAF's mission in the destabilized regions of the world. And, it was another colossal piece in the puzzle of locating the Prophet, who had alluded Atlas many times before.
"Be Advised, all Atlas Personnel, enemy is using human shields. Watch your fire." Lennox called in through comms. "We cannot authorize air strikes on the village. I say again, we cannot authorize air strikes on the village. Try luring Opposing Force into the open."
Opposing Force -
Status - Engaged
"Come brothers! The infidels are trapped!" A young militant called, standing atop a technical. "Let us shed their blood upon this land today!"
He was met by a cheer from the other young men following him. The technical he stood on started up, and began its drive into the battlefield. It stopped abruptly, jolting the young men standing in it forward. They were hesitant, or possibly drugged, and it took a few moments for them to recover. Once they had, however, they let out a fierce battle cry, and charged forward into battle. They fired their Kalashnikovs rapidly, hardly ever stopping to aim, until they reached hard cover. (C-8)
"Look! They brought more aircraft!" One called from a rooftop, before he was silenced by an ISAF bullet.
"Ahmed, get the rockets! Ahmed!" The young man called back to an older man, trained veteran of the regime.
"I've got them! I've got them!" The militant on the DshK called back, beginning to fire short bursts at the distant aircraft.
"Save your bullets! Make sure the ground troops don't get closer!" The man was chastized.
More militants rushed forward with Kalashnikovs, most wore standard chest rigs, and some even wore soft armor. They more well equipped and trained insurgents stayed back, taking shots from afar and preparing for the inevitable close quarters firefight that would occur in the village. Many rushed back and forth from the houses, bringing RPGs, Ammunition, and even machine guns to fortify each position. They wanted to make sure they had the upper hand when it came to the fighting. Even further back, elite mercenaries from the Prophet's private military stood guard over the VIPs. They were deviously clever, hiding false VIPs in some of the houses, and rigging them with C-4 to kill the Atlas teams when they brought them to extraction. These men were the most dangerous; their equipment was brand new and well kept, and their armor was clearly on par with that worn by some of the Atlas teams.
With Mohandes out of the picture, the Prophet was careful to plan his next moves. He knew Atlas would go after him now, and he knew they had gotten smarter. However, he also knew he could thin their numbers quite easily. Day after day, he planned various operations to capture and kill important figures in Atlas' operation. Today, however, things went wrong. Mohandes had leaked information about his PMCs being stationed in various fanatical regimes. ISAF was able to prepare its commandos for an engagement with highly trained individuals; rather than the usual militia force they were used to. Word soon spread of the Prophet's operation weakening, though any dissenters were quickly... silenced. However, distrust grew amongst the ranks of the regime in Takistan; if given a chance, they would surely strike to slit the throat of their benefactors and his forces.
Approximately 32 Insurgents were located in the ruins in front of the village alone. Snipers were included amongst their group. (B-6, B-9 and C-7)