United States greenlights No-Fly-Zone
The Kenway Administration authorizes No-Fly-Zone over West Caprican Sea
Jame McManus

(
@JayMcManus
)



28 June 2017

|

Ulysses, C.D, United States of Caprica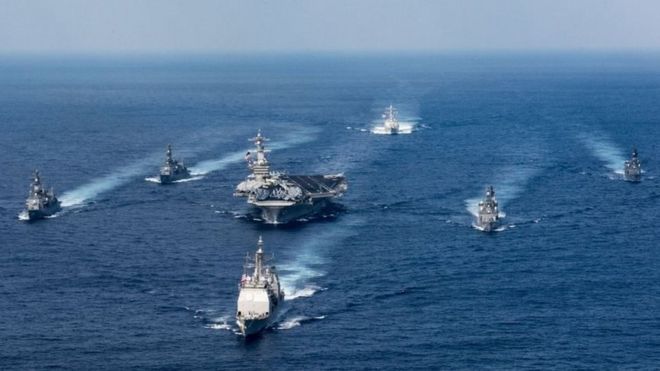 The 5th Carrier Strike Group underway|

UP photo
Ulysses, C.D., United States
- President Oliver Kenway has authorized the institution of a military no-fly-zone over the West Caprican Sea via executive order today.
President Kenway has said Wednesday that he has approved the implementation of a military no-fly-zone over the West Caprican Sea extending from the end of the international recognized maritime borders of Mesoland, Aswick, Nova Deseret and the San Joaquin Valley, the zone prohibits all military air traffic over the zone under threat of being shot down by US Naval assets.
In addition the United States has instituted maritime restrictions in the West Caprican Sea ahead of the official start of the military no-fly-zone. All nonessential civilian transport ships will be turned away from the West Caprican Sea until further notice.
The zone which is set to go into effect Friday at 1800 hours and to remain in effect for the next thirty days is the latest action in a series of what appears to be tit for tat maneuvers in the region sparked by the apprehension of a Meso civilian ship by Nova Deseret authorities earlier this year.
Nova Deseret, which claims that the ship was operating illegally, has yet to release the twenty one man crew despite intense international pressure. The country has instead responded by conducting provocative live fire naval drills in the West Caprican Sea, firing a number of missile barrages towards Mesoland earlier this month.
The United States' no-fly-zone is a direct reaction to both the drills and Nova Deseret's shooting down of what Bright Hill has described as an experimental weather drone that was operating over international waters before brought down by Nova Deseret's Air Force last week.
High ranking officials in the Nova Deseret government have shot back alleging that the drone had in fact violated their airspace and was brought down only after repeated attempts to communicate with the unmanned aerial vehicle. Nova Deseret has yet to return the wreckage of the UAV to the United States despite repeated calls.
MORE IN

WORLD
President Timaloc settles in

[

11629

]

Greyfox Cup to be held in Cuan

[

6634

]

Cold Wave hits Nikolia

[

6955

]

Opinion: Nova Deseret: A supporter or enemy of peace?

[

572

]
MORE FROM THE

HERALD
Kamalbia still a fire storm

[

5924

]

Winter has Come

[

4982

]

Opinion: Can terrorists be stopped? Part 6

[

3913

]

Prosperity Party up by 10 points

[

3993

]
Comments

[

918

]


E-mail




© Caprica City Times 2017