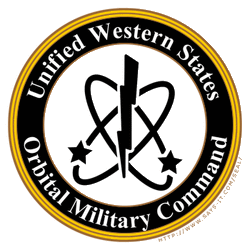 Official Communiqué From The Unified Western States Orbital Military Command
Pacifica Building, 1002 Arcadia Boulevard, Seattle, Washington
To: All Nations
From: ORBMICOM Department For International Cooperation & Development
Encryption:
None
Ten years ago, the Unified Western States Department Of Defense instituted the SkyGuard Defense Network, a constellation of sixty-six satellites that are designed to detect and track nuclear missiles along with other ground-based threats. The last of these satellites was put into orbit five years ago, coinciding with the launch of the first SHIELD satellite. SHIELD is the sister program to SkyGuard, and acted as the weapons-half of the pair (SHIELD standing for
S
uper
H
igh-Altitude
I
frared
E
nergy
L
aser
D
efense). Each SHIELD satellite is equipped with heavy-duty dual-wave infrared laser cannon capable of disabling any guidance system and most electrical systems, but is not capable of doing actual physical harm to other targets.
Originally, SkyGuard and SHIELD were administered under two separate sections of the UWSDOD; SkyGuard under the National Intelligence Office, and SHIELD under the Space Defense Command Agency. For its original purposes, this set-up was more than adequate. However, the world changes rapidly, and so must the nature of this nation's defense policy must change just as quickly. To do this, President Owen Ward today signed into law a bill named the "Total Orbital Defense Consolidation Bill", which merges SkyGuard, SHIELD and several other space-related projects and agencies into a brand new branch of the UWSDOD. This new branch is the Orbital Military Command (Or ORBMICOM for short), and is under the direct command of the Secretary Of Defense. In addition to SkyGuard and SHIELD, ORBMICOM also administers the following agencies:
- National Atmospheric Regulation And Monitoring Agency (NARMA)
- Strategic Deep Space Tracking Initiative
- Near Earth Orbit Tracking And Interception Grid
Combined, SkyGuard and SHIELD have become a single agency, the Strategic Orbital Interception Network (SOIN), which now administers both satellite constellations. And like both SHIELD and SkyGuard, SOIN is being designed with the international community in mind. Therefore, just as with SkyGuard, an alliance of sorts is to be formed around SOIN. This alliance will be the same structure as the SkyGuard Alliance, with the same rules and regulations applying. Becoming part of the SOIN gives member nations access to the full capabilities of the system, including missile detection and interception. Also, as a member of SOIN, a nation will be able to get in on the various extensions to the project and influence how the system is developed. Below is the application form, along with a list of entry parameters.
Regulations
-Nation must not have a history of human rights abuses, instigating unjust wars, ect.
-Nation must be willing to undergo a thorough background check.
-Nation must allow SOIN access to their defense networks. (This simply means that SOIN will be able to interface with your system. It will not access any secure files or anything of that sort. It just needs a clear channel in your networks.)
-Nation must be politically stable (I.E, no recent or ongoing coups, revolutions, rebellions, terrorist problems, ect.)
-All nations will be required to send a representative to the SOIN Council meetings that will occur. These meetings are to discuss upgrades, suggest ideas and/or voice complaints.
Code: Select all

Full Nation Name:
Government Type:
WA Classification:
Recent Revolution, Coup, Terrorist problem, ect? If yes, please specify.(Y/N):
Name of representative to be sent to meetings:
Name of head of defense department or equivalent:
Questions About The Alliance:
Every application will be reviewed by the Director Of ORBMICOM, Spencer Halland, and a letter of acceptance or denial will be sent as soon as a decision has reached.
Member Nations
- The United Socialist States of the Sovietyeto
- The Armed People's Republic of North Eugenia
- The United Socialist States of Marcheria
- The Republic Of Francee
- Vuhifellian Federation
- The Supreme Democratic Empire Of Alexlantis
- The Democratic Republic of Creselia
- The Sultanate of Bukharabia