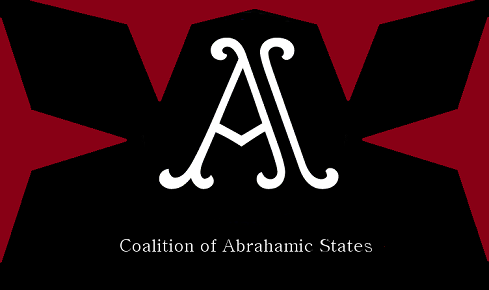 The Coalition of Abrahamic States
This organization is being formed in the premise that all Abrahamic have a place in the world. Nations within this Coalition will work together as a whole and for the common good, handing out humanitarian aid to all those including nations of a different belief. All radical religious sects do not have a place in this Coalition due to the violent nature of their existence. Besides trying to improve the lives of as many individuals as the Coalition can it also has another purpose. This other purpose is to defend the nations within the Coalition and also keep an open mind when it comes to their religion. One of the worst problems the world has today is the inner fighting that the Abrahamic religion seems to attract. From an early age wars have been waged between Islam, Judaism, and the Christian faith. This Coalition aims to dismantle these stigma's and hatreds so that the Abrahamic way can prosper and grow into the world. One thing that all in the Coalition should remember is that inhumane acts by the members themselves will not be tolerated. The base tenant of this organization is to bring our faiths together into a brotherhood. So that the word of the god to whom we all worship can be spread throughout the world without restriction.
We should all remember that although we believe in different specifications within the faith, that in fact we all serve the same god and should treat each other from such a stand point. Nations that practice Judaism, Christianity, and Islam are welcome here and will be treated as friends and with a gentle hand. Prejudice divides us and this should be something all of us should stand against. We should respect that each of us have a separate set of tenants in the faith of God [Allah] and that we should try not to inflame religious debate. At the end of the day we are all members of Abrahamic religions and should treat each other with respect and courtesy. God would not want us to bicker among ourselves despite our different view points. Do not judge others unless you wish to be judged, because God [Allah] is the final judge and doing so would be trying to take authority from the Lord. We should all remember to be courteous and respectful to other's beliefs. They may not be our own but do we not wish to also be respected? Pushing one's religion onto another will generally not breed a devout follower, what it will breed though is contempt for the people and the religion trying to push itself onto someone. This should be remembered when dealing with other nations on the international and national levels.
Here is a list of the core tenant dealing with the Coalition. These tenants must be agree'd with in order to join the Coalition as a full member.
- All nations contained within the Coalition are to respect the beliefs of others, and set a standard for behavior of our three main religions. Prejudice of another's belief just breed's contempt and does not help on any substantial level. These three main religions are the study of Islam, Christianity, and Judaism.

- All nations must not infringe on the human's right to choose religion. God gave us choice and we should be able to practice this. One must remember that pushing a religion on someone will often breed contempt and not a devout follower.

- All nations should be ready to send humanitarian aid to other members of the Coalition, and to other nations around the word that may need our assistance. There may be those of another religion in a country that is struck by misfortune, but it is our way to help those that cannot help themselves.

- All nations should be ready to defend other nations within the Coalition.

- All nations must make it a point of condemning radicalism on any level within and outside their nation. Radical actions taken in the name of our faiths only gives us a bad image in the international community and does nothing to spread our faith.

- We must all remember not to do good works because we fear the anger of God, but because these actions are the correct thing to do.

- All nations should make it a point to make peace and not war if it can be avoided. Killing is not good no matter what the cause and should only occur when there is no other option, or in the defense of ones own nation. It should also only occur in the event of an atrocity being committed and the defense of those who are the victims.
These are the Coalition's tenants. They are to be followed by each member, or that member will face ex-communication by the organization.
Leaders of the Coalition will be represented by blue names.
The Holy Imperium of
Celis
The New Soviet Federal Republic of
Karaden
The Social Democracy of Linistea
The Islamic Caliphate of
Jahada
The Constitutional Empire of
Osthia
N/A
Code: Select all

[b]Nation Name:[/b] [Your nation's name]
[b]Leader:[/b] [Your leaders name and titles]
[b]Type of Government:[/b] [Dictatorship, Monarchy, Democracy, etc..]
[b]Denomination:[/b] [Islam? Christianity? Judaism? Another sect of Abrahamic view?]
[b]Military Activities:[/b] [Are you currently involved in any military conflicts or police actions?]
[b]Economic Situation:[/b] [How are you doing economically? Doing well? Or poorly?]
[b]Why do you wish to join the Coalition?:[/b]
[b]Do you accept the tenant of the Abrahamic Coalition?:[/b]