ACAP HQ, The Aberlado Diaz Alfaro Psychiatric Institution
"

You can take away a man's gods, but only to give him others in return

"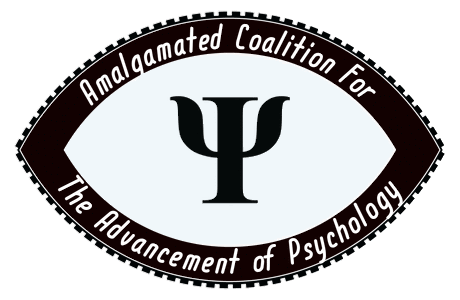 I.) MANIFESTO
I have always been intrigued with the workings of the human mind. Or, perhaps with what the workings create and formulate, a creative assembly line that builds our psyche block by rod by block. As such, it was very dissapointing to note that, coming here, NationStates had no one place where I could pursue my interests. In particular, this Chairman of The Rich Port noticed a distinct lack of a psychological authority in The World. And in a world that is filled with significantly more madness than most worlds, I find that a group of people well-versed in crazy works better than a few people going at it, wallowing in mind vomit, blatant and senseless racism, among others, a borderline schizophrenic environment bound to drive anyone as bonkers as the rest. In closing this opening statement, I shall present the following objectives of this association:
1.) In the interests of science and discovery, unite the psychologists of the world under one banner
2.) Research situations in the world and come to conclusions in an effort to better it
3.) Present a forum from which the minds of the world can vent, announce, or publish their views and ideas on psychology
4.) Provide an authoritative body from which The World can find an answer to it's psychological inquiries
5.) Create a home where all psychologists are welcome, respected, and given support
NOTE: Admittance is limited to a single scientist acting as national representative. "Assistants" and "observers" are barred.
---
While the Board of the APAC is certain that necessary oaths were taken whilst acquiring a certain degree in the name of ethics and ethical treatment, it feels that, in order for progress to be as restricted and as sober and unilateral as possible, it must be neutral of politics, religion, etc., particularly from the nations that each representative shall stand in for. As such, the APAC requests of each representative an oath of scientific and educational neutrality. This oath is to be spoken briefly with the application
In the interests of science, progress, and the benefit of all mankind,
I, [insert name and degree], do solemnly swear:
To apply all of my knowledge in search of truth, progress,
And the bettering of the general state of human thought processes,
Without doing any harm to anyone or anything,
And to place my career in the interpretation and education of the mind
Above everything else in my professional life"
Basically, he that swears to this oath shall place the study of psychology first from political responsibilities and alliances. This means, of course, that politics cannot interfere in APAC research. However, this does NOT mean that the mental state of politicians, world leaders, certain constituencies, etc., cannot be the subject of a thesis, discussion, or a theorem. In fact, the analysis of the world is encouraged, particularly if it would improve the introspective capabilities of said subject, both for the APAC and the subject itself/himself/herself/themselves.
---
The following are rules of conduct, to be followed by the letter, without interpretation offered. The (in the future) elected Board members may vote on whether infractions merit any punishment. With this stated, the rules shall then be as follow:
1.) ABIDE BY THE OATH

2.) THE APAC THREAD IS FOR PSYCHOLOGY-RELATED TALK BY MEMBERS
And... yeah, that's pretty much it. Otherwise, go crazy.
---
1.)omitted
The Worker's Galactic Federation of The Rich Port
(International host)
2.) Dr. Bluskie, Ph.D,
The United Kingdom of the Floor Kippers
3.) High Templar Oong, Ph.D,
The Furinax Conclave of Shakuras
(The Norther Furinax Tribes of Hornopolis)
4.) Dr. Curry, Ph.D,
The Noocracy of Teicneolaiocht
5.) Dr. Alan Swayze, Ph.D,
The People's Republic of Unitopolis
6.) Dr. Xavior Siskel, Ph.D,
The Empire of New Amerik
7.) Hon. Sessyn Klae, Earl of Willenburg,
The Free Land of Willenburg
8.) Dr. Shane Jon Hosking, M.D,
The First Star Imperium of Fulma
9.) Dr. Samulle Hutchsky, Ph.D,
The Ever Glorious Fatherland of New Nicksyllvania
10.) Dr. Jagdish C. Bose, Ph.D,
The Rajjoutho of Nafistan
11.) Dr. Andrew Karanovich, Ph.D,
The Democratic Dictatorship of Diatraba