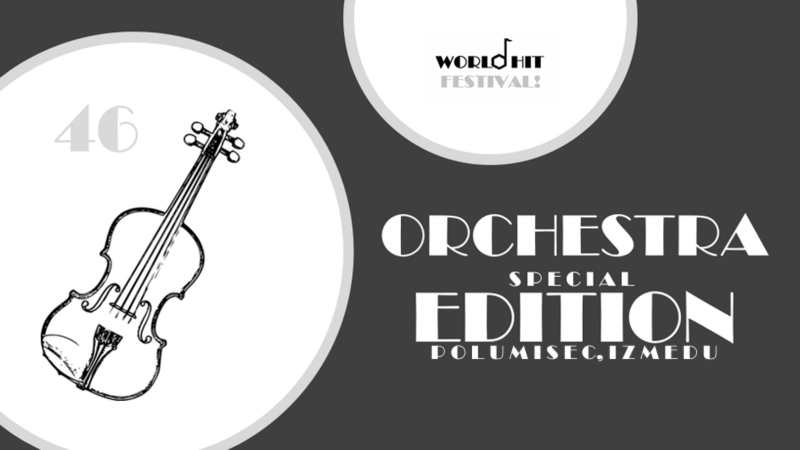 ORCHESTRAL EDITION!
WELCOME TO THE 46TH WORLD HIT FESTIVAL
Polumisec, Izmedu
---
DRAFT THREAD - IC THREAD
---
Welcome to Izmedu (again)!



Izmedu has won the World Hit Festival again, and this time they won with "Sturi-Minsi" which was sung by Dejan Mlakar. We are very excited to turn back to the kings of World Hit Festival hosting for what is set to be yet another fabulous Festival in Izmedu... We will be returning to the city of Polumisec, Vodiznad, for the 46th World Hit Festival.

This edition is an orchestral special edition celebrating five editions since I took over as the World Hit Festival Overseer! I hope to see many nations participating.

Also, I am not sure whether you noticed, but I simply just edited this message - it's much easier!

Fabio McAlpine
World Hit Festival Overseer
What is the World Hit Festival?
The World Hit Festival (WHF) is a multiversal song competition. Each nation shall enter 1 song and 1 artist, and it shall be 'performed' via roleplay. Most nations tend to use a real-life tune as a musical backing, but every entry submitted to the World Hit Festival is required to have original lyrics (ie. if you submit a tune, you must re-write the lyrics), so this does mean that instrumental entries are blocked from entering the contest.
WHF operates with three threads, the OOC, Draft, and IC threads. The one you are seeing now is the OOC/Sign-ups thread, the main place for you to discuss the contest, reveal your entrant, etc. All OOC chatter goes here. The Draft Thread, opened by the host, is the second thread opened up during a WHF contest, and this draft thread is where nations will post and work on their entries until a deadline determined by the host. The IC thread, also opened by the host is the third and final thread attached to a WHF, and it is where the host will transfer your entries.
The World Hit Festival has had a very long history in NationStates, and a thread by the second overseer (Euskirribakondara) has been created to compile this long history. Click here for a thread with links to every
OOC and IC thread
of all World Hit Festivals so far. Click
this
for a statistical database of all WHF participants. For winners, click
here
to see a full list of all WHF winners with links to their entries.
---
The 46th World Hit Festival will be a special edition. The 46th World Hit Festival marks the fifth edition since Fabio McAlpine took over the leadership from Ivan Sandic.
The 46th World Hit Festival will take place in the nation that
wins the 45th World Hit Festival.
We would like to make the 46th World Hit Festival a very large event, including two semi-finals and so we would love to make as many nations participate as possible - hopefully making it the largest World Hit Festival ever.
The winner of the 45th World Hit Festival will have to agree to the terms and conditions for hosting the 46th World Hit Festival, including the addition of an orchestra as a part of the stage or behind-the-scenes. The orchestra must be a full symphony orchestra.
In order to be eligible to participate in the 46th World Hit Festival, the majority of the instruments and sounds that you will present will be from any instruments in a full symphony orchestra (this can be also presented in the form of RP for those unwilling to provide a tune/where it is not as evident as a tune which has 100% orchestral music).
Delegations will be allowed to send a song with just one instrument too (voice and accompaniment).
The decision as to whether a tune is rejected or accepted will be made by the current overseer and the host broadcaster, with further discussions being had with the former World Hit Festival Overseers if there is a dispute.
You can find a list of accepted orchestral instruments here:
Orchestral Instruments
---
Schedule
Draft Thread Opens:

27th May 2019


Sign-Ups Close:

3rd June 2019


Draft Thread Closes, IC Thread Up:

13th June 2019


Voting Deadline:

23rd June 2019


Grand Final Winner Known By:

30th June 2019
Participating
If you would like to participate at the World Hit Festival, please complete the form below.
Code: Select all

[box][b]Nation:[/b]
[b]Broadcaster:[/b]

[b]Song Title:[/b]
[b]Artist:[/b]
[b]Language(s):[/b]
[b]Title Transcription (if required):[/b]
[b]Title Translation (if required):[/b]
[b]Tune:[/b]
___
[i]Host Requirement[/i]
___


[b]Head of Delegation (if not already provided):[/b]
[/box]
For WHF veterans, this sign-up form will look very familiar as it is the same sign-up form for the past 15 editions. However, for debutantes, I have provided a sample application using WHF32's winning entry in a spoiler, with explanations in brackets.
Participating Nations: As of May 15
Britonisea

Izmedu
National Final (1/1)
N/A