---
---
Avanroa Eagle News Network is a news network based in Melbourne Australia. The news agency is the top-grossing news agency in Australia and employs 2,500 employees and staff. The agency is ranked as one of the most unbiased networks in the globe and has significantly given out high-quality content as of late. More than 5 years in operation, the agency builds cooperative collaborations with well known Australian agencies for better quality news
---
Australian Government seeks better ties with Bengal
November 4,2023 | Isaac Livingston
---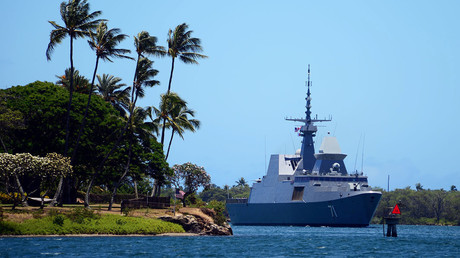 ANS South Star nests near the coast of Bengal. The opening of Bengali
ports now widens the military's capabilities in the Indian Ocean
---
DHAKA
- Diplomatic relations between the Commonwealth of Australia and that of Bengal and Assam are starting off great. The two nation's diplomats and representatives met in Dhaka in Bengal and discussed about future cooperation and economic agreements.
Although no official agreements were exchanged between the two countries, several deals were made during the momentous meeting between the two countries' representatives. One such formalized deal was the selling of several military hardware by Australia's ACHEUS and TransGen Inc. companies to the Bengali Self Defense Force. The arms deal will see F/A-19 fighter jets, naval destroyers and research cooperation between major companies in Australia and Bangladesh. It is rumored that the total value of arms and vehicles being sold to Bengal will be almost close to $30.0 Billion. ACHEUS representatives assured the Bengali Defense Minister of the arrival of Bengal's brand new jets by the end of 2023, just in time for the New Year.
In other deals, the Bengali Defense Ministry spontaneously stated that Australian military forces will be allowed to station troops and gain access ports in the country, a statement that was greeted by a large applaud from the Australian contingent. With the ability to station and hold military forces in Bengal, the Australian military now has two major military bases in the Indian Ocean, with the other one being in Gwandar peninsula in Pakistan, enabling Australian ships and naval assets a faster capability to react to security threats.
With new diplomatic ties, Prime Minister Scott Morrison told that a stronger relationship will not be far off with Bengal and Assam, and that this is a huge step to maintaining peace not only in the Asia-Pacific region but also in the Indian Ocean.
---
|| Australian military planning to station more than 5,000 servicemen in Bengal || Worries of Japanese economic retaliation soaring among workers employed in Japanese businesses|| Online conspiracies suggest Australia might be putting nukes in Bengal || Author of "Rise of The Land Down Under", shares her view of Australia's new place as a regional power
---
---
---
All rights reserved
Bendicion
. Do not copy this layout without asking.