The Coalition of Thermonuclear Warfare Supporters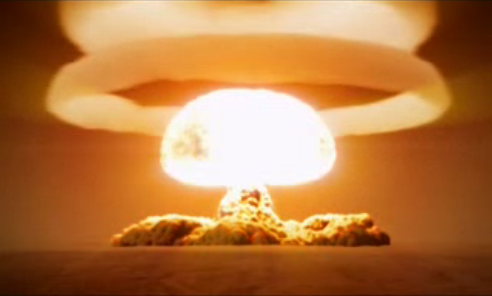 There was once a thread with a name very much like this one. However, it seems to have been auto-deleted for inactivty. As such, in honour of the late thread made by Ainin, it is my pleasure to recreate this esteemed organization, so as to provide a sanctuary for all who support the use of and effects of nuclear war. I aspire that this thread will draw many into its wide, welcoming, irradiated arms. And, I openly promote those that visit this thread, whether a veteran member, newbie, or simply a passerby, to post what their favourite aspect of nuclear war is. I also promote all members to share their ideas on the benefits of nuclear war.

With the hopes that this organization will grow to incorporate a wide, varying degree of diversity among its members, I start this alliance of nuclear weapon-wielders, advocates, and sympathizers, alike, with the stating of the benefits of nuclear war.
The Benefits of Thermonuclear Warfare


1. Nothing says a clean slate like an empty land devoid of its previous inhabitants!

2. Overcrowded? Good news! Nuclear weapons are a paramount tool of population control!

3. Getting hot outside? Well, nukes can fix that! It is theorized that nuclear war would reverse global warming.

4. One can wipe out the pesky upstarts of other nations in a flash!

5. No more bothersome noise pollution from dirty, stinky cars and their smelly, annoying drivers.

6. Many are taught as a society that sharing is good. What better way to share than to parcel out one's nukes in a grand display of launches?

7. Large, fiery mushroom clouds are pretty.
With these glorious advantages fresh in mind, like the explosions of Fat Man and Little Boy in the memories of immediate post-WW2 Japanese, I propose the pledge of all supporters of nuclear war:

I believe in the Manhattan Project; Maker of the Almighty Bomb,
and in Robert Oppenheimer, the lead physicist, the man who became Death.
It was created by the US Army, and directed by General Leslie Groves,
Suffering from a lack of targets, it forged Little Boy to use against the Japanese,
On the third day, it detonated Fat Man.
The Almighty Bomb ascended into history, and sits at the right hand of The Destroyer of Worlds.
It will explode again to irradiate the living and the dead, and it's burning kingdom will know no end.
I believe in the Fission Bomb.
I believe in the Hydrogen Bomb, the Successor of Fiery Death,
The legitimate benefits of nukes,
The action of population control,
And the inevitable event of Thermonuclear War. Atom.
Rules
The NS Forum Rules APPLY here.
This "coalition" is open to all those who apply.
No trolling or flaming. Just don't do it, folks.
DISCLAIMER: NationStates is a game. The views of those in this thread are most likely not their views in the real world. . . . At least, let's hope.
Application Form*
*I really don't expect much seriousness

Code: Select all

[box][b]Nation Name:[/b]
[b]Nuclear Preference:[/b]
[b]Nuclear Stockpile:[/b]
[b]Number of Nations Nuked:[/b]
[b]Number of Worlds Nuked:[/b][/box]
Example:
Nation Name:

Felkesjud


Nuclear Preference:

Fusion, because

dayum

it's

hot!




Nuclear Stockpile:

Who's counting?


Number of Nations Nuked:

None, so far.


Number of Worlds Nuked:

1--our old homeworld.
Copy and Paste this into your Sigs
Code: Select all

[align=center][url=http://forum.nationstates.net/viewtopic.php?f=4&t=315450][color=#00FFFF][b]I support Thermonuclear Warfare. Do you?[/b][/color][/url][/align]