Well I'll do my best to give an application to worry about!
Hello all, and hello again after a long time to many! Apologies if the following application comes off disjointed, once upon a time Spyr was present in AMW and it has been somewhat of a struggle to think back and summarize it without the context of events no longer applicable... but here we go.
People's Republic of Spyr

Geography
: Spyr would be found in northeastern Asia, encompassing the following territories: the IRL People's Republic of China regions of Shandong, Hebei, Beijing, Tianjin, Liaoning, Jilin, Heilongjiang, and Inner Mongolia's Hulunbuir, Hinggan League, Tongliao, Chifeng, and Xilingol League, as well as the Russian Federation regions of Primorsky Krai, Sakhalin Oblast, Jewish Autonomous Oblast, Amur Oblast, and southern Khabarovsk Krai (roughly following the northeastward route of the Amur-Sakha border to reach the coast)
[1]
.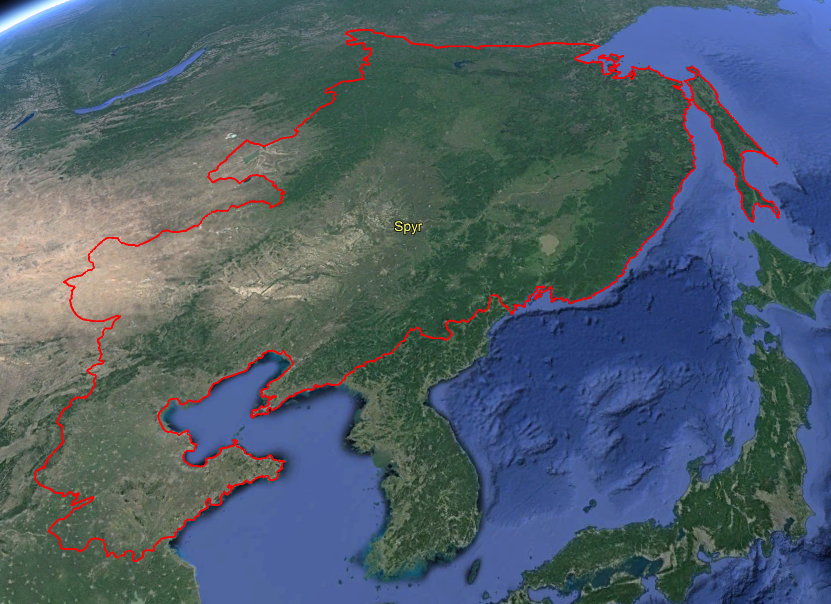 Population
: 356,589,294 assuming I've done my math correctly there (barring inclusion of some islands as per footnote
[2]
).
History
: The lands now constituting the People's Republic of Spyr have a history dating back several millenia, when the Lyongese Empire arose from unification of the warring tribes and kingdoms in northeast Asia. An economic and cultural center in the region at its height[2], the empire went into steep decline in the 19th century, faced with the encroachment of foreign powers and internal conflicts. By the 20th century, the central government existed in name only, with various local officials and warlords battling each other to secure their fiefdoms and claims to the rest of the empire (often seeking foreign sponsorship to do so[3]).
While popular rebellions had emerged regularly during this tumultuous period, its end came in the 1930s and 40s. Lyongese expatriates attending foreign institutions (many from the long-powerless nobility) took up ideas and visions of how their homeland might right itself from its chaotic circumstances. The works of Karl Marx found fertile ground among them, and when a particularly severe harvest triggered a wave of peasant uprisings, student groups were organized to offer them objectives they had previously lacked. Spyran histories tend to attribute this to organization and education of the people, leading to revolution... those more critical oft state that the 'revolution''s leaders leveraged religious and cultural influence moreso than Marxism. Regardless, through military defeat or alliance, the warlords and their era were ended, and Lyong reuinified.
Though some would argue the revolution's success owed much to tradition, the new state took the name of 'Spyr' ('unity' in Lyongese) rather than that of the empire it replaced. Initialy militant towards those powers who had exerted influence on its lands in times of division, the new government soon adopted the position that trade was vital to building up the country's productive forces. Production for export did indeed aid economic recovery, though some external critics hold that doing so involved compromises a workers' state ought not have made. The sacrifices of this era, correct or no, bore fruit in a sense, as the economy made the transiton from focus on export to domestic.
Politics
: The People's Republic of Spyr is a one-party state under the Strainist Party, self-proclaimed as a proletarian dictatorship adhering to Marxism and 'Strainism', an ideology holding itself to be an adaptation of such to local conditions in Lyong. There are few lines drawn between Party and state government, Party committees and officials excercising legislative, executive, and judicial functions.
For most of the time since its founding, Spyr was directed by its revolutionary leadership, who held firmly to their posts. But time marches ever onward, and despite their youth when they had taken the reins of the People's Republic the past few decades have seen a cascade of state funerals as one by one they have winked out. The inertia of their influence has continued to guide the country, but the successors to leadership lack the ramparts of reputation posessed by the Old Guard, and factional debates within the Party as to Spyr's proper course grow more intense
[4]
.
Economy
: From the famines and poverty plaguing the region before its revolution, Spyr has spent the past half-century engaged in remarkable recovery and development. Wether union shop stewards distributing caffeine injections on factory floors in the 50s was a neccessary sacrifice to build productive forces (as the Party asserts) or exploitation of workers (as its critics hold), Spyr's early focus on exports has in recent decades undergone a transition to a more domestic focus. Cultural exports (both scrolls/ceramics in the style of ancient Lyong and more modern film/animation) are a growing industry.
Footnotes
:
[1]:
Splitting up regions makes mapping a little more difficult, so for easier bookkeeping the country could extend to the rest of Inner Mongolia/Khabarovsk Krai and the Kurils, but (in addition to the advantage of not making me update MY maps) in the former two cases breaking away from IRL borders helps underline the distinction between A Modern World and the real one, while the Kurils seem too far afield? They're the sort of place modern Spyr might WISH it had secured, perhaps declaring such with ancient maps and treaties in hand, but they seem more naturally fit for a claim coming north from Hokkaido or south from the Kamchatka Peninsula. Though perhaps there could be grounds to make it work, see footnote [2].
[2]:
With
Dra-pol
in Southeast Asia rather than the Korean peninsula, I'll miss the dynamic of modern Spyrans offering crates of ammunition and then waiting expectantly to be acknowledged as center of the world, with the Drapoel shrugging and walking away just like they did to in ancient times. But maybe I could adapt Zheng He's voyages and the dragonships in some form, reach the same awkward result?
Doing so might also be reason to throw a couple of small distant islands into the claim, maybe Jeju, Wake, the Kurils, and the Paracels or similar, to give more direct involvement in Pacific and Southeast Asian affairs, albeit one which looks clearly tenuous to the countries actually dwelling there.
[3]:
Here I'd imagine there's connections to work out with AMW's European imperial powers. Sponsor a warlord or two, get a sphere of influence, albeit one that eventually comes to an end. Hooks to play off there, 'compensate us for the factory we built' vs 'compensate us for our labour you exploited first!', 'give us back those ancient artifacts you've got in your royal museum', etc.
[4]:
Ten years back, Spyr's leaders had all been 20-somethings in the 1930s, making them octogenarians on verge of death. A stretch of the imagination, and I'd intended that to play out in RP, but time apparently lacks a pause button: as of now, those deaths would have already happened, and Spyr today would still be coming to terms with the consequences.