Mobile land battleship "Hannover", Eastern Lower Galicia | January 9th, Year 0
The Empire's command landships towered above everything around them, a testament to the rather simple philosophy of "bigger is better", which wasn't true in many cases, but this wasn't one of them. Heavily armed with multiple missile launchers, heavy railgun turrets, and CIWS defense guns, and protected by upwards of 405mm of carbon-based composite armor, the command battleship was lauded by its designers as an invincible juggernaut - it had the firepower of an entire regiment, and the protection afforded to a top of the line naval vessel. Some would argue that such ships made very lucrative targets for enemy missiles and air support, but as far as high command was concerned, the current war was one where such considerations weren't particularly necessary (or so half of high command said, as misplaced as this might've possibly been). Either way, the current position of the Hannover - near the Polish-Belorussian border - and the presence of the PM and 3rd Princess made the need of additional defenses a given. Surrounded by over a dozen smaller landships, all equipped with ABM systems and missile launchers, it
seemed
unlikely even a single ballistic or cruise missile would manage to hit the Hannover, provided the enemy knew where it was.
"So, what do you think, milady?" Karl Schneller asked the intricately dressed 3rd princess standing in front of him. "Are the security measures and accommodations to your liking?"
"Well its certainly been set up quite nicely," Euphemia replied with a smile. "Though I hope it proves enough. Who knows? I've heard the Russians could reach our current positions with their planes."
"Bah! It's not like they'll get within 50 km of this spot! Our air defenses are impenetrable, and whatever fifty year old junk they're throwing at us stands no chance of breaking through," Marshal Schneller declared proudly. He seemed quite impressed in his work, and Euphemia honestly didn't understand enough to say otherwise. Unlike her siblings she'd never been particularly interested in military matters till recently, and found a lot of the terminology and theories being thrown around as somewhat out of context. Sighing, she quickly left the Marshal's presence and began walking down one of the Hannover many internal hallways. Everything was so… large. Euphemia had been on smaller landships before, but even they paled in comparison to the 70,000 ton monster she was currently on. Part of her questioned why such things were even necessary.
After navigating around a few corners and going down a flight of stairs, Euphie finally reached the suite that had been reserved for her. Quick to take off her shoes, she threw herself onto a nearby bed and yawned. It sure was tiring, all the constant military briefings and other nonsense that had been thrown her way.
"Seems like someone here's a bit tired." A certain man nearby said with amusement. Euphie was momentarily alarmed, but then realized it was just the prime minister. Mr. Frahm sat at a nearby table, seemingly content with the small kettle of coffee he'd brewn for himself and Euphie.
"So, how did the military briefing go?" Frahm asked a tired Euphemia. Euphie shrugged and shook her head.
"Honestly I wasn't quite sure what half of what they said meant. Something strategic this, something logistics that… it all flew over my head," Euphie looked a bit downcast. "How am I going to be a proper ruler? Each Imperial prince and princess is expected to understand how the military functions…"
"Ahh no worries about that. I can break everything down for you right now," Frahm poured Euphemia a cup of coffee and passed her a plate of pastries. "This old man might be out of his prime, but he did serve in the military for 8 years." Frahm chuckled.
"That would be greatly appreciated Mr. Frahm!" Euphemia beamed.
"Well then, where do you want to start?" The PM took out a tablet and turned on a nearby electronic display. Numerous symbols dotted what appeared to be a map of Eastern Europe, with signals and animated movements showcasing planned bombing operations and missile targets. Euphemia took a while to analyze the map before nodding her head.
"These plane symbols… I'm guessing they represent our airforce?" She tried her best to make a guess.
"Indeed. Those planes represent the Empire's bomber wings. Given how rushed this operation was, only three bomber groups, 30 strong each, will be dedicated towards our initial attack. Two groups will proceed towards the city of Moscow (60 stealth bombers in total), while the last is tasked with striking targets in and around the city of Petersburg. A mix of high yield boosted implosion bombs and chemical weapons is to be used."
"Chemical weapons…" Euphemia let that linger on her mind for a bit. Personally she found the use of chemical warheads abhorrent, but it seemed the general consensus amongst high command was that they were fair game. "What about their air defenses? I read that most modern nations tend to use surface-to-air missiles against bombers."
"Not an issue. Our stealth systems should ensure our planes manage to get through most of their airspace undetected, and even when within range it'll be difficult for them to get a lock on us. All bombers have been provided with decoy launchers as well, just in case," Frahm replied. "Which gets us onto the next point: air superiority, or at least temporary air superiority."
The PM pointed towards four marked groups on the map. "These are our aerial strike groups and airship squadrons. Totalling some 36 cruisers, 6 carriers, and 6 battleships. They've been tasked with both taking out supply depots, airfields, and other infrastructure along the Belorussian-Baltic front as well as securing the skies for our bombers. Of course, they aren't totally alone, as I believe the luftwaffe is dedicating at least 400 of its fighter jets to this operation."
"Four hundred?" Euphemia wasn't completely sure whether that was a small or large number. "Is that sufficient for something this big?"
"Well, it's all we're able to muster at this given time at once," Frahm shrugged. "Enough to at least temporarily clear the skies and ensure our bombers can hit their targets without too many problems, in theory at least."
Continuing on, Frahm pointed out the numerous missile batteries stationed across Eastern Europe.
"In light of the Russians' large scale use of theatre ballistic missiles such as what they call the SCUD, we've been forced to deploy new defenses in the area, as well as strategic missiles of our own." He uploaded a few diagrams of Imperial cruise missiles and short range ballistic missiles. "I'm sure you've at least been briefed over the capabilities of these weapons?"
"Yes, I have," Euphemia replied without much enthusiasm. "I heard that high command plans on filling them with all sorts of chemical and possibly biological weapons. They're going to be used on civilians..."
"It's not that simple." Frahm frowned. "We were able to identify countless Russian early warning radars, air bases, and other essential infrastructure that enables them to run their war machine. This sadly includes civilian settlements, which are often situated on important transport networks and serve as supply depots. By devastating the local populations… we force the Russians to redirect attention to these areas. If anything it'll be denying them the logistics they need. It's not like they haven't been doing the same to us: we've already suffered tens thousands of civilian casualties due to their excessive use of SCUDs on urban areas in the east."
"You certainly explained that better than Schneller did…" Euphie groaned. "He just went on and on about 'exterminating the subhumans' or something like that. Even dad isn't like that."
"Schneller's an ideologically charged buffoon," Frahm grumbled. "Don't tell him I said that, but I honestly can't stand the man. He's over promoted and marginally competent. Everytime we hold security briefings its always Hess that does 90% of the talking. Schneller just adds on by suggesting we murder people senselessly. And don't even get me started on Hess: the man's smart but he's rotten to the core."
"Undoubtedly," Euphemia nodded in agreement. "Anyways, where did we leave off again? I think you were talking about the missiles?"
"Ahh yes. Starting tomorrow, our forces will begin a barrage using hundreds of cruise missiles with chemical warheads and cluster munitions. Over a hundred marked targets ranging from military bases, airfields, and civilian population centers will be struck. This is to continue so long as the war drags on. We expect total casualties from both the Petersburg and Moscow bombings and this to be high, but even then they'll pale in comparison to what's planned next."
"The FLEIJAs… we're launching FLEIJAs at them aren't we?" Euphemia looked visibly concerned after realizing the implications. "How many and where?"
"Six in total, all large-scale strategic FLEIJAs. The cities of Rostov-on-Don, Volgograd, Saratov, Tolyatti, Kazan, and Perm will be completely wiped out. I estimate anywhere from 5-10 million people are going to die, though these are guesses at best. Ideally they'll surrender after this and agree to our terms. Either way, things won't be pretty." The PM finished before taking a moment to reflect on his actions. He'd signed on and agreed to this.
"10 million people… but why? Isn't there an easier way for us to solve this?" Euphie pleaded.
"Euphemia, the Empire doesn't see the Russians as people."
---
Near the town of Ushachy, Northern Belorussia | January 9th, Year 0
Commander Vladimir Limonov adjusted his periscope as he scanned the horizon for enemies. The T-72B he'd been issued as division commander was amongst the most modern within the Russian arsenal, but even then there were issues when it came to long range engagements. At the moment, the snow was picking up, which obscured visibility of the horizon and likely ensured he wouldn't be consistently hitting anything over 1500m away. The specifics behind the fire control system meant the tank would have to travel under 25 km/h in order for it to aim properly, but that wasn't a concern at the moment. He and the rest of the 97th tank Battalion had orders to push through Teuton lines in this area while Drozdov's 2nd Baltic Front was to continue its advance through Latvia. The idea was that they'd manage to cut off Europan Baltic forces, and hopefully reach Riga by the end of the week.
"Comrade commander, we're currently approaching a series of treelines. Approximate distance of 1500m." A nearby tank radioed in.
"Affirmative. Order our three companies to keep alert and reduce speed. We should be safe from their anti tank cannons at the moment, but be mindful of those mechs! I've heard they can be quite nasty." Limonov radioed back to his subordinates.
"Understood commander!" Numerous voices replied in near sync. Limonov smiled: internal cohesion was high, and everyone understood their tasks. The enemy would be upon them soon.
Taking a few deep breaths, Limonov muttered a quick prayer to God.
May the holy father deliver upon us victory and safety for my men,
he finished before mentally steeling himself.
Unbeknownst to the Russians, 5 km away,a single KMF activated its fact sphere and did a scan of the horizon. It reported back the locations of the Russian tanks with haste. A single KMF squadron was sent to hold them off while the rest of the Europan division in the region regrouped.
---
"Is everyone in position?" Lt. Monika Eisenberg asked over comms. There were numerous nods and signals of confirmation.
"Good. Bohen will take to the treelines with the rest of you will split into groups of four each. Have your rifles' smoke grenades at ready! On my mark we'll strike!"
"Yes lieutenant!"
Monika switched her comms channel to connect with Bohen, the squad's sniper. She'd been tasked with neutralizing some of the vehicles in the Russians' second company while acting as a temporary distraction for the others. It was risky to say the least.
"Bohen, are all your systems working?" Monika asked.
"No problems LT!" Bohen chirped. "All systems running at 100%!"
"Alright, just make sure to keep to the trees and stay mobile!"
Monika quickly checked her KMF's rifle. 50 rounds, all armor piercing sabot. It would be enough for this engagement. Robotic box launchers had been placed at various points across the nearby treelines, and would fire when ready. Monika chuckled: this whole scenario was somewhat ridiculous. KMFs weren't expected to fight tanks head on, even if these tanks were over half a century old. Either way, the given preparations would have to do.
---
Limonov was feeling anxious, seriously anxious. He'd been scanning the treelines for threats but nothing had appeared just yet. What were these teutons doing? He took another glance towards the treeline, and noticed what appeared to be… mortar arrays?
Limonov's thoughts were interrupted as said "arrays" opened up with a salvo of high velocity rounds. The Europans had to be stupid if they were firing HE rounds, but it quickly became clear that wasn't the idea. They were firing smoke canisters in an attempt to conceal their forces. As the smoke set in, the Russian commander quickly realized it was messing with his vehicle's thermal sights. This was no good.
"All forces advance quickly but keep formation! Companies 1 and 3 will advance towards our flanks!" He ordered before contemplating his actions. Retreat wasn't an option: the T-64s that made up a bulk of his force were too slow to reverse, and turning around would leave them exposed to the enemy. He'd already advanced too far, so falling back frankly wasn't an option. Nevermind the fact "retreat" simply wasn't in the handbook.
The tank commander strapped himself in as his T-72 jerked forwards and began to pick up speed. It managed to reach 44 km/h right as the first tank of the 97th went up in flames. The Europans had launched their attack.
---
"Two down… and that's a third!" Bohen smiled as a loud crack from her rifle signaled the death of yet another Russian vehicle. It seemed the Russians had picked up speed and were firing half blind through the smoke, not that it would do them any good.
In the distance, a fourth T-72 erupted with a staggering BOOM as its ammo was struck through the armor by one of Bohen's 40mm shots. Wasting no time, Bohen quickly repositioned herself along the tree line. The snow panels she'd been issued were lifesavers, as they enabled her Hummel to reach maximum combat speed in seconds, on normally troublesome terrain as well.
While Bohen continued singling out individual tanks, the two groups of four (one of which was led by Monika) dashed towards the flanks of the Russian force. Each group had a single heavy rifleman and tactical operator (recoilless rifle, grenadier) which would end up doing the bulk of the work.
---
Monika's KMF clocked in at just under 140 km/h as she charged towards the left flank of the Russian force. Sensors were quick to pick up the presence of Russian tanks, which were moving to engage whatever they found. It made sense from a tactical perspective, but that wouldn't be saving them today. Before the Russians were able to make it out of the smoke screen, Monika raised her rifle and fire off three successive bursts. Three T-64s exploded in quick succession, the rapid barrage of 40mm sabots tearing straight through their armor. Max Schumann, the squad's AT specialist, fired three shots from his panzerschreck at the incoming russians, coring another three T-64 / T-72s before they had time to react. By the time the four surviving T-64s had exited the smokescreen, the distances between them and the KMFs had been shortened to just under 300m.
Monika's two wingmen: Sterner and Meyers, opened up with a barrage from their SSG100s. While the shells largely deflected off the sloped frontal armor of the T-64s, the sheer volume of fire managed to tear off numerous components and damage the gun of one of the tanks. The three remaining vehicles barely had enough time to get off a single shot, two of which flew wide as the KMFs' rapid maneuvers proved too quick to keep up with. The third struck Meyers' KMF in the weapons' arm and knocked it off.
As she approached within 100m of the enemy vehicles, Monika activated a booster unit and
leapt
at the tanks in front of her. In just under three seconds, she landed
right next
to a T-64 before slicing its turret clean off with her KMF's MVS blade. The crew inside barely had time to react before they were laterally bisected. It was a rather ridiculous display that wouldn't have been out of place in a Japanese anime. As the other tanks rapidly attempted to turn their turrets to engage the Europan lieutenant, Monika's squadmates finished them off with a brief volley of rifle fire.
"All enemies destroyed." Monika smiled. "Any word from Cooper's group?" She asked nobody in particular.
"This is Cooper reporting in!" A voice on the comms replied. "We managed to take out the tank company on the right, but they got a lucky shot on us. Giovanni made herself a bit too obvious with her rocket pods, and her KMF received a shell to the lower torso. Whole thing was ripped apart. She ejected of course, so no one died."
"Very good. You know how to proceed! Attack from the rear and destroy their central company!"
---
Limonov clenched his fist as yet another tank in his company was turned into a burning coffin by a yet unseen assailant in the distance. All the goddamn smoke and snow had made it incredibly hard to find the bastard who'd been killing his men, but at last his and two other tanks managed to make it out of the smoke. Pressing his face against the tank's periscope, Limonov honed in on what he made out to be a large humanoid in the treelines? The old commander's suspicions were confirmed when said humanoid raised its rifle and fired in Limonov's direction, the shot striking the T-72 a few dozen meters to Limonov's right. As the robot in the distance moved away at unnatural speed to yet another firing position, Limonov knew he had but one chance to take it out.
"You'll pay, you fucking bastard."
Limonov cursed.
"GUNNER! You see what I'm seeing?!" He screamed.
"Yes comrade! I see it!"
"Then what are you waiting for?! FIRE!" Limonov's voice was drowned out by the roar of the T-72's 125mm cannon, which sent a single tungsten-carbide sabot flying at upwards of 1800 m/s towards the unknown KMF. The sabot pierced straight through Bohen's armored cockpit and killed her instantly. The Hummel subsequently burst into flames as its reactor was destroyed.
---
It seemed Bohen had done her job quite adequately, Monika thought to herself. Only two tanks remained of the Russians' 2nd company by the time the rest of Monika's squad had arrived to clean up the remains. They enemy vehicles were quickly neutralized, and it seemed there would be no follow up attacks. Not that Monika wanted to fight another attack: this one alone had already pushed the limits of what a single squad of KMFs was capable of. Conditions had been near optimal for operational success, but it was unlikely something similar would happen again. The enemy would eventually adapt. Well, at least it was over for now.
"Seems like the mission was a success!" Monika proudly declared. "30 vehicles destroyed with only one permanent loss on our end. Wait-"
"Bohen. I'm not receiving any signals from Bohen's KMF…" Schumann pointed out.
"Shit."
---
Interlude: Back home in Germania
January 9th, Year 0 post ISOT (2018 a.t.b)
Marx Family Home | Germania | Kingdom of Prussia
It was but another cold, wintery night in Germania (Berlin), the former capital of the Empire and the largest city in the Kingdom of Prussia. Outside the central arcology of the new city, neatly planned suburbs spanned the horizon, home to countless middle-class Europan families and a testament to the Empire's wealth and organizational superiority. Located somewhere amongst these neatly packed two-story houses was the home of the Marx family, a respectable and well maintained dwelling. Walter's father Manfred had purchased it a decade back when the housing market was cheap, and paying off mortgage became a non issue as soon as Manfred was promoted to senior associate at Deutsche Bank. Prior to the ISOT, the family had talked about buying a new, larger house further away from the city, but those plans were scrapped the moment half of the world disappeared.
Manfred Marx unlocked the door to his house with the quick scan of his thumbprint before entering. It was one of those odd pieces of technologies the house had been built with. He tossed his snow-covered overcoat onto a nearby stair post before heading to the kitchen. A cup of warm coffee and some dinner would help lighten the mood, he thought to himself.
"Well look who's home?" The aged yet soft voice of Manfred's wife Celine could be heard around the corner. Manfred smiled slightly as he took a seat at the kitchen dining table. The presence of numerous dishes of food indicated that dinner was in fact ready. It was comforting - peacefully eating dinner at home with one's family that is - though ever since Walter left, it felt as if some sort of gaping void had taken his place.
"I made beef pot roast, your favorite!" Celine announced as she took the seat opposite of Manfred. The old German stockbroker nodded. Beef was one of the food items that had yet to see a significant hike in prices, though he privately knew that was bound to change.
"It was Walter's too, and Marie's as well," Manfred said somewhat solemnly. There was a brief moment of silence before Celine attempted to change the topic.
"It indeed was. But we can't reminisce about that too much, right? I'm sure both of them are doing fine," Celine tried to reassure her husband, though truthfully she was frightened too. The war out in the east was utterly barbaric, and new coming back from the front wasn't particularly reassuring. "Anyways, how was work today? I heard there's a lot going on at the bank."
"A lot did happen, yes," Manfred replied, "Our department as you know was in charge of the bank's Chinese investments. I say 'was' because the China we knew doesn't exist anymore. You can imagine what happened after that."
"Oh no," Celine was slightly concerned, "did they threaten to lay you off?"
"No no, not me, but there were personnel cuts across all sectors, specifically the East-Asian investment group. I was forced to tell half of my team that they were being 'permanently laid off', a nice way of saying fired. Unsurprisingly, nobody was happy about that. But what can I say? The economy's looking like its going to fold in on itself; I think even optimistic predictions show a 25% drop in GDP by the end of the quarter."
"You checked up on Karl yet? The neighbor's kid, I think he works in the same company as you do."
"Ahhh Karl. He was amongst the first to be called up by the military. I think they're raising 5 million reserves to send to the east. Can you imagine? 5 million reserves, mostly kids fresh out of university."
"I remember reading that the government's currently in the process of moving 4 million reinforcements to the frontlines, and I can't imagine why that wouldn't be enough. We both know that the Russians are decades behind us in terms of military technology after all. It shouldn't be hard to defeat them, so I don't see why we'd need to rally the reserves."
"While that is true, quantity has a quality of its own," Manfred replied after finishing a few bites of pot roast, "there's a whole horde of them out there, the slavs that is. I still remember my time in the army. We were conducting patrols out in the contested Ural territories, and the partisans were no joke. They fought savagely, yet conducted themselves with discipline. Imagine that, but dozens of times greater."
"I'd rather not imagine that," Celine shook her head, "though Walter… he's being sent out there isn't he?"
"Indeed he is. We can only hope he manages to stay safe." Manfred replied.
As he contemplated the future, Manfred's eyes were drawn to a small family portrait on the counter. It was an old photo, dating back to 2010 a.t.b. All four members of the Marx family could be seen, their smiles a reminder of what the past used to be. The thought sent shivers down Manfred's spine: he'd already lost a daughter, and he feared he'd lose his son in the coming days.
---
Fredericksburg (Lublin), Kingdom of New Galicia (Poland) | January 9th, Year 0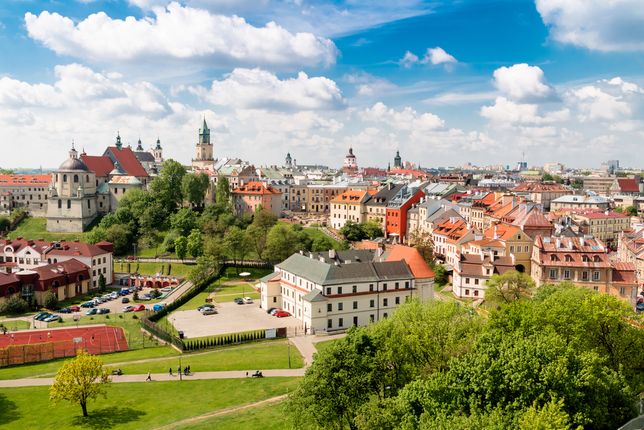 Fredericksburg during the summer
"I have to admit, the weather is particularly bad today." A certain bespectacled, fat German industrialist muttered as his private limousine passed made its way across one of Fredericksburg's many freeways.
"Well Mr. Clopp, do we have a deal?" A second, lankier and notably younger businessman smiled at his older counterpart. "We'll have those strikers dealt with in no time, with just a 2% dip in productivity at most. There are, after all, so many more willing to take their places."
"Of course. Do what you must in order to dispose of those beutelist troublemakers. They will learn soon enough that messing with von Clopp was the last thing they should've done," the older man took a puff from his expensive Cuban cigar before beckoning one of his servants over. The servant in question would proceed to pour a fine glass of Burgundian wine to both men.
"A toast to future success!" Von Clopp raised his glass.
"A toast indeed!" The other man nodded just as the limo came to a stop. Von Clopp raised his eyes at this: the freeways in these parts of New Galicia were almost never congested.
"Hmmm? What's the holdup driver?" Von Clopp asked with a tinge of annoyance in his voice. The chauffeur pointed towards two vehicles a few dozen meters in front of the limo: a single transport truck and SUV. The two had evidently crashed and an argument had subsequently broken out between the drivers. Von Clopp couldn't make out anything they were saying (since it was in Polish), but the argument appeared to be quite heated. Two police cars pulled over to inspect the damage, the officers questioning both drivers while combing them for weapons.
Clopp tried to make out the features of one of the polish drivers. She was young: maybe 20 years of age, had surprisingly white hair, and appeared rather annoyed. Then for a brief second, she made eye contact with him through the glass of the limo. The girl then reached for her pocket.
"Niech żyje Polska, niech żyje Polak zasiedlać!"
The rear door of the transport truck slammed open, and a group of armed workers leapt out and opened fire with SMGs on everything in sight. The police officers standing nearby were eviscerated by a hail of lead while the girl from earlier drew a knife from a back pocket and stabbed the officer who'd been questioning her in the gut. As the officer fell over in pain, she grabbed him by head and snapped his neck.
"Oh mein GOTT!" Von Clobb screamed before two of the poles blasted at the old aristocrat's limo with their guns. The chauffeur was killed instantly, his body turned into a bloody paste by over two dozen bullets. The two security guards were likewise disposed of as they attempted to get out of the car, the poles' sudden assault too quick for them to react to.
The old businessman didn't even bother checking on his barely alive companion before clambering out of limo's rear right door. He barely managed to run 3 feet before two well placed pistol rounds took out his legs. The screams of his companion could be heard before two of the terrorists dragged him out of the limo and shot him twice in the head.
"AAAARRGGHH!" The German cried while desperately trying to crawl away from his assailants. He was stopped short as the white-haired girl approached him, a deathly glare aimed at him.
"Please spare me!" Von Clopp pleaded while tears trickled down his overgrown face and fell onto his now soiled business suit. He was covered in the blood of others and both of his legs were bleeding profusely. Yet despite his miserable condition, the girl in question paid no heed to the cries of industrialist sprawled before her. Snarling, she grabbed one of his hands before slicing off a finger.
"GOD WHY!!?!!" Von Clopp barely had time to yell before the girl pointed her knife right at his neck.
"You will shut up, stay quiet, and keep still." She said coldly.
"Wait… you aren't going to kill me?!" Von Clobb stuttered.
"We have something… more fitting planned for you." She flashed him a wicked smile before calling her comrades over. "Bag him up and take him away. He'll make a great example for the others."
"Yes, comrade malina!"
In the distance, a series of explosions ripped across both the freeway and parts of the upper city. Hundreds of people were killed, countless more wounded. In the lower lying slums, thousands of rioters took to the streets and attacked police precincts and government offices, making quick examples of the cops that got in their way. Numerous Imperial citizens who'd been outside the central city were lynched by angry mobs while surprisingly well coordinated terrorists wrecked havoc amongst those who thought they'd be safe within central Fredericksburg's walls. Martial law was declared shortly after, and two divisions of galician soldiers originally bound for the Eastern Front were redirected to suppress the violence.
The Lublin uprising had begun, and it was only one of the many the Polish Home Army and Workers' Liberation Front had planned.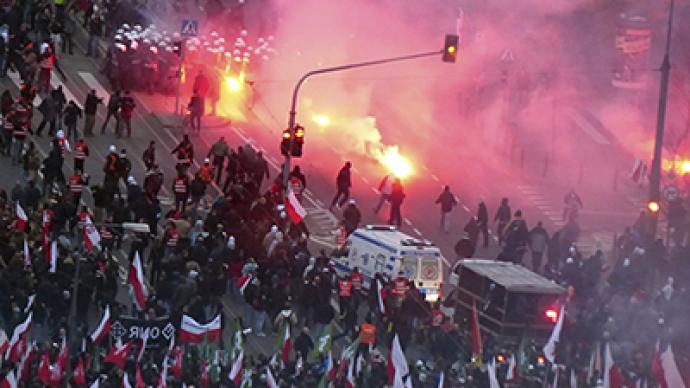 Polish mob attacks Europan riot police during the opening phases of the uprising
---
Brovary District, Sieggard (Kyiv), State of West Ruthenia | January 9th, Year 0
Commander Ulrich Schneider shielded his eyes as a gust of wind blew some fresh snow his way. Above his position, three squadrons of Eurofighter pikeman jets darted by, their intent quite obvious. Every passing day, the Russian horde made its way closer and closer to the capital of West Ruthenia and single largest city in the Ukraine: Sieggard (or Kyiv as the locals called it). Losing the city would undoubtedly open up the rest of Ruthenia to invasion, and possibly lead to the collapse of other parts of the Dnieper defense line. Orders from high command were clear: hold the city at all costs. Reinforcements from the west would be trickling in over the next week or two, and were expected to arrive in bulk by the end of the month. In the meantime, the Imperial 5th and 16th Armies - a total of 542,000 combat effective soldiers - were expected to hold the city and its surrounding suburbs. As with all modern Imperial armies, the 5th and 16th were fully mechanized, and possessed a large inventory of heavy weapons and long range linear cannons. It would give them an advantage defensively, but even then nothing was guaranteed.
If intel was to be believed, anywhere from 2-2.5 million Russians were expected to converge on Sieggard in a few days. The planned mass chemical and FLEIJA attack on the 10th would theoretically delay part of the enemy's advance by another week or so at most, though a majority of the empire's chemical weapons would be used in Belorussia, where unfavorable terrain meant enemy numbers would pose a greater threat. This of course meant the fighting Ukraine would be distinctly more "conventional", whatever that meant anyways. Ulrich privately hoped he wouldn't be hit by a stray cluster bomb or N-stoff grenade, since those were being issued to the troops. His battalion: the 96th mechanized, had been given the task of stalling the enemy in Kiev's eastern districts while the central city shut its gates and prepared for a siege. Casualties were most likely going to be quite high.
Making his way back into the regimental command tent, Ulrich took out a lighter and lit up a cheap cigarette. All this work had been quite stressing, and even the standard issue alcohol ration wasn't helping too much. Outside, the loud ring of a bell signalled the end of this work shift, and as the thousands of soldiers and civilians headed out to grab a bite to eat and take a brief break, the next work regiments marched on in and continued with haste. Many of those sent to dig and build fortifications were locals who'd been forcibly press ganged by the regional government in an attempt to expand the army's labor pool. While effective, it had been rather unpopular with the population, and more than a few dissenters had to be shot. Ulrich had been unfortunate enough to have to deal with the paperwork, which he eventually just dumped in a pile next to his desk. That could all wait for later.
A private entered Ulrich's tent before saluting briefly. "Commander, a certain… old lady wants to talk to you."
"Hmmm? Let her in," Ulrich nodded, motioning for his guards to let the lady in, "Just make this quick."
An elderly woman, likely in her 80s judging by her wrinkled facial features and traditional hooded garb, made her way to Ulrich's desk before reaching into a bag at her side. Ulrich's guards almost instinctively aimed their guns at the woman before Ulrich waved them down. The woman proceeded to place a few hefty jars of kompot on the table.
"This is for you, commander Brezhnev," she said in a raspy yet understandable Ukrainian. "I heard your work has been highly stressful, and I hope this will help," the old lady smiled. "If I may ask, how is Alexi doing? He is stationed in this regiment, yes?"
Ulrich took a moment to fully register what she'd said. Unfortunately neither of his parents had taught him their mother tongue, which wasn't offered by the Imperial schooling system, so his Ukrainian was quite mediocre at best.
"It's commander Schneider, but I'll overlook that," Ulrich sighed. "As for Alexi? Hmm… ahh, you mean Albert Shacher?"
"Yes, if you insist on that name," the old lady nodded with a bit of hesitation.
"He's been managing fine. I'd say the military life suits Al-Alexi Shevchenko quite well," Ulrich noticed the babushka's face brighten a bit at the mention of her grandson's birth name. It was the least he could do. "He's a natural when it comes to marksmanship, and everyone seems to look up to him," Ulrich replied. "Though if I may ask, why are you still here? I thought the government issued an evacuation order to all civilians in this sector?"
"You know as well as me... when they said civilians, they meant Europan citizens," the babushka said with a hint of resignation in her voice, "I can't speak any of the government's official languages and never worked for it, so that is out of the question for me. And plus, Kyiv has always been my home: I can't simply abandon it now, can I?"
"I guess you can't be wrong," Ulrich shook his head. "Though if anything, I suggest taking shelter in either the metros or the basement of your home. I can't guarantee that the fighting here won't result in massive damage. Here, take this." He handed her a spare gas mask. "You might need it."
"Thank you, commander," the babushka nodded in affirmation before taking the mask and making her way to the exit. "Tell Alexi that his grandma wishes him luck, and please give him one of the kompot jars."
"No problem," Ulrich watched as the old lady disappeared into the snow. It was saddening, having to see people like that grandma live in a country that neither liked nor cared about them. Ulrich sometimes wondered why he couldn't have been born in another part of Europa, further away from the harsh reality of the east. Every day in Ruthenia was simply another reminder that neither his adopted nor ancestral heritage could fully accept him. But unlike the rest of the 96th mechanized battalion, he never had a choice in the matter. Having been born into a family of naturalized 1st class Europans, Ulrich was bound by both law and blood to his duties as a citizen of the empire.
Yuri Brezhnev, no, Ulrich Schneider stood up and grabbed his ceremonial sword. With the dignity and pride befitting of a Europan officer, he marched out to join his troops in the cold.
"Für das Reich, Lang lebe Europa."