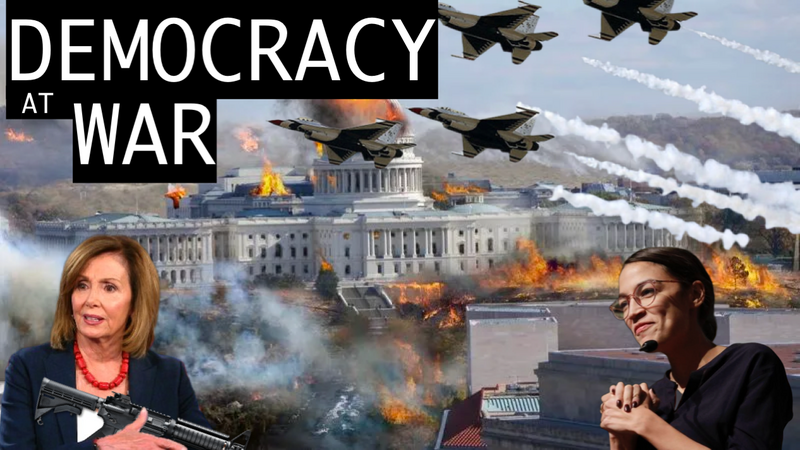 There is a war brewing in the District of Columbia. It started with minor disagreements on the floor. Then storms of vicious tweets. But people say the breaking point was when the House Democratic Caucus (@HouseDemocrats) retweeted Alexandria Ocasio-Cortez's Chief of Staff, lambasting him for naming a Congresswoman by her first name:
"Who is this guy and why is he explicitly singling out a Native American woman of color?"
Progressives lost it. New Dems followed suit. And then war broke out.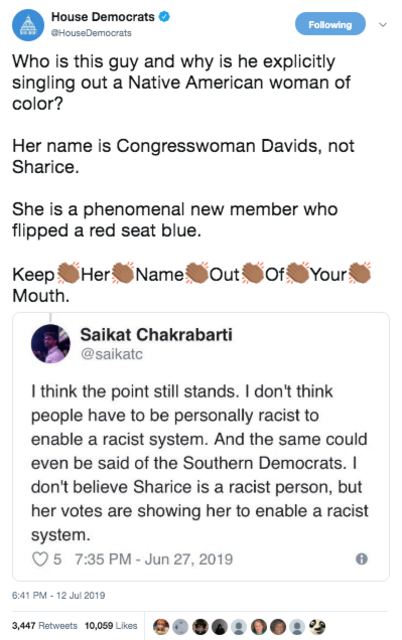 Wait, sorry, that's not the war part. This was:

Well, recess came and Republicans skipped town. But Democrats were enraged on both sides of the aisle. Staffers started dying left and right. A stabbing here. A shooting there. One of them got pushed into the construction at the Rayburn House Office Building. And I'm told somebody drowned an intern in the reflecting pool. Things got out of control, and before we knew it, the entire city of Washington, DC had been turned into something of a warzone.
Now, the moderates, led by Speaker Nancy Pelosi, are headquartered in Foggy Bottom. The progressives, led by Commander Alexandria Ocasio-Cortez, are operating out of Columbia Heights. With P.O.T.U.S. away in Florida, both sides have managed to enlist the aid of soldiers, sailors, and airmen in the U.S. military.
Their goal: to conquer the United States Capitol.
Congressional recess ends in a few short weeks. Once Republican Members of Congress are back in town, the combined might of either side plus the GOP will allow whichever side can hold down the Capitol to expel the other caucus from Congress.
Democracy is at war. Which side are you on?
---
The Roleplay
This is a war strategy roleplay taking place in Washington, DC. Moderates and progressives in the House Democratic Caucus are literally at war in DC, with their goal being to cripple the other side and seize the Capitol after the Congressional recess ends. You can take the role of a Member of Congress (commanding the troops from HQ), a staffer (leading troops on the ground), or a soldier (fighting on the front lines).
The roleplay will last three weeks. It's not real time (maybe we'll try something real time at some point), but the IC time is also three weeks ICly — so the longer something lasts, the closer it is to a 1:1 IC:OOC time ratio.
Rules
1. OP Rights.
I reserve the right, as OP, to control this roleplay in order to make it better for everyone participating. That includes enforcing these rules.
2. Real Life Characters.
Members of Congress should be real. Staffers can be fictional, and probably should.
3. Posting Frequency.
Post regularly. If you can't, let everyone know.
4. Cheating.
Please don't cheat: this means no substantively editing posts after you make them, no godmodding, no metagaming, and no looking things up when your character is in a situation that they wouldn't be able to do the same.
5. Respect.
Respect other players, respect the roleplay, and follow NS site rules.
6. Background.
Everyone has fair game to worldbuild background about the conflict. Just be sure you keep up on what other people have written so that you don't contradict what's already been established.
Application
Code: Select all

[u]APP[/u]
[b]Account Name:[/b]
[b]Character Name:[/b]
[b]Alignment (Moderate or Progressive):[/b]
[b]Occupation:[/b]
[b]Miscellaneous[/b]
[list][/list]