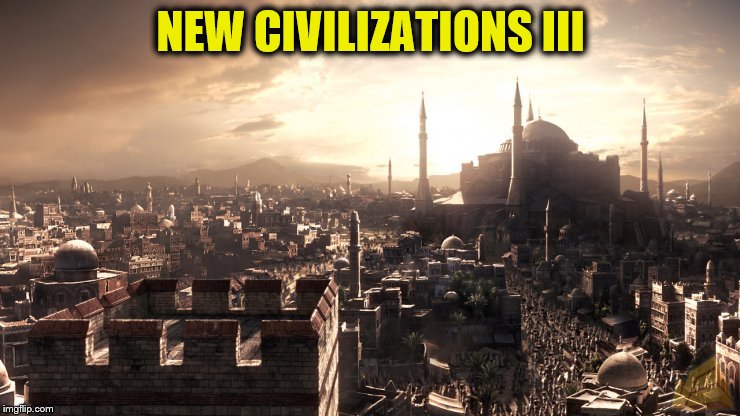 ---
---
The year is 2915 B.C.
Eighty-five years ago, the world was changed forever. In a strange set of events that will echo through the ages, history is now being rewritten by the arrival of men and women from the far future: The Authors. The Authors were average men and women from the year 2016 swept up by unknown and supernatural forces and sent back five thousand years, naked and alone, but in possession of all the knowledge of their old lives. Made ageless by whatever force has cast them in to the distant past, the more apt and adaptable Authors used their ability and their wits to craft for themselves a new life in this time long forgotten. As the decades have progressed, the primitive villages which they once inhabited have now become civilizations in their own right, castles, palaces, marketplaces that teem with men speaking many tongues. These civilizations were the product not of the organic and natural flow of time, but by the intervention of the Authors - New Civilizations! This is not human history as we know it, this is the new history - formed by seemingly immortal, yet very human men and women. Humanity's story has been changed; in five thousand years' time what will the history books say - who shall be its Authors?
A changed world languishes under the sun of distant prehistory. A world that, though it yet fails to suspect the true impact the actions of these many Authors may have upon it, already feels a part of the alterations they have wrought. Most of mankind goes about their lives as they have always done; seasons come, seasons go, tribe-fathers pass on to the ancestors and the sun rises and sets as it has done for uncounted generations. Petty wars over petty reasons see tens of warriors painted in savage colors beat back their foes, and man's crowning achievement is the pointy stick. This is not the case everywhere though. The wind of change blows strong in some quarters of the world, sweeping these vestiges of the past before it, the herald of ought which is different cold and stark in its fury.
In Europe, men march beneath banners of black and white, there numbers now no longer tens of tribal warriors, but tens of thousands of professional soldiers driven forward by an engine of war and industry which seems insatiable. In their hands weapons flash fire and thunder, and from the throats of these killers come war-cries in a tongue both familiar and utterly alien, men willing to die for an idea much larger than familial bond or base need. The ancestors no more are venerated in many places across the world, strange concepts of divine beings that shape the weft of the universe overtaking the simple shamanism and informal worship of former years. In the frozen north men stand upon ships fashioned of the bowers of forest giants, sails harnessing the power of wind and tide to take fur-clad explorers farther than any humble tribesman would deem possible. Yes, this world is changed; some would say for the better, some would say for the worse, but none can deny the truth of that difference. You are now returned to this world, an Author, a man out of time, an Outlander, an immortal. Your handprints will mark this world, like those of so many before you. What will be your story?