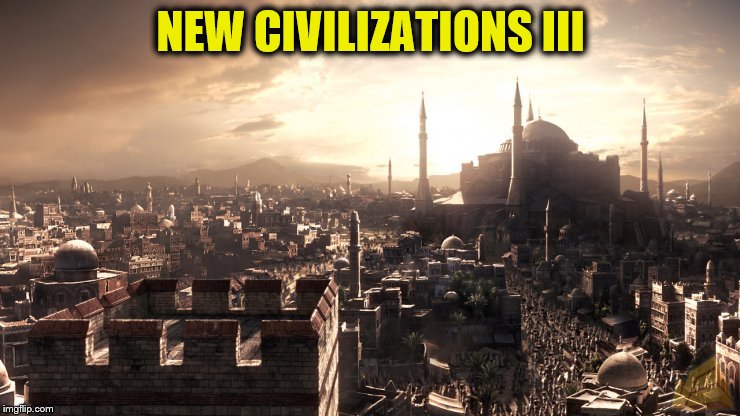 ---
---
The year is 2915 B.C.
Eighty-five years ago, the world was changed forever. In a strange set of events that will echo through the ages, history is now being rewritten by the arrival of men and women from the far future: The Authors. The Authors were average men and women from the year 2016 swept up by unknown and supernatural forces and sent back over five thousand years, naked and alone, but in possession of all the knowledge of their old lives. Made ageless by whatever force has cast them in to the distant past, the more apt and adaptable Authors used their ability and their wits to craft for themselves a new life in this time long forgotten. As the decades have progressed, the primitive villages which they once inhabited have now become civilizations in their own right, castles, palaces, marketplaces that teem with men speaking many tongues. These civilizations were the product not of the organic and natural flow of time, but by the intervention of the Authors - New Civilizations. This is not human history as we know it, this is the new history - formed by seemingly immortal, yet very human men and women. Humanity's story has been changed; in five thousand years' time what will the history books say - who shall be its Authors?
Hello and Welcome to New Civilizations. If you didn't understand the premise of the OP, you shall be playing as you (yes, actual IRL you, more or less) swept through time and space back to the year 2915 B.C., somewhere in the world that is our history and now your present. You shall be playing as yourself, or someone very similar to yourself: your Author cannot know things that you do not know in IRL prior to your being transported back in time. Your Author is immortal, in that they are timeless; however, wounds and physical damage can still kill you, so value your years wisely. In addition to being immortal, your Author is also capable of speaking any and every language in existence instinctively, changing automatically depending on whom it is you are talking to. Now keep in mind, that depending on where you land, you may land somewhere with a history very different from the one you may be familiar with. You could land in say Eastern Germany and find yourself surrounded by soldiers totting rifles and wearing chainmail - or you could land in southern Russia and find yourself in a silkroadesque trading city dominated by horsed warlords and a Space Pope. The world is not what it was in three thousand BCE, not anymore. Most of the world is still in the late Neolithic era and unaware of Author Civilizations, and if you intend to create your own civilization I would suggest you land there.
In regards to gameplay, you will have essentially total control over your story arc, provided you aren't interacting with another Author; I as OP may occasionally step in to RP NPCs you encounter, but such intervention is relatively rare. You will be permitted to simulate the reactions of those living in or around your community, though attention must be paid to realism, and you will be free to start whatever trends you wish in your new found home. You are the Author of your own story- write it as you see fit, and do not be afraid to change yourself or alter the world around you. Change is inevitable, and regardless of what you do, the world will not be as it would be otherwise.
If that premise interests you, a man cast back through the millenia to mold the fate of the world, read on.
Rules
:
1. General NS rules, obviously.
2. Author parameters are as stated above - unchanging unless further notice is given.
3. Timeskips can be postponed for reasons such as dialogue or important meetings, and will only come occasionally- don't ask for them unless the majority of the RP would like one.
4. Posts should be no less than 4 paragraphs in length, and no further removed from the rough IC date than three months - dialogue being the exception.
5. Realism is important in regards to people. Neolithic people were ignorant, not stupid. They are not just going to make you a king or declare you a god simply because you crafted a wheelbarrow.
6. Questions regarding the roleplay should be directed towards myself or one of the appointed Co-ops, whom might be appointed at a later date, if I can be bothered.
7. Immortality - it can be shared once by each Author to one other person, but only one, and it cannot be revoked or altered.
Authors:
G-Tech Corporation | Viktor Nemtsov | Imperium of Man - Central Austria
Great Confederacy of Commonwealth States | Bruno Davids | Memphis, Egypt
Labstovka | John Collins | Mongolia
Inesea | Joseph Ignatius Walker | Peloponnese, Greece
The Olog-Hai | Abraham Meyer | New Jersey, North America
The Orson Empire | Turner Jackson | Ego - Wisconsin, North America
Holy Tedalonia | Ted Tomlinson | Imperium of Man - Eastern Europe
Damverland | David Martin | Texas, North America
Ulls | Jeb Goodfellow | Ego - Iceland
Pasong Tirad | Arsenio Lacson| Athens, Greece
Leikmis | Zachaios Moses | Michoacan, Mexico
The Hierophancy | Cameron McCabe | Manzanillo, Mexico
Kingdom of Tunisia | Hikma bin Naaifa | Malaysia
Kraicia | Gracie Ellens | Eastern Paraguay
Trekstaat | Christiaan van Vaal | Crete
Arulean States | Liam Rooney | Virginia
Ralnis | Bob Gilmour | The Imperium - Karlsburg, Germany
Liecthenbourg | Absyrtus Paulos | Indus Valley
The Ik Ka Ek Akai | Miryam Ahava | Northern Pakistan
Alouite | Hermann Verneder | Syria
Cyrisnia | Aaron DiBupi | Sri Lanka
Senkaku | Aaron Lindsey | Ganges River Valley
Revlona | Robert "Dawn" Doe | The Imperium - Brittany, France
Yatzatz | Yaitz Dermon | Yamatzon - Southern Japan
Civilizations of the New World:
The Imperium of Man: A large centralized power stretching across much of Europe, known for its religious devotion, steam engines, and immortal Hegemon who knows of the years to come.
Norsca: A feudal monarchy based out of Britain and the North Sea, broadly Viking in culture that embraces the sea and the Old Gods, led by a dynasty of very similar-looking kings.
Holy Scythia: A dominion of traders and horsemen that straddles what may one day be the Silk Road in the northern Caucasus, Scythia's devotion to the Christian God is paramount, and her men obey the orders of a king who is both monarch and high priest.
Red California: A state placed along the arid Californian coast and based in agriculture and primitive communism. Notable for her wheelbarrows and labor tithes.
The Mojave Confederacy: A foe of Red California, a patchwork state of warrior-kings who worship a militant religion and prey on their weaker coastal brethren. Located east and south of Red California, in the foothills of the Sierra Madre and the scrublands there.
Man-Majol: The northern marches of Red California are ruled by the Man-Who-Spoke, a dictatorial theocrat who makes use of slave labor to run his armies and whose iron-shod warriors frequently threaten to overrun the communes of the more peaceful southerners.
Ego: A theocracy originating from the Upper American Northwest around the Great Lakes Region. Strong seafaring culture and militarism, a shamanistic people that worship their departed leader as a god made flesh and then returned to the divine realm, the Night Owl.
The Confederation of Helios: An elder-lead entity of city-states and broadly Greek influences, the Confederation makes her home in lower Georgia in the Caucasus, traders between north and south.
Thebes: A powerful city-state coalition of norther/lower Egypt, Thebes exerts political power across most of the Nile Delta, and trades with Imperial merchants from nearby Alexandria. She frequently launches expeditions south into Nubia to take slaves and attempt to suppress the barbarian raiders who threaten her prosperity from that region.
Yekrenia: A fragmented polity in southern Japan, notable for eschewing currency and using labor-tithes in lieu of a medium of exchange. Run by a board of Directors nominally, and functionally a nation whose bones are warred over by competing political factions. Notable for relatively large population and labor coordination, at least in the context of Neolithic Japan. Atheistic, militantly so.
Kōshitsu: The self-titled Imperial Clan of northern Japan, a tribal confederation of Chalcolithic societies that include a somewhat powerful chief whose attempts to convert the populace to sedentary agrarianism have seen some progress. Notable for using copper weaponry, and their standpoint as a monotheistic pseudo-theocracy in a land of hentotheists, ancestor worshipers, and shamanistic belief systems.
Nom Sapmi: A northern nomadic kingdom formed in the wake of the Norscan withdrawal from Norway, the Nom Sapmi is ruled by folk of Lapp descent and other tribal groups who inhabit the cities and infrastructure left behind, ruling over those Norscan folk who did not leave with their king's orders.
Sympagis: A confederation of three tribes centered around the proto-city of Delpha near modern day Argos. The clans and tribes of the confederation follow an ever evolving henotheistic religion, though there is a tiny minority of Imperial and Josephine Christians. Notable for the skill of its healers and productivity of its cottage industries.
Code: Select all

Full Name:
Age:
Appearance: (Description or Picture)
Height and Weight:
Religion:
Field of Expertise: (Optional- Please only fill out if you, IRL, are extremely knowledgeable about the area. Working with limitations and strengths of you in reality is part of the purpose of this RP. Most writers will leave this blank.)
Skills and Strengths:
Weaknesses:
Where in the world are you landing?:
RP Sample:

It should be noted that I cannot confirm any of this information as really you or not- if you don't feel comfortable putting your weight or name on the Internet, fair enough. Pseudonyms will serve. I would like it if strengths and expertise could be realistic though. You'll get the most out of this RP if you write as yourself instead of a fanciful character.