IC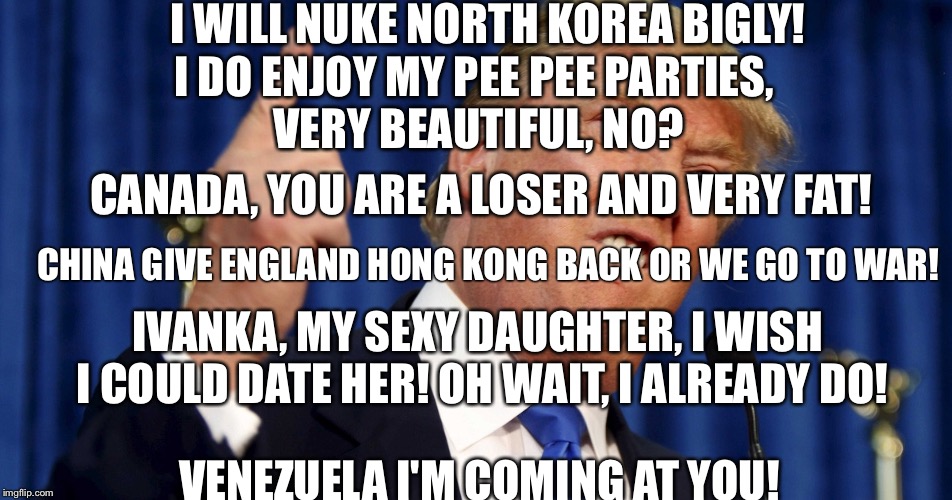 ---
"From the creator of the After The Great World RP series, and many other popular RPs, comes A World In Disarray: 2017"
---
The year is 2017. And the world is in uncharted waters for the first time in quite a long time. 2016 was a year chock full of surprises, with Britain voting to leave the European Union, the United States electing Donald Trump as President, North Korra and the United States in the brink of war, China and Russia increasing their hostility and aggression towards the west, the Philippines electing the radical Duterte, Austria electing the first Green Party politician to serve as it's leader, and of course all of the many celebrity deaths.
But this new year, 2017, shall usher in a new era for our planet. Things will not be the same as they were in 2016, and a new world order has arisen. It seems as though much of The Western World is moving towards the right, and has embraced strongmen and nationalism. The war in Syria, and the tension between Russia and the EU in particular are of concern as well.
But there are things to look forward to. In this RP, as IRL, new opportunities will present themselves to governments around the world that would have been unthinkable just a few months ago. The decisions that you, the RPer, make in this RP will forever change the history of the world in this RP. Anything can happen, from the Commonwealth reuniting, to America leaving NATO, China expanding, Russia annexing, the EU adding new members or losing some, new wars, new diplomatic crises, new wars, and new political games for you to partake in.
If you are interested in a high-action, high-quality RP somewhat based off the world today, then this RP is for you. In this RP you will be able to trade, conduct diplomacy, share your internal governmental workings, increase multilateral cooperation, annex nations, and of course start wars.
2017 ushers in a a strange new world for our planet, and it is your decisions, the nations of this RP world that will determine the future of our planet.
---
Join
If you would like to join this exciting role-please fill out the following application:
Application to Join as a Nation/Organistion/Group:
Code: Select all

[box][align=center][b][size=150]Nation Application[/size][/b]
[hr][/hr]
[floatleft]
[b]NS Nation Name:[/b]
[b]Nation Name:[/b]
[b]Head of State/Monarch/President (if both are the same fill out once):[/b]
[b]Head of Government/Prime Minister/Vice President(See above):[/b]
[b]Areas Claimed and Areas Controlled:[/b]
[b]Does your nation lean towards NATO, Russia/China, or unaligned:[/b]
[b]Flag (optional):[/b]
[b]Population (optional):[/b]
[b]Is your nation in any supranational organization (EU, ASEAN, Eurasian Union, etc):[/b]
[b]If you are a Commonwealth nation, would you be interested in increasing pan-Commonwealth ties:[/b]
[b]Your nation's recent history (if different from real life):[/b]
[b]A synopsis of your plan for your nation in this RP (totally optional):[/b]
[b]If you have not been in one of my RPs before, or I don't know you, please provide an RP sample:[/b]
[b]Bonus Line! Would you like to add anything?:[/b]
[/floatleft]
[/box]
---
Member Roster
Below is a roster of the reserved and accepted nations and groups in this RP as of 10:40 AM EST on 13 August 2017.
Accepted Nations



The Dominion of Canada- Japanada
Israel- BESB
Egypt- BESB
Lebanon- BESB
Jordan- BESB
Zimbabwe- BESB
UK- BESB


---





Reserved Nations



North Korea- Carriebean




---





Accepted Organisations/Groups






---





Reserved Groups and Organisations



None yet!
[/align]