THE ELDER SCROLLS: AFTERMATH
---
IC Thread
Previous RP
---
Co-op:
Uhh...
---
...he laughed and swung his sword, running into the rain of Kyne to slaughter their Ayleid captives, screaming, "O Aka, for our shared madness I do this! I watch you watching me watching back! Umaril dares call us out, for that is how we made him!" And it was during these fits of anger and nonsense that Pelinal would fall into the Madness, where whole swaths of lands were devoured in divine rampage to become Void, and Alessia would have to pray to the Gods for their succor, and they would reach down as one mind and soothe the Whitestrake until he no longer had the will to kill the earth in whole.

The Song of Pelinal, Volume 6: On His Madness
---
War. It is, perhaps, too often seen as some sort of final solution for all of one's troubles. One swiftly crushes its foes, wiping out the opposition with but a few blows, ending the problem forever. And so they go to war. They forget about the cost.

Forty years ago, the Empire and the Aldmeri Dominion went to war once again. The two mortal enemies clashed, and the Dominion was pushed back towards the Summerset Isles. The Empire hailed it as a great victory. They forgot about what it had costed them. In the north, Skyrim was divided, the victorious Imperial forces, returning from the southern front unable to retake the land they had lost up in the cold. Without the manpower to consolidate on their victory, Elsweyr remained an empty no-man's land, restored to an independent, but fragile, divided state. Many had perished in the Great War, and many of the smaller towns back in Cyrodiil found themselves with a shortage of men to yield the crops, entire villages dying of starvation. Peryite's many plagues ran rampant across the continent, killing many in its path.

The Bosmer of Valenwood, many of them having sided with the Empire against their Aldmeri overlords, found themselves ending up as nothing but a puppet state of their supposed allies, their dreams of independence crushed once more. At the Summerset Isles, what was left of the Aldmeri Dominion's governing powers were overtaken in a coup similar to the one they themselves had undertaken several years prior, the Thalmor once again enforcing their rule and teachings over the Aldmeri lands. The battered Dominion dug in, reinforcing their borders, bracing themselves for any further attacks against them that might follow.

Remaunes Cardes II, hailed as victor of this Second Great War, was felled by disease. His only child far too young to ascend the throne, power was handed over to the Elder Council. and the late Emperor's cousin, having had at least some experience on statesmanship several years prior, in Skyrim. Having to deal with more and more rebellious nobles by the month, it was a wonder that the Empire remained standing, if barely. The Cardes regent was killed by assassins, murdered in her sleep. The last Emperor's only child, Alessascia Emeveria Marilotta Cardes, was rapidly instated as the Empress at the fragile age of seventeen, and still rules to this day, although many question how much it is the people around her that rule, rather than the Cardes child.

Three years have passed since the death of the Regent. According to some, it is a miracle the Empire still stands. It's ancient enemy still a presence in the southeast, and surrounded by independent territories, their motives uncertain, the fact that the Empire still stands may be seen as the legacy of Cyrodiil's rulers of old. Their realm is now under attack not from the outside - although one might question for how long that is - but from the inside. It has become increasingly common for nobles to rise to power, attempting to seize the throne for themselves, as in the corners of society, there are hushed whispers of Daedric Princes and the powers that they promise those willing to aid their cause, although no one seems to know what exactly that is.

As the leafs fall off of the trees and the cold winds of winter come, nothing is certain but for one thing. It will be a long, long winter indeed.
---
"I am Cyrodiil come."
Reman I
---
Hi, and welcome! As you might've gotten out of the intro text, this RP is set quite a while (well, depending on the length of your lifespan...) after the events of the last Elder Scrolls game,
Skyrim
. This Roleplay is set as a sequel of
this
roleplay, and the events presented above have all been influenced by events that happened there. That is not to say that you, as a newcomer, can't join this - the contrary! This is set 40 years after the 'original' (which was set about a 100 years after Skyrim), and below you'll find a summary of the most important things that have happened - both of which shouldn't make it too hard for you to create a character and jump right into the action!
This OOC thread is intended for both discussion of the RP, planning things concerning this RP, asking questions addressed to the OP (and any potential co-ops), but also for general discussion between participants, be it about the Elder Scrolls universe, or something else entirely - basically, don't be afraid to talk about whatever, and if there's any questions, just ask!
---
The World
---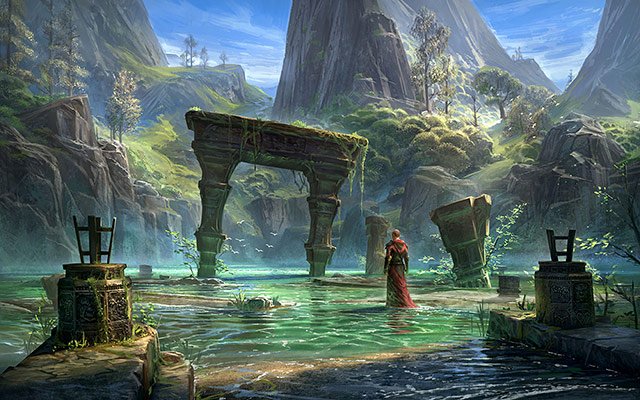 ---
I've divided this into two pieces so that it's easier for the 'veterans' to read. Underneath the first spoiler you'll find the text that was found in the OP at this spot, describing what happened between Skyrim and the setting of The Elder Scrolls: Ascension. Underneath the second spoiler, you'll find everything that's happened since then, or at least, the most important stuff!
---
Rules & Application
---
As always, there are some rules in place - these shouldn't be too hard to follow, I believe, and are pretty much common sense, but here they are anyway!
Follow the site's rules.
Don't godmod/metagame/etc.
Use correct grammar and spelling.
Minimum IC post size should be one paragraph compromising of at least 4 lines.
Don't be an ass.
Players can not achieve CHIM, nor can they use Console Commands (looking at you, Vivec) or the Creation Kit. No reloading old save games!
You're allowed three characters total - none of them should be Canon characters, and if they're related only distantly so (exceptions for minor characters).
Have fun!
---
Current no-no's for character creation:
Dragonborn (or people that can shout in general), Shezzarines, etc.
No races that aren't playable in the game (this might be up for discussion, but generally, no)
No leaders of Companions/Fighters Guild/College of Winterhold/etc
---
And here's the app form, if you'd like to join.
Code: Select all

[size=135][b](CHARACTER NAME HERE)[/b][/size][floatright][img](link to image for appearance if you got one)[/img][/floatright]
[b]Race:[/b]
[b]Gender/Sex:[/b]
[b]Appearance:[/b] What do you look like? Description or picture. You may delete this part of the app if you did a picture in the [float right] tags!
[b]Class:[/b] What is your class? Check the Elder Scrolls wiki or UESP for more info if required!
[b]Equipment:[/b] What equipment do you use? Equipment includes armor, weapons, and any other gear you might use.
[b]Skills:[/b] What are you really good at?
[b]Weaknesses:[/b] What are you really bad at/What are your weaknesses?
[b]Bio:[/b] Two paragraph minumum.
[b]RP Sample:[/b] One or more. You can also write one for this RP specifically.

(please remove all text in this app that isn't within the bold tags)
(everything underneath is optional)

[b]Personality:[/b]
[b]Likes:[/b]
[b]Dislikes:[/b]
[b]Theme song:[/b]
[b]Voice:[/b]
(feel free to add something else to this list yourself!)