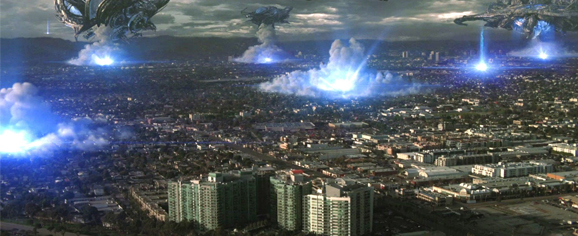 "What was odd to me was... how quietly the apocalypse seemed to come. It was like by the time the Azuran ships started dumping rounds onto our cites...by the time their troops started marching through our streets... It was too late. Almost no resistance was offered. It's like we accepted it, y'know? Like humanity just laid down and took the kicking. And boy were we kicked. The Azurans almost cleaned out our major cities, leaving those who did survive to flee to the countryside. No one fought back. How could we? They crippled our military first. They forced us to assimilate, to submit to their rule. They got comfortable, let us retain some scraps of our old life.

That was their first mistake. Now, humanity is rising back from the dust. And we're pissed off."


-Kami Hofuku Officer
---
Welcome, everyone, to a Cerrania
TM
Production! In this roleplay, Azura Skies: From Dust, you will play as an individual struggling to survive in the wake of an extra-terrestrial invasion in the city of Tokyo. There will be several preset factions, as well as a few slots open to player-created factions for you all to make! As far as the actual plot goes, it will be mostly free-form. Though there will be a central storyline that can drive characters, every person is free to do whatever they want on Azuran Earth. Just be careful you don't run into a Quietus Patrol... but more on them later!
This RP will be both open world and scripted events. Characters will be mainly free-form, but I may edit/accept/reject as I see fit to fill certain character roles that may need filling/already have an overabundance. To establish a divide, it is my job, as OP, to create an interesting and fun plot to RP. Your characters can pick between the many options that will be placed on the table as per my plot-writing, and those actions that your characters take will heavily influence the story.
Anyways, before we delve into the meaty bits of this creation of mine, let's establish some rules that I'm sure you all already know, but are good to have in writing anyways.
1.) Cerrania is your OP, and you fully accept that. Obey him.
2.) One-liners, two-liners, even three-liners are a huge no-no. Every post should have quality, structure, and volume. I don't want books, but try to make every post at least a paragraph. Three strike system here.
3.) Godmodding is out. In fights, of either faction v. faction, or character v. character, discuss or pre-determine the winner of the fight.
4.) Explicit permission to harm or kill other authors' characters is required. If it is not given, it is absolutely not allowed.
5.) Realism, please. Some technology guidelines will be given below.
6.) Don't be a dick.
7.)

Please

make an effort to tell me if you're leaving the RP. I don't need a reason, I just want to know you're gone.
---
Okay. Now for a bit of lore. I preface this by saying
you do not need to know all of this.
You only need to get the general gist of it.
It was in 2035 C.E. that humanity came to discover that it was, in fact, not alone in the galaxy. Far from it, in fact. After decades of transmitting data, sound, smell, and images into space to be picked up by extra-terrestrial beings, it finally was. The United States Solar Command, USSC, picked up a mysterious signal passing through their informational filters. After frantic decoding, and an emergency meeting of the United Nations, it was discovered that there was alien life. And mankind was the first extraterrestrial beings they had made contact with as well.
Pax Galactica came next. The much of the developed world united in a global effort in order to find a better way to contact these ETs. It was almost half a year before a breakthrough was discovered. Using an advanced receiver to replay the waves of information that had been sent by our new galactic neighbors, it was determined their general direction relative to Earth's orbit, and the amount of time it had taken for the waves to reach Earth. Relaying another transmission in a much more direct cone, Earth's nations patiently waited for a response. It was only a few weeks before one was received. The ETs, acknowledging how close Earth and their planet - which roughly translated to be called Azura - were, decided to up and come visit. Humanity was given an estimate of four months before they arrived, as their spaceships were capable of travel at a large percentage of light speed.
What followed next was a scramble by Earth's nations to prepare. Some, fearing an imperialistic juggernaut of an alien race, bolstered their military and hunkered down for the worst. Others, a tad more optimistic, began the process of preparing their population and cities to be visited by a peaceful race. Many others simply carried on life as was, presuming that the aliens should see them in as honest a form as possible.
It was January 10th, 2036, at approximately 10:34:13 A.M., when the first ships were noticed in the sky. Initially, when entering Earth's orbit, they were just seen as tiny specks of light; out of place stars that seemed to move ever so slowly, independent of Earth's rotation. By 1:16:42 A.M. of January 11th, the tiny specks had grown into large, floating lights in the sky. It was confirmed, then, by the USSC, that the extra-terrestrials arrived. Those nations that had prepared their military collectively cocked back their rifles, and those who had been beautifying themselves gathered in the streets to watch television broadcasts of the arrival.
The ETs - or Azurans, as many had begun to call them - anchored their vessels in almost every major city in the world. New York, Paris, Cairo, Dubai, Berlin, London, Hong Kong, Tokyo, and more all received at least one massive ship. Quiet for a long time, the ships simply waited, floating, alien zeppelins in the sky. It was on January 15th, at 12:43 P.M., when Azurans began emerging from their ships. Tall, gaunt things, they possessed a deep blue hue to their skin and wore what looked to be re-breathers on their face. It was later discovered the atmosphere of Earth was fairly toxic to Azurans, and they could only breath it for a few minutes before perishing. Not that those few minutes would matter, as due to Azurans physiology and a complex reaction it has with oxygen-mixed molecules, they would be thrown into paralysis almost immediately upon breathing Earth air.
The Azurans came with open arms. Having studied different Earth languages along their travels, they almost immediately set about teaching those who so chose about their language and culture. Their scientists met with ours, exchanging massive amounts of information and resources, commencing the largest cultural and technological diffusions in human history. Many experts estimated the technology and resources that the Azurans gave us jumped us forwards 50+ years. Though, the speculation was that it was still nowhere near the capabilities that the Azurans possessed. Months upon months of research and peaceful interaction were spent with these extra-terrestrials, and even some of the nations who had prepared for invasion came out of their holes to welcome Azuran ships into their skies. It had seemed a new era of peace, partnership, and prosperity and come down upon Earth. Cooperation between nations was at an all-time high, and many Earthly conflicts had been resolved by the inception of Azuran culture, language, and technology into society. This era of peace, known as Earth's Blue Age - after our benefactors - lasted for more than three years.
October 23rd, 2039, 8:37 A.M. Eastern Seaboard Time Zero Hour, to those who remember the day. The Azurans, who had receded back into their ships the previous night, had yet to emerge from their ships. It was odd, especially, for them. Every since learning about the 24 hour day and its relation to work schedules on Earth, the Azurans had been obsessed with the concept of punctuality and were exactly on time, or ten minutes early, for everything. Many labs, businesses, facilities, and other institutions were scratching their heads, wondering what had happened to their partners. At 8:40 A.M., a strange hum began emanating from the Azuran ships, across the world. At 8:41 A.M., a massive bolts of energy rocketed out from the Azuran ships, and began tearing apart the cityscapes. The first shot in London eviscerated London Bridge, the first shot in Paris toppled the Eiffel Tower, and the Burj Khalifa was cut in half by the opening blast in Dubai. People ran in every which direction, screaming. The Azuran ships seemed to care little for this, however, and simply began firing indiscriminately. Pods were dropped by the thousands from the ships, deploying Azuran soldiers in droves. Tall, pure-black skinned, and extremely muscular, the soldiers carried intimidating weapons which they used to deadly effect. Those not killed by the bombardment by the ship were hunted down and slaughtered by the systematic and efficient Azuran troops. Almost no resistance was offered, anywhere. How could there have been? We had accepted Azurans into our society with open arms.
It only took a few weeks for the Azurans to be finished with their annihilation. When they had sufficiently cleaned out the cities, most left to formless rubble, they sent out a broadcast to the rest of the human population. In terrifyingly perfect English, they spoke of how we, as Earth, had been officially assimilated into the Azuran Commonwealth.
As of the present date, March 26th, 2040, humans in many nations had survived a particularly harsh winter in the suburbs and countrysides that they rested their heads. Many began a migration back into the city, hoping to find new life and a sense of purpose. It is here our story begins. As plucky New Grime(more seasoned residents of cities like to give slang terms to newcomers), or as a grizzled, tough survivor, you will carve out your journey here, in the wake of Azura Skies.
---
I

strongly

recommend you read most of this before applying