Archive Thread
IC Thread
Hello fellow RPers! Lith here, and I have come back from my long hiatus from NS. Life can be crazy sometimes...
So, in celebration of coming back, I got together with several persons* to create this world for you all. In this world, you will have freedom to craft your adventures, create your own stories, and mold the future of Transhumanity.
Now, there are some things you guys need to know. PAY VERY CLOSE ATTENTION TO WHAT I'M ABOUT TO TELL YOU!
There is a decent amount of lore here. And it may seem a bit daunting at first.
But pleasepleaseplease listen.
The lore is not here to be some massive set of rules that you need to memorize. Rather, it is here to help you give depth and thought to your stories. I'm not going to beat you to a bloody pulp for not knowing every single little detail of the lore, and I am here to help you out if you have any questions. Also, know that the lore we have here is pretty general and broad, and gives you plenty of room for filling in the details as you please.
Again, if you have
any
questions, don't be afraid to ask.
Also, I should have a character app form up tonight for you all, so ya got that too look forward too.
So, I hope this will be an awesome RP for you all, and that ultimately we will have a wonderful time creating our stories together!
---
It is the year 2300 AD. Humanity has reached its next stage on the evolutionary tree. We have isolated the human personality, what makes you
you
, and have found ways to copy it, and replace it into other bodies. Now it does not matter if your body dies. Because your soul can outlive your body.
Death is a thing of the past. Mankind has become sempiternal.
But eternal life is yet imperfect.
To have your personality copied is not very cheap. And the machines used for copying are (almost) all controlled by the innumerable megacorporations that rule this world. But the biggest problem is that your copied personality is not quite you. Well, it
is
the "you" at the time you had yourself copied. However, any further experiences, memories, and knowledge gained will not be transferred to that "you". Therefore, if you want yourself to most properly live on after the death of your body, you better get yourself copied often. Which requires even more money...
Money is the lord of Earth. The governments that once brought peace and justice to the world are now little more than bloated, useless bureaucracies, riddled with corruption. Their armies are underfunded, their armament outdated, their ranks thin. They are mere shells of the glorious superpowers they once were. Some few governments are still trying to regain control over their old territories, but to little avail.
In their place have risen the megacorporations (MCs). These vast, efficient, well-established factions have their own declared territories, wherein they hold complete control. Everything from selling toothpaste and food, creating and maintaining transportation services, and delivering Criminal Justice and Military Security, is done by the MCs. But when money is supreme...
Justice in most parts of the world is a meaningless word. Unless you can dole out the requisite cash. But because of the nature of the MCs, there is a massive gap between the wealthy and the poor, and the middle class is made up almost exclusively of MC-contracted mercenaries, bounty hunters, and assassins (all of which are paid handsomely for their services). Because of this, the poor (which make up the majority of persons) must seek justice on their own whilst being crushed under the thumb of the MCs.
---
PPsyD (Personal Psyche Data)
The Personal Psyche Data (PPsyD) lies at the soul of transhumanity. This is what makes you
you.
It is the core of your personality, your will, your thought, your desires, your memories, it is
you
. Without this, you no longer exist.
A century and a half ago, scientists were able to isolate the PPsyD of a single individual. But more importantly they made a virtual copy of the PPsyD, creating the first Personal Psyche Copy (PPsyC). This was the greatest scientific revolution of all time, for now your "soul" could survive the death of your body. For the first time ever, mankind could conceivably reach immortality.
This new technological advancement spread like wildfire, it seemed that everyone wished to get their hands on it, and innumerable innovations of this science were made rapidly. First, the PPsyC was able to be transferred into robots or other machines, giving the transhuman soul the ability to live on in a new body. Soon after, the PPsyC could be transferred into organic bodies, whose brains had their PPsyDs wiped at birth. And this innovation was the most controversial of all, causing riots in its wake. People claimed such technology was murder, for it was the destruction of their souls, leaving dead husks behind for new souls to inhabit. It was morally outrageous, the height of evil.
But this technology was oh so lucrative. The MCs quickly gained control of it, virtually monopolizing its usage. They created Psy-Banks, places where you could pay to have have a PPsyC operation, and then have your soul stored in the bank for later when you wish to inhabit a new physical body. Soon, Body Factories were raised up, where various types of bodies, be they genetically modified, "original" human, various animal bodies...all for the express purpose of being sold to the various transhuman buyers wishing to find a new resting place for their PPsyCs.
There were many new moral issues that sprung up in their wake. Questions about whether empty bodies (bodies without PPsyDs) should have any rights, what to do with their usage and/or disposal, how far they can be genetically modified, what actually constitutes personhood...Things of that nature. And in spite of the great controversy, it seems that this technology is here to stay. And most societies have (often begrudgingly) accepted its usage.
---



---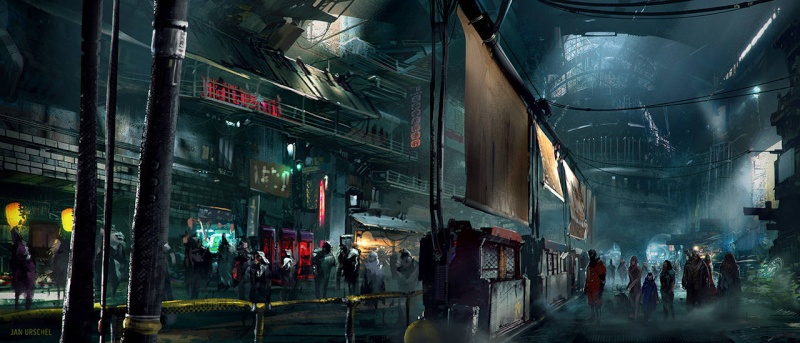 The Black Market can trace it's history back to the so-called 'Deep Web' of the early 2000s, the dawn of the 'Information Age'. The Market was still primitive then; the names of the sites used had to be shared personally, and then a computer used to access them and their vast array of illegal wares.
That system continued and even flourished, and the introduction of PPsyCs barely made a wave in the system. What put an end to the system were the megacorporations. It became more lucrative to sell the names of the sites and their locations, their hard servers, their owners, to the MCs. Competitors sold each other out, and within two years the 'Deep Web' was an empty realm, with the MCs that controlled internet access maintaining a strict hold over the creation of new 'Deep Web' sites.
But it wasn't long before the Market resurfaced in two distinct forms; the so-called 'Old' and 'New' Markets. The Old Markets evaded the MCs by confusing them; who in their right mind would meet in person to buy illegal goods, in this age of interconnectedness? It would be simply too inconvenient for anyone, right?
The Old Markets are well-hidden markets in the style of old rural markets; places where those plying illegal trades meet to sell their wares. They can take many forms, from a few scrap shacks in part of a sewer, to an elaborate array of front stores scattered across a metropolis. Any shop, any corrupt worker's house, any long-abandoned building can be a Old Market, or part of one.
The New Markets, meanwhile, went even further than the Deep Web; using highly experimental and occasionally lethal technology, the New Markets are, in effect, modified PPsyC-Banks connected to specific terminals across the world. Buyers upload themselves into the Bank to communicate with Sellers, and then download themselves back into their original bodies after finishing. Due to the temperamental nature of the New Market's PPsyC-Banks, transactions can prove lethal to the involved PPsyCs, and it has indeed become an assassination technique to lure someone into a New Market known for a dodgy upload process. However, the New Markets are far more secure and offer more convenience than the Old Markets, so a slight chance of death is normally risked, especially since death is the standard punishment for buying in a Market without permission from an MC.
In both markets, you can find innumerable illegal goods and services. From PPsyCs and body-banks, to weaponry and illicit drugs, even foodstuffs, someone in the the Black Market is bound to have it in stock. And these goods and services are often much cheaper than similar ones bought from MCs. Thus the Market is a favorite of the poor and criminals of society.
---
Code: Select all

[align=center][size=115][color=#BF0080]Character App[/color] (PLEASE DELETE EVERYTHING IN PARENTHESIS)[/size][/align]

[align=center][img](Appearance URL Here)[/img][/align]

[b]Name:[/b]

[b]Age:[/b]

[b]Body Form:[/b] (e.g. original human, genetically modified human, robot frame)

[b]Gender, Sex, and Sexuality:[/b]

[b]Personality:[/b]

[b]Skills: (I am giving you guys a little freedom here, but do not go overboard, and keep it realistic)[/b]

[b]Faction:[/b]

[b]Occupation:[/b]

[b]Starting Location:[/b]

[b]Bio:[/b] (at least a paragraph, but doesn't need to be super in depth)

[hr][/hr]
[size=110][color=#BF0080]Extra Info[/color][/size]

[b]Equipment, Weapons, and Vehicles:[/b] (again, don't go too crazy here)

[b]Likes and Dislikes:[/b]

[b]Moral Alignment:[/b]

[b]Crimes convicted of:[/b]

---
Rules
1. Obey the OP (Myself) and CO-OPs (Shyluz, Arana, Doughertania, Templar High Council)
2. No one-liners. Ever. If you make a one-liner post, you will receive one mark. If you get three marks, you will be booted. Remember, quality of posts is far better than quantity of posts.
3. No godmodding. And if you have a char v. char fight, you must make certain to work directly with the other author to determine how the fight will end.
4. No killing or harming another character without their author's permission, unless I personally declare that such damage is necessary.
5. If you are leaving the RP, please notify me in the OOC or through TG.
6. Try to have a decent level or realism. I don't expect perfection, but as I read through what you write, I want it to make sense in my mind.
7. Most importantly, don't be a jerk. Treat everyone with the same respect that you want them to give you. If you cause too much trouble, you will be banned.
---
*I would like to thank the following RPers for helping me build this world:
Argentumurbem, Kaidou, Badafar, The Tophat Empire, Jordkloden, Empire of Donner Land, The Warriors of the Sun, Lunas Legion, Plzen, Shyluz, Soviet Farm, and Sonitusia.

Without their hard work, suggestions, and criticisms, there's no way I would have been able to pull this off.