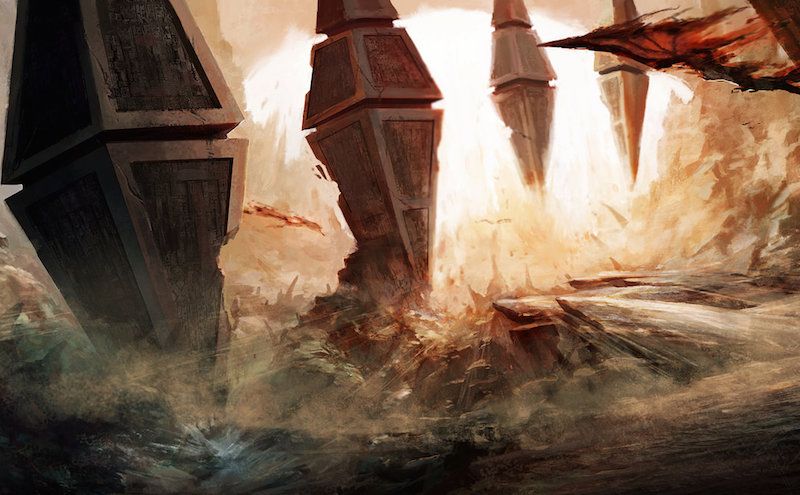 "Nearly all men can stand adversity, but if you want to test a man's character, give him power" -Abraham Lincoln
Introduction
Thousands of years ago...
...the many realms of existence were united by beings known as Planeswalkers. These beings were once like their peers, but through some great act ignited a spark within them that gave them power, and the power shared by all Planeswalkers was the power to open portals between worlds. Some beings were always capable of manipulating the magical energies of existence known as mana, but not to the extent of a planeswalker. Magic always had a price for a normal being, but a planeswalker could summon fire at a whim or with enough mental fortitude imbue life in the lifeless and many other miracles. Planeswalkers were unparalleled in power, even the gods of the different realms of existence would bend knee to the Planeswalkers as their might was dwarfed by these beings. Planeswalkers were the pinnacle of existence in all the planes.
However, there was nothing that united the Planeswalkers. And with their great power came zealous points of view on how the worlds should be handled. More often than not in this ancient time a meeting between two Planeswalkers would end in conflict and with the power these beings commanded, these conflicts would destroy worlds. Great crusades were began and wars waged across the planes of existence bringing destruction to much of the planes. As these wars raged on a discovery was made, the sparks that made a Planeswalker who they are were finite and when a Planeswalker was defeated by another Planeswalker the spark was consumed rather than released to go to a new being. Their numbers dwindled as they continued to fight.
When their numbers grew sparse an alien power from beyond the planes appeared drawn by the mass destruction of worlds and began to devour worlds. The few planeswalkers left banded together and defeated these beings, though after many of the survivors were consumed by the alien power. the handful of survivors took their sparks and divided them into much smaller pieces to release. These smaller sparks were made to ensure planeswalkers could not destroy as they once had.
Now...
...Planeswalkers are few in numbers and can't be considered immortal rulers of the worlds. They can travel Planes and have greater access to magic, but they are still grounded and often still have to pay a price to use their powers. Gods and powerful creatures are capable of slaying them and so more often then not the Planeswalkers remain obscure or do things of much smaller scale than those before them. Planeswalker are so few and less renown that many planes don't even know of their existence or the existence of other planes.
More recently portals have been opening in many of the planes of existence that lead to a Plane of existence known as Zendikar. This plane is alien and odd compared to most. Few beings live there, most predominately are the Kor, a race of white skinned platinum haired beings who look like humans, goblins, and elves. But even these beings are sparse. Mana seems wild and almost sentient, influencing the world to try and kill those who live in it. Rock slides and storms aren't natural, but seem to form where they are most likely to kill and the inhabitants of the world have adapted to constantly move because of that.
However, this plane is a treasure trove of ancient information and artifacts. Odd temples and floating spired litter the plane and house these ancient artifacts. Many planeswalkers are being drawn to this plane due to the mystery of the gates that opened and the power the artifacts promise to those who find them. But these artifacts and temples hold a secret that the planeswalkers will learn soon with time...
---
The RP
Hey everyone, for those of you familiar with Magic the Gathering I am sure you can already guess this is almost entirely based upon the universe they made. And those who aren't that is no big deal, hopefully the information I provide will be enough for you to be able to comprehend this world. Players will be Planeswalkers, beings who were elevated by a spark igniting in their soul after some great act which gives them access to magic and most iconically the ability to travel between worlds that are otherwise cut off. This RP is mostly about allowing the Planeswalkers to interact and attempt to achieve their own goals, but a storyline that may draw everyone together is in place. The main center point of this RP will be the plane of Zendikar which as stated above has had portals opened to it in many other worlds which has never happened before and no Planeswalker is capable of such a feat at such a great scale.
Planeswalkers can become friends or foes and eventually will be forced to choose sides if they wish to survive. I am going to try to allow as much freedom as possible, while keeping some semblance of balance. I am not sure how I want to deal with existing planeswalkers already in the Magic the Gathering universe, but for now I would like it if people avoid contact with them or keep it absolutely minimal in apps and the roleplay. I will probably need a Co-OP to keep this moving as I am not a quick poster and I would love input from everyone. Feel free to express thoughts and desires to me and I will see if they will fit in the RP.
---
Application
Applicaiton is below, but here are some rules and things to keep in mind...
1. Use my format
2. Delete everything in parentheses or I will deny the app
3. Make your own planeswalker, feel free to draw inspiration from those in the Magic the Gathering Universe, but add your own touch.
4. If you have questions ask them, TG is generally the quickest way to get a respond from me
5. Planeswalkers are powerful, but not immortal. A simple mortal should be able to kill you, even though it is highly unlikely.
6. While some may think them gods, they aren't. Beyond the powers granted by the planeswalking spark, they are normal being.
7. I know the app is long, but it is to flesh out your planeswalker as much as possible
8. Information of planes and colors mana is below the app
Code: Select all

[b]Name:[/b]
[b]Race/Species:[/b]
[b]Sex:[/b]
[b]Age:[/b](You can be as old as you like as long as it is a number, most of mana colors have means of extending life. No being that are infinite are allowed.)
[b]Image:[/b](This is preferred, delete physical description if you so choose and are using an image)
[b]Physical Description:[/b](Delete image section if you are going use just this)
[b]Goal:[/b](This is your driving motivation, in be something as personal and specific as defeating a rival planeswalker to something as grand and vague as ensuring peace throughout all of the planes)
[b]Personality:[/b](Description of your characters personality, how they interact with others, certain ideals they have)
[b]Likes:[/b]
[b]Dislikes:[/b]
[b]Origin Plane:[/b](What plane was your character born)
[b]Home Plane:[/b](What plane does your character currently consider home)
[b]Bio:[/b](Information on where your character was from, who they were before becoming a planeswalker, what was the spark that caused their power to ignite, and what they have done since becoming one)
[hr][/hr]
[b]Primary Mana:[/b](Must have at least one primary color, this is where your strongest ideals lie and where you mostly draw your power from. If you choose colorless you cannot have addition colors)
[b]Secondary Mana:[/b](This ideals you have, but aren't as strong as well as power you can draw upon, but not as much)
[b]Signature Strengths:[/b](Choose three. These are your defining abilities, but not all of your abilities, these are what others often remember you for and fear you most for. They can be a specific magical trick or ability or it can be martial prowess or skill, military or political leadership, occult or strategic knowledge. These are what can help you against a foe whether physically, mentally, or strategically. Be creative, these are the abilities that define you compared to other similarly colored mages)(Additional note, if your species is something incredibly powerful such as a dragon you are required to put physical strength or whatever ability is associated with the race as one of your three strengths)
[b]Abilities:[/b](A general description of what your baseline spells and powers encompass)
[b]Weaknesses:[/b](At least two, and at least one should be strategic/physical such as your character being incapable of extended physical activity and at least one personal/mental such as your character not willing to harm a specific gender or common race. These weaknesses should be able to be exploited by all, they should not be ridiculously specific, you can have very specific weaknesses, but they must be beyond the base two)
[b]Equipment/Arsenal:[/b](The various artifacts and powerful tools at your disposal, if you have some powerful fortress or temple include it here)
[b]Following:[/b](Who directly follows and serves you)
[b]Realms of Influence:[/b](Who indirectly serves and supports you. Planeswalkers travel different realms of reality so some are worshipped as gods and others have political forces that support their ideologies. This section are people who support your ideals and support legends and stories of you, but may not not support you personally if you contradict their own goals).
[hr][/hr]
[b]RP Example:[/b]
[b]Additional Information:[/b](Anything else you think I should know, further explanation of something mentioned such as an obscure species)

---
Information